This post is sponsored by Wilton. I have been hired by Wilton to create these delicious Confetti Cake Slice Cookies using Wilton products.
I love how these decorated Confetti Cake Slice Cookies turned out. They are perfect for gift giving, birthday celebrations and even baby gender reveal parties.
HOW TO MAKE CONFETTI CAKE SLICE COOKIES
STEP 1 – MAKE CONFETTI COOKIES
Have you ever made confetti cookies before? They are super adorable and really easy to make. All you have to do is make sugar cookie dough and stir in rainbow sprinkles.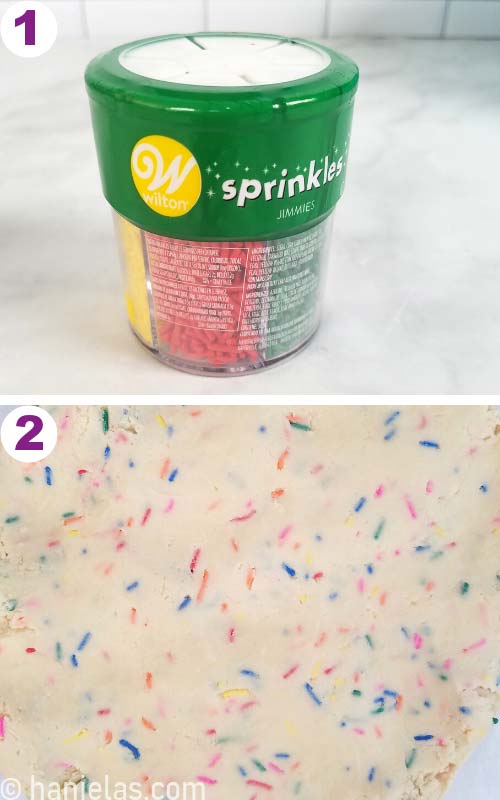 Pour the contents of the Jimmies Sprinkles Assortment into a bowl. Stir sprinkles to make a rainbow mix. Pour the sprinkles into the cookie dough right before you gather it into a ball. Stir well and then shape the cookie dough into a disk. Then roll it out between 2 parchment sheets to about 1/4 inch thick. Chill for about 40 minutes to an hour.
Cut out 6-inch rounds. You can use a bowl and a knife to cut them out if you don't have a large round cookie cutter.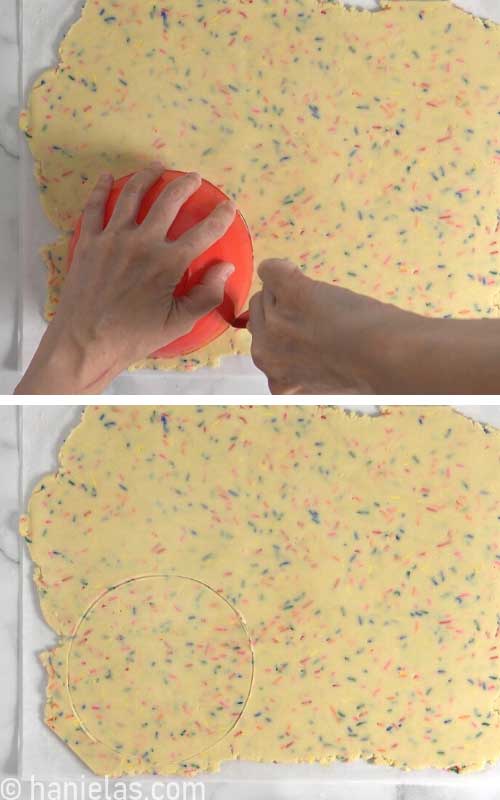 Cut each round into 8 equal wedges. Find a center and use a sharp knife to cut through the cookie dough.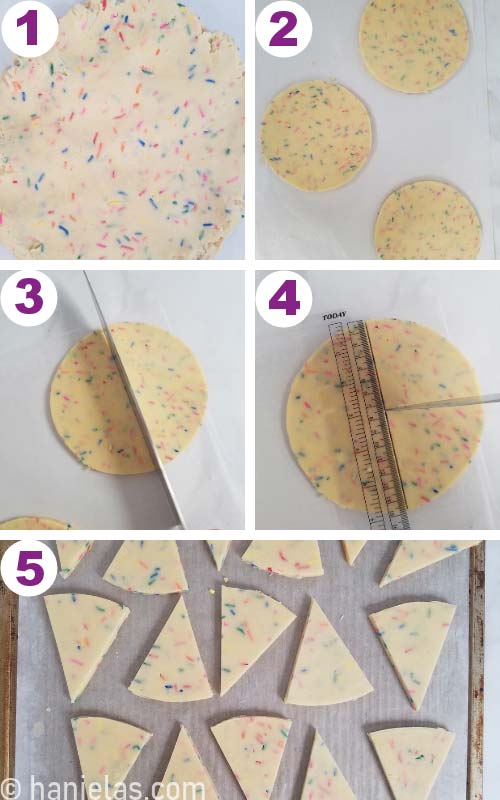 Transfer cookies onto a baking sheet and bake at 365F for about 7-9 minutes.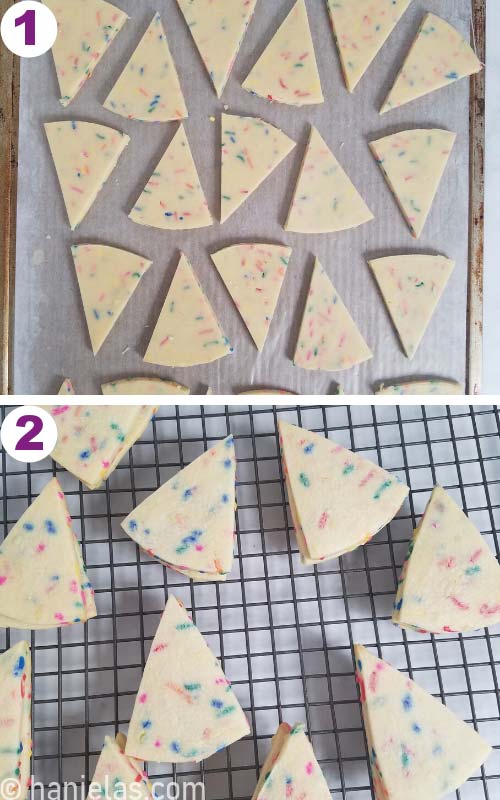 STEP 2 – ROYAL ICING
I've been using Wilton Meringue Powder to make my royal icing for years. I usually get it at a local craft store or online. And I prefer to get 1lb (453grams) container as I make lots of royal icing and go thru it fairly quickly.
But if you are a seasonal decorator and you don't need as much meringue powder look for a smaller packaging : 8oz (226grams) or 4oz (113grams).
Wilton Meringue powder is super easy to use. Mix it with water, powdered sugar and flavorings and you are ready to decorate cookies, make pretty sugars flowers or other decorations.
Check out Wilton's blog to learn about different uses of meringue powder.
TIP : Before mixing royal icing wipe down a bowl and utensils with either vinegar or lemon juice. This helps to remove any grease residue that can affect how royal icing dries.
Now we are ready to make royal icing. Into a bowl pour water or combination of water and freshly squeezed lemon juice. I love lemon flavor! However, if you are not into it, simple skip the lemon juice and use water instead. Into a bowl pour meringue powder, (steps 1-4).
Whisk meringue powder and water until well combined and foamy, about 30 seconds, (steps 5-6).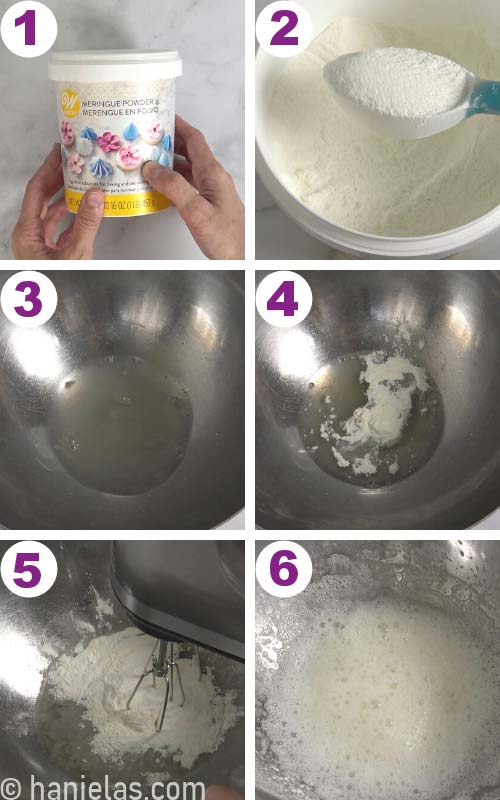 Now you can pour in powdered sugar. If your powdered sugar has lumps be sure to sift it first. Beat on low speed until you have a thick mass, (steps 1-4). Then pour in flavorings. I like to use Vanilla Extract and Almond Extract. Combination of lemon juice, vanilla and almond is delicious. Have you tried it? (steps 5-6). Beat for 3-5 minutes until thick, (steps 7-8).
TIP : Use only alcohol or water based flavorings. Don't use oil-based flavorings as they can affect how royal icing dries. If you can't use alcohol you can use Vanilla Powder to flavor your royal icing.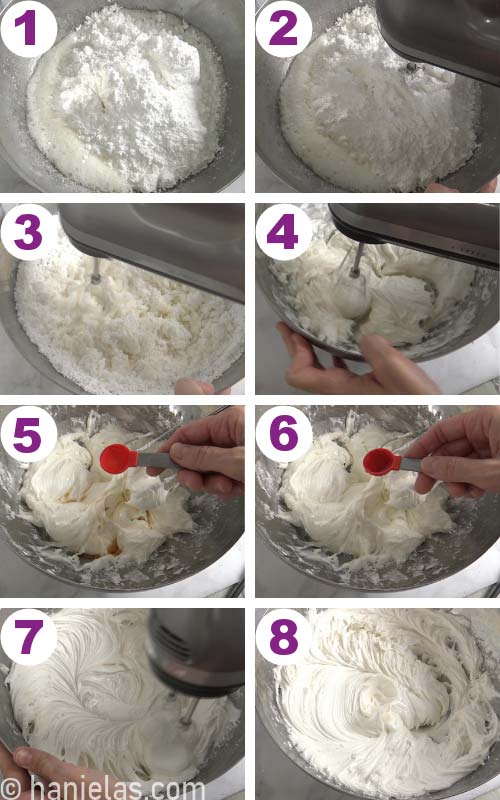 STEP 3 – STORE ROYAL ICING
I often get asked how long does royal icing last? Meringue based royal icing when stored properly will last up to 3-4 weeks. You can store it at room temperature or in the refrigerator. I prefer to store it in the fridge as it doesn't separate as much. Especially if I know I won't use it for a week or 2. Be sure to let it come to room temperature before using. You can also freeze royal icing for later.
Royal icing starts to crust shortly after you mix it and so it's important to prevent that from happening. To prevent icing from crusting you can either use a damp kitchen towel and cover the bowl while you work. Or if you are not using icing right away store it in an airtight container.
TIP : Cover container with a food wrap and then close it with a lid.
STEP 4 – COLOR ROYAL ICING
To color icing it's super important to use concentrated gel food colors. They don't dilute icing and your don't need as much food coloring to achieve desired colors. To color icing I used Wilton Color Right Concentrated Food Colorings, (steps 1-2).
TIP : Create variety of icing colors by mixing different gel food colors together.
I wanted to make teal icing but Wilton Color Right Food Coloring doesn't come with teal. The solution is easy. Use blue and yellow gel color.
Into a clean bowl add white icing. Add few drops of blue food coloring and stir well. Then add a minuscule amount of yellow and stir well again. (steps 3-6). If the color appears too dark you can lighten it by adding more white icing, (steps 7-8).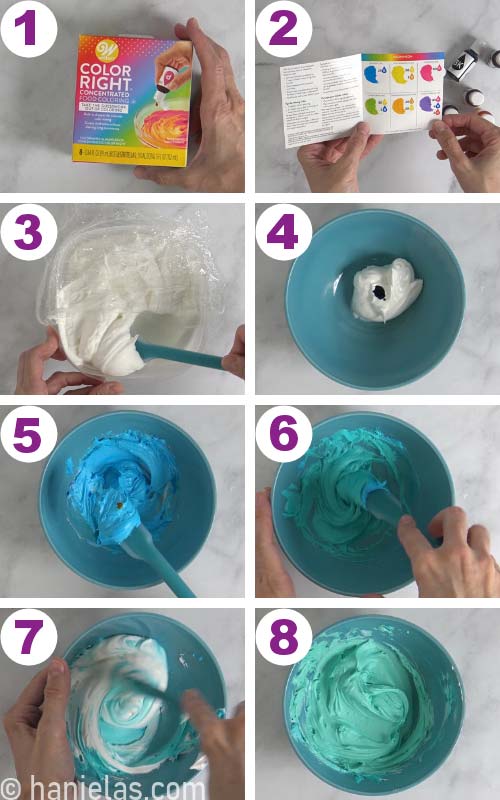 STEP 5 – THIN ROYAL ICING
To make cake slice cookies with a smooth layer of icing we need to thin stiff icing with a little bit of water to make it more fluid.
TIP : To add room temperature water use a spray bottle or a dropper. Don't add too much water all at once.
Spray water over icing and stir and add more water until icing is 10 second consistency, (steps 1-4). Are you asking yourself : "What is 10 second consistency?" Well, let me explain. 10 second consistency means that when you run a spatula thru icing, the separation line that spatula creates disappears in 10 seconds.
I'm going to use a simple dipping method to ice my cake slice cookies. However, this easy icing technique is known for lots of air bubbles in the icing. To amend this problem I like to employ 2 techniques to help remove air bubbles.
METHOD 1 – First I cover a bowl of icing with a damp towel and I let it rest for 15 minutes, (step 4). During this time bubbles rise to the surface (step 5). Gently run a toothpick across the icing to pop the bubbles.
METHOD 2 – Second technique I like to use is banging the bowl on the counter. This also makes the bubbles rise to the surface and you can then pop them with a toothpick, (steps 6-7). Now we are ready to dip the cookies, (step 8).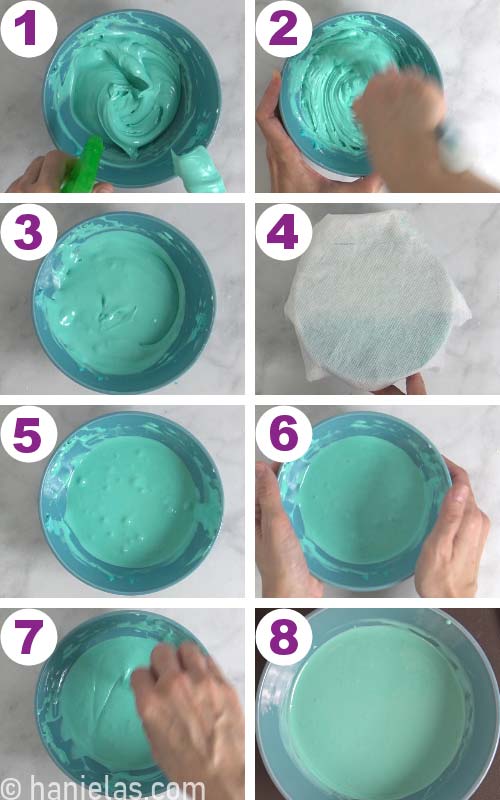 STEP 6 – DIP COOKIES
Hold a cookie by its sides and dip it into the icing. Gently wiggle the cookie to make sure icing fully coats the cookie surface. Imagine a rocking boat movement, (steps 1-2).
Slowly lift up the cookie and let the icing fall back into a bowl. Then place freshly iced cookie onto a flat surface and give it a little shake to smooth the icing, (steps 3-6). Pop any air bubbles as needed using a toothpick or a scribe needle tool, (step 7). Allow icing to dry for 5-6 hours.
TIP : I find that first 3 cookies exhibit the most amount of air bubbles. Then the amount of air bubbles on iced cookies slowly dissipates.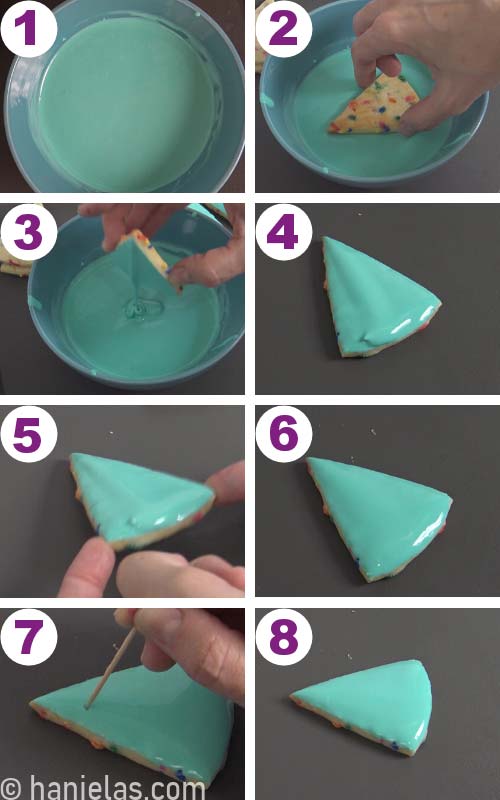 Repeat with yellow and pink icing, (step 1). While icing is wet you can decorate tops with pretty Wilton Yellow Nonpareils Sprinkles, (step 2). I just love those little sprinkle pouches. Don't you?!
STEP 7 – ROYAL ICING SWIRL ROSES
Royal icing is also great for making piped flowers and pretty decorations such as butterflies , succulents and other sugar decorations.
First, color icing with desired colors. I used pink. Notice icing is thick. This is the consistency you need to pipe small swirl roses, (steps 1-2). Fit a piping bag with a Wilton Star Tip #16 and fill it with a stiff royal icing, (steps 3-5).
TO MAKE SWIRL ROSES YOU NEED
Stiff royal icing
Piping Bag fitted with a Small Star Piping Tip ( Wilton #14 and #16 work great)
Parchment
TIP : Use coupler to easily interchange piping tips if needed.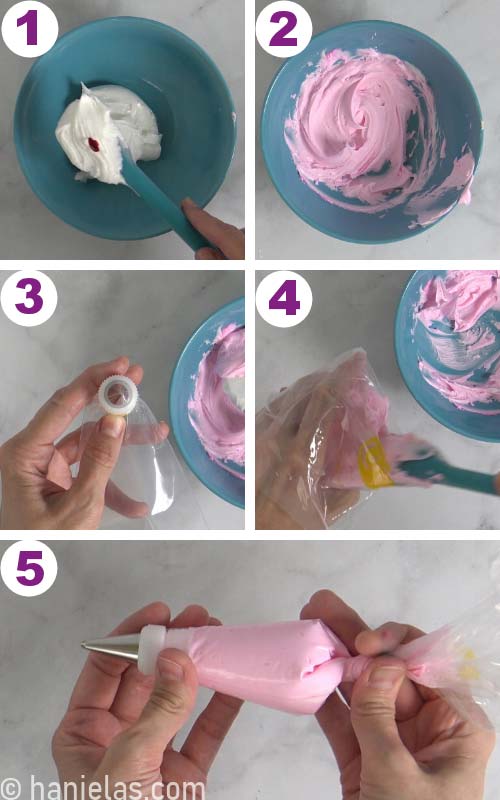 To prevent my parchment paper from shifting I like to use magnets and secure it onto a baking sheet, (step 1). Pipe small swirls onto the parchment (watch the video for better visual help). Pipe the swirls next to each other and let dry overnight, (steps 2-3).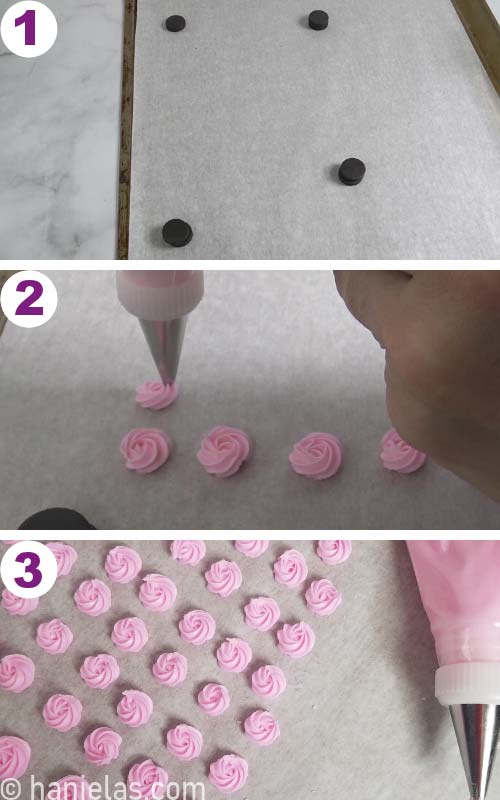 Allow royal icing decorations to fully dry before removing them from the parchment paper.
If you want to add leaves add just 1 or 2 drops of water to make icing medium stiff consistency.
TIP : Overly stiff icing doesn't make nice leaves as icing often breaks off as you pull away to shape the point of the leaf.
I used a Wilton Leaf Piping Tip #352 to pipe 3 leaves onto the parchment, (steps 1-2). Then I gently pushed dry small rose swirl into the leaves, (step 4). Allow to dry for 4 hours before removing flowers from the parchment, (steps 5 -6).
Royal icing flowers can be prepared in advanced. Days, weeks and even months. Store dry sugar decorations away from moisture and direct sunlight, in an airtight container.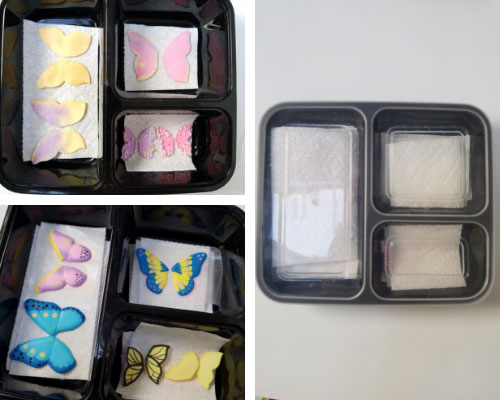 STEP 8 – ASSEMBLE CAKE SLICE COOKIES
Assembling confetti cake slice cookies is really quick. First, pipe a decorated border on iced wedge cookies. You can use number of decorative piping tips. Then glue the top cookie on the bottom cookie.
TO ASSEMBLE CAKE SLICE COOKIES YOU NEED
Pipe a white border using a leaf tip on the wider end of iced cookies. Trim the excess with a knife, (steps 1-2). Then with a pink icing and a star tip pipe a zig-zag line on a bottom cookie, (steps 3-4). Gently press top iced cookie onto the bottom cookie, (step 5). With a small amount of icing glue pink swirl rose on the top, (steps 6-8).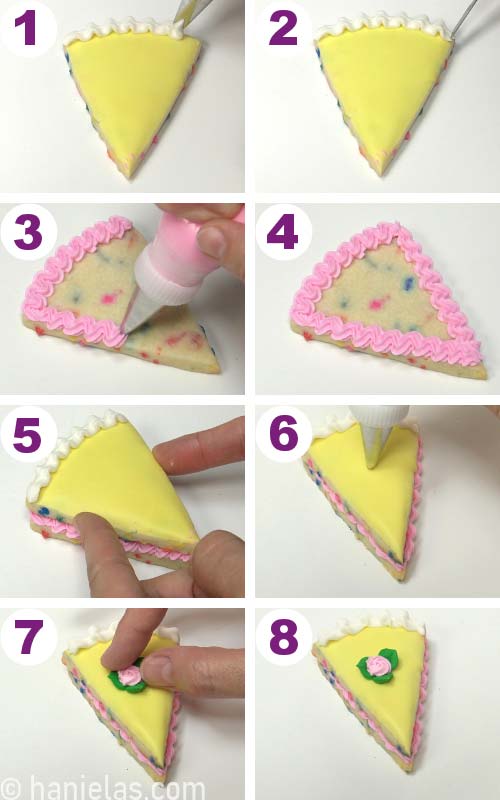 In the second designs I used a Star Piping Tip #16 to pipe a decorative border. Use a zig-zag motion to pipe (steps 1-2). And I also used a star piping tip to pipe white icing on the bottom cookie, (steps 3-4). Then gently press the top cookie on the bottom cookie to glue 2 cookies together, (step 5). Lastly pipe small white stars on the top, (steps 6-8).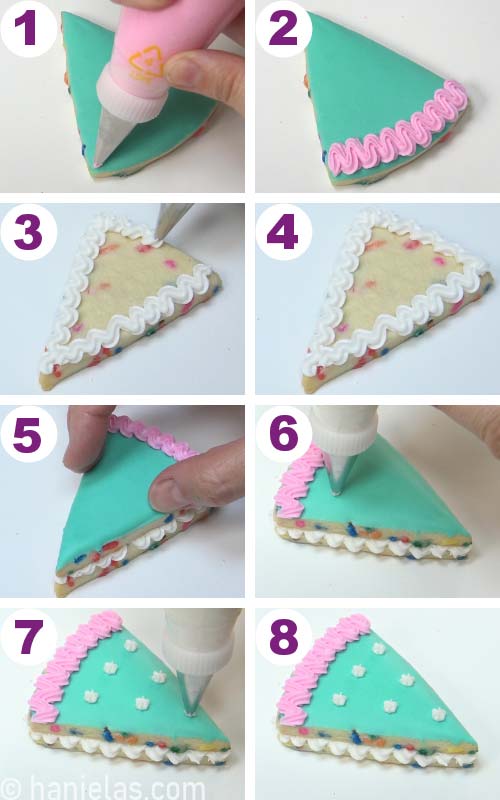 I decorated 3rd and last cake slice cookie design with a pretty teal rope border. Trim the excess with a knife or a decorating tool (step 1-8-).
TIP : Use stiff icing to pipe a rope design.
Pipe white icing on the to bottom cookie and then glue the top cookie layer on the bottom.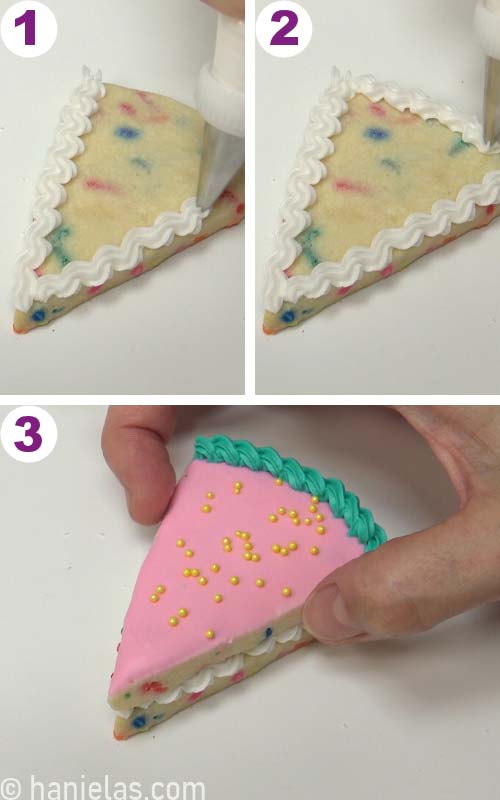 STEP 9 – PACKAGE COOKIES IN A BAKERY BOX
My confetti Cake Slice Cookies are perfect for birthday gift giving. Package them in a pretty bakery box for a pretty presentation.
TIP : 4 Cavity Wilton Treat Sample Boxes can hold cookies up to 3 inches across.
Assemble 4 small boxes and nest them inside of a larger box, (step 1-2).
And you know what? I just realized these pretty confetti cake slice cookies would be great for baby gender reveal party, too. You can add an extra either pink or blue sprinkles in the middle of the bottom cookie layer and seal them in with a top cookie. What a sweet cookie idea!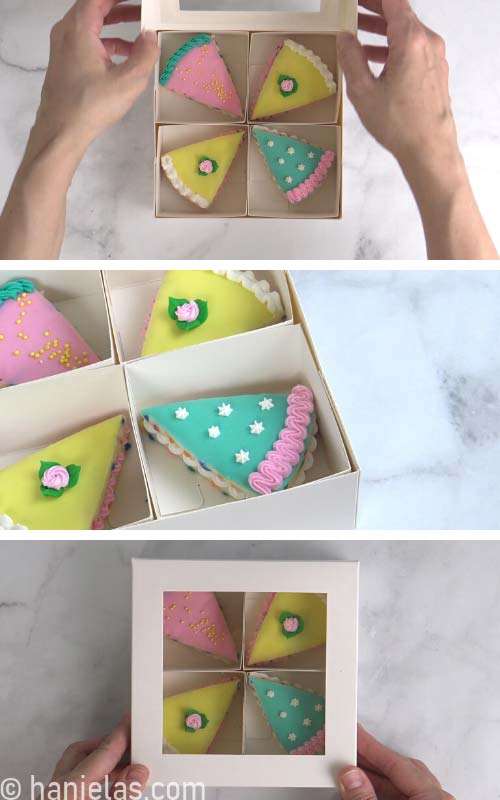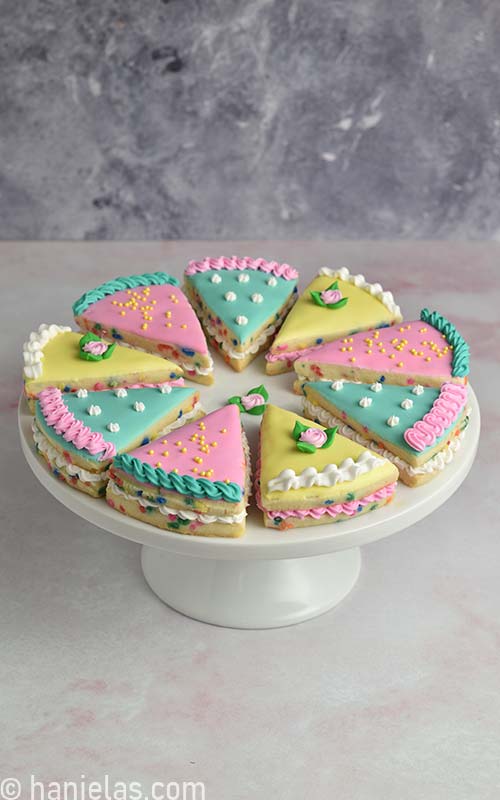 TO MAKE CONFETTI CAKE SLICE COOKIES YOU NEED
Confetti Cake Slice Cookies
Perfect little cake slice cookies to celebrate birthdays, baby showers and more.
Ingredients
ROYAL ICING
4 1/2

tbsp

Wilton Meringue Powder

1

lb

powdered sugar

1/2

cup

room temperature water

(or use 1/4 cup freshly squeezed, strained lemon juice and 1/4 cup water, or create your own ratio)

2

tbsp

room temperature water

1

tbsp

Vanilla Extract

1

tsp

Almond Extract
CONFETTI COOKIES
2

sticks

room temperature unsalted butter

(about 226 grams)

1 1/4

cup

powdered sugar

1

large egg at room temperature

2

tsp

Vanilla Extract

3

cups

all purpose flour

1/8

tsp

salt

1/4

tsp

baking powder

1/2

cup

Wilton Jimmies Sprinkles Assortment

1

tsp

milk ( add it when dough appears too dry)
Instructions
ROYAL ICING
Wipe down the bowl and utensils with vinegar or lemon juice to remove any grease residue.

Into a bowl pour water ( 1/2 cup plus 2 tablespoons), pour in meringue powder (4 and 1/2 tablespoons). Beat or whisk until well combined and foamy, about 30 seconds.

Pour in powdered sugar and beat on medium low speed until thick and well combined about 1 minute. Then add your flavorings : Vanilla Extract (1 tablespoon) and Almond Extract (1 teaspoon). If the mass appears too dry add little more water, by teaspoons.

TIP : If your confectioner's sugar is lumpy, be sure to sift it first.

TIP : Use other extracts as desired, avoid using oil base extract, use only water and alcohol based extracts. To avoid use of alcohol use Vanilla Powder instead.

Beat until thick, about 3-5 minutes.

Use royal icing to decorate cookies or make sugar decorations.
CONFETTI COOKIES
Sift all purpose flour (3cups), baking powder (1/4 teaspoon) and salt (1/8 teaspoon) into a bowl. Set aside.

In a bowl of your mixer beat room temperature butter (2 sticks, 226 grams), powdered sugar ( 1 1/4 cup) until creamy and well combined, about 2 minutes. Then beat in large egg (1 whole egg). Beat for 1 minute. Then beat in Vanilla Extract (2 teaspoons).

Gradually and on low speed beat in flour mix. Once flour is well moisten and your don't see any more flour streaks in the bowl pour in rainbow jimmies sprinkles and stir them in with a spatula until well distributed. Then using your hands gather dough into a ball. Knead it for 10 second until it comes together nicely. Flatten it into a disk.

TIP : If cookie dough appears too be too dry, add 1 teaspoon of milk

Roll the dough out between 2 sheets of parchment to about 1/4 inch thick. Chill for 40 minutes to an hour. Cut out 6 inch rounds with a large cookie cutter or use a smaller round cookie cutter.

TIP : Alternatively use a bowl and a knife to cut out 6 inch or smaller rounds.

Cut each round into 8 approximately equal wedges. Distribute cookies onto a baking sheet lined with parchment. Bake at 365F (185C) for about 7-9 minutes. Let cookies cool on a baking sheet of a minute or two then transfer them onto a cooling rack to cool completely.

Allow to cool completely before decorating.
Notes
HOW LONG DOES ROYAL ICING LAST?
Store in an airtight container, cover the mouth of the container with a food wrap and close it with a lid. Meringue royal icing keeps for up to 3-4 week.
HOW LONG DO CONFETTI COOKIES LAST?
Cookies, stored in an airtight container are good for 2 weeks.
This post contains Amazon affiliate links that earn me a small commission, at no cost to you. I only recommend products that I use and love. Learn more about my affiliate policy here.