I buy plain Chobani Greek Yogurt for several reasons :
I usually get a fat free one and it still tastes deliciously creamy and rich on its own
I buy it plain so I can also use it to make my salad dressing, throw in some salt, mustard, pressed garlic or finely chopped onion, add little lemon juice, herbs, freshly ground pepper, little honey and you are good to go.
I use it in baking, as an ingredient in cakes, cookies or as a filling too.
Few weeks ago I realized these Chobani containers are pretty sturdy and are reusable, I started using them and they actually work, I store my sunflower seeds, pumpkin seeds and in a large container I store apple chips I get at a local farmer's market.
I figured if I can save every container for the whole year, I'll have cookie gift containers for Christmas to give. Give them a little treatment with pretty paper and a ribbon and they are perfect, lid is clear, see through which also makes for a nice presentation. Not bad, not bad at all. What do you think?
What is also fantastic about these is the way the lid was designed, containers kind of lock into each other when you store them on top of each other.
There are different sizes of Chobani yogurts available on the market right now :single serve and multi- serve. I use only multi-serve ones, those containers come with a handy lid so you can reuse them over and over.
Multi serves come in 2 sizes : 32oz(907grams) and 16oz(454grams). I've turned them both into reusable containers with no problems so far.
Chobani Yogurt Containers turned into Storage or Cookie Gift Containers
You need
Empty containers and lids that have been washed, Do not wash these in the dishwasher!
Gently remove the label
Trace the label onto a thick craft paper, cut it out – this will be your template to use for future use
Get a nice scrapbooking paper or wrapping paper you like and trace the template onto the paper, cut it out.
Glue the new container label onto the container
You can add a pretty ribbon or a gift tag if desired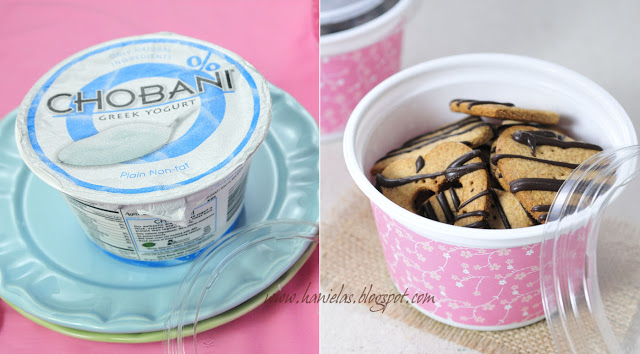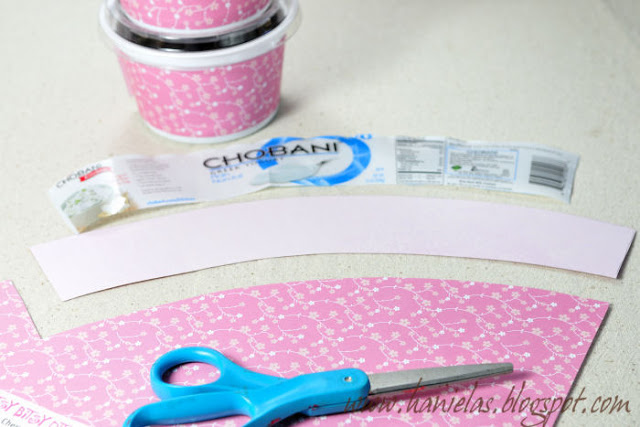 Make delicious Graham Crackers and fill the container with cookies.