Layered Sponge Cake, Dobos Torte
We all have that favorite cake, don't we? My hubby has a favorite too, and it's a Dobos Cake. Thin sponge cake layers are filled with creamy and heavenly light German chocolate buttercream. It's so good!
Traditionally made into a round torte and topped with a crunchy caramel layer I often make this cake into a no fuss brick shape with no caramel layer. It's easy to put together, can be made days ahead. .
Let's get started.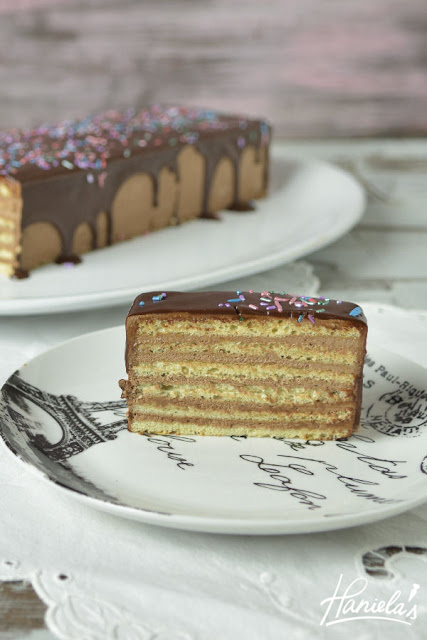 DOBOS CAKE RECIPE (finished cake can be refrigerated for a week,
actually it is better when rested at least for 10 hours, gets even better
second day) – VIDEO TUTORIAL
Sponge Cake Layers
12 eggs separated /12egg yolks and 12egg whites/
1 3/4 cup  all purpose flour
1cup granulated sugar
1 tbl vanilla extract
3/8tsp baking soda
salt, little bit for the egg whites and pinch stirred into the flour
Beat egg whites with pinch of salt until soft peaks are formed. Then gradually add about 1/2 of the sugar and whip until firm peaks are formed. Carefully scrape out meringue out of the mixer bowl into another clean bowl. Into the mixer bowl add egg yolks and remaining sugar, beat on low until well combined then increase speed and beat until thick and pale in color, ribbon stage. Add vanilla extract and beat well until combined.
Sift flour, baking soda and pinch of salt.
Gradually fold flour alternating with meringue into the egg yolk mixture.
Divide batter into 3 large baking sheet lined with parchment paper and sprayed with non stick spray. Bake each layer at 350F for about 7-10 minutes, until edges are lightly golden brown.
Remove from the oven and turn out onto a wax paper. Let cool completely before filling the cake layers.
Follow  the directions in the video on how to assemble the cake. Video can be found just below the recipe for Ganache.
Chocolate German Buttercream
 custard/pudding:
3 cups milk
4 1/2 tbl flour
4 1/2 tbl corn starch
1/4 cup cocoa powder
6egg yolks
1cup granulated sugar
1/2 cup chocolate chips, dark and milk combined
creamed butter :
8 sticks room temperature unsalted butter
1/4 cup cocoa powder
1 1/2 cup powdered sugar, use more if sweeter buttercream is desired
1 tbl vanilla extract
1tbl light rum, preferable tea rum
Whisk together 1 cup milk, egg yolks, sugar, cocoa powder, starch, flour until smooth.
Add
mixture to remaining 2 cups of milk. Heat and cook until thickened and
boiling, stirring constantly, add chocolate chips, cook at boiling
temperature for about a minute. Stir until chocolate is all melted and
combined well. Strain through the mesh sieve. Cover tightly with the
plastic wrap, let cool to room temperature.
Beat butter and powdered sugar, then add cocoa powder, beat until well combined, and creamy.
Gradually
add room temperature pudding into the room temperature creamed butter.
Beat well after each addition. Lastly beat in vanilla and rum.
Ganache Topping
1cup chocolate chips
1/2 cup heavy cream
Heat
cream until nearly boiling, pour over chocolate, let sit for 5 minutes.
Whisk, until smooth. Let cool for 10-15 minutes, pour over chilled
cake.


Watch the tutorial with step by step directions.
For easier decorating use sprinkles to decorate the top. Alternatively you  can toast walnuts, chop them and sprinkle them on the top. Enjoy.