Whole Wheat Apple Pancakes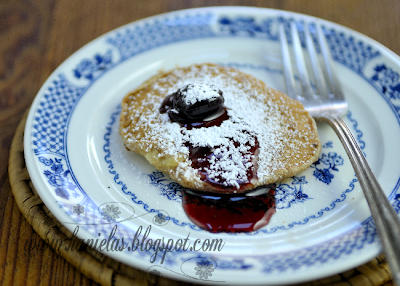 I love Pancakes my mom makes, she uses yeast to make them, they are fluffy and utterly delicious. I will share that recipe with you too, but today I decided to make more traditional North American pancakes with an apple twist.
Recipe is adapted from Smitten, I made few changes and additions to the recipe.
I grew up not knowing Maple Syrup, so I actually hardly ever use the stuff, my personal favorite way to eat the pancakes is spread a little jam on the top and dip them in ground walnuts or almonds and my dad's favorite poppy seeds topping.
Whole Wheat Apple Pancakes
2 eggs, well beaten
1 1/2 cups of milk
2 cups whole wheat pastry flour
1 teaspoon baking powder
1/2 teaspoon salt
1/4 cup sugar
3 medium tart apples, peeled and coarsely grated
Zest of one lemon
1tsp vanilla
1tsp cinnamon
1/4tsp nutmeg
Vegetable oil, for frying
Confectioner's sugar, for dusting
Maple syrup
I love pancakes with Jam and ground walnuts or almonds
-. Mix the eggs with the milk and lemon zest in a large bowl
– In a small bowl combine the flour, baking powder, salt, sugar, cinnamon and nutmeg.
– Combine the wet and the dry ingredients and stir in the apples.
– Heat a thin layer of oil in a skillet over low to medium heat. Using 1Tbl measure drop large spoonful of batter into the pan and flatten it out a little and cook until golden brown underneath. Flip the pancakes and cook them for an additional two or three minutes.
– Here comes my favorite part, you could either eat them plain, dust them powdered sugar, or you could also just like I mentioned before, spread little jam on the top and dip them into the grown walnuts or almonds, that is what I did this morning. Serve and enjoy.