Soft Pretzel Tomato Bites
Our Garden is doing great this year, so far we are very happy with our crop. Lots of sweat and hard work is involved in maintaining the garden but at the end of the day when you bite into a juicy sweet tomato, it is a perfect reward.
With an abundance of cherry/plum size tomatoes I'm trying to find new ways to use them. Today I prepared an easy appetizer- Soft Pretzel Tomato Bites, slightly more addictive than I was expecting. I ate way too many. They are especially tasty slightly warm and taste like mini, bite size pizzas.
Soft Pretzel Tomato Bites (My Video Tutorial – Soft Pretzel Bites)

Yeast Dough
1 1/2 cup warm water
1tsp honey
1package dry yeast
2 cup all purpose flour
2 1/2 cup bread flour
1tbl kosher salt
6tbl melted butter
Baking Soda Solution
5cups water
1/3cup baking soda
Egg Wash for brushing
egg yolk
1tbl water
olive oil to coat the bowl
Toppings
20 any kind of cherry style tomatoes, washed – how many you need depends on the amount of pretzel bites, I made about 30-40 pretzel bites, cut each cherry tomato in half
kosher salt, pepper
2tsp chopped fresh basil
1tsp chopped fresh rosemary
1tbl olive oil
small onion, sliced(optional)
Tools
pastry brush
board for rolling
parchment paper
kitchen scissors
slotted spoon

Pour
warm water into the bowl of your mixer, add honey and stir in yeast.
Let stand for 5 minutes, until foamy. Make sure you use warm water, not
hot. Hot water will kill the yeast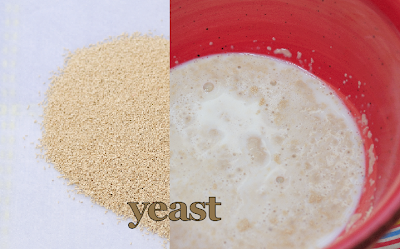 Add
2 cups of all purpose flour, 2 cups of bread flour, melted butter and
salt into the bowl with yeast and knead , using a dough hook attachment.
If dough is too sticky add additional 1/2 cup of bread flour. This
dough when kneaded is somewhat on a dense side. Knead for 5 minutes, or
until the dough comes into a smooth ball.
Lightly
coat a large bowl with the oil and put the dough into the bowl.Cover
the bowl with plastic wrap and let rise in a warm place for a hour.
Preheat oven to 450F
Forming the Pretzel Bites
Invert
the dough onto a clean work surface(DO NOT USE ADDITIONAL FLOUR), cut
dough into 6 sections and using palms of your hands roll the dough into thick ropes, don't make them too thin.
Using a pizza cutter or a knife cut the ropes into pieces.
Dipping in Baking Soda Solution
(don't
skip this step, I've tried it without and pretzels were not as good.
Baking soda is the agent that will make your Pretzels turn into that
nicely brown/golden color)
Make the egg wash : mix together water and egg yolk, set aside
Have pastry brush, slotted spoon, pretzel salt, kitchen scissors, and baking sheet ready
Bring 5 cups of water to boil, add 1/3 cup baking soda.
Put
about 5 pieces of pretzel dough into the simmering solution and let
cook for 30 seconds. Remove pieces with slotted spoon and place them on
baking sheet, continue with remaining dough.
Once
done, brush each piece with egg wash, sprinkle with salt and using
scissors cut + into the each pretzel piece.
Gently transfer pieces onto a
clean baking sheet lined with parchment paper.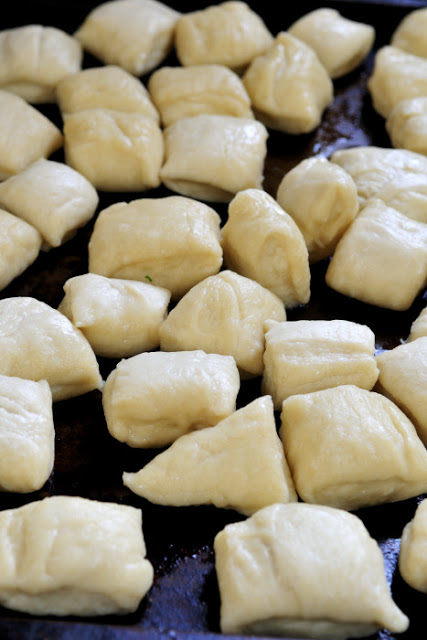 Dipped in baking soda solution for 30 seconds
cross cut with scissors
In a small dish combine all the filling ingredients : tomatoes, olive oil, herbs, season with kosher salt and pepper, add sliced onion(optional)
Gently push one tomato half into each pretzel bite;cut you made with scissors is a prefect nesting area for the tomato.
Bake for 10-12 minutes or
until golden brown on the outside. Once
you take them out of the oven, transfer baked Pretzel Tomato Bites onto a
cooling rack, though I can guarantee you will be very much tempted to
eat one straight from the oven, I recommend letting them cool for just a
few minutes.
Linking to WE DID IT WEDNESDAY