I always have ricotta cheese in my kitchen, I try to get low fat version and even fat free version, it seems to be working fine for whatever I use it.
I love sweetened ricotta cheese and noodles, or chocolate ricotta, have you tried that? Add melted chocolate into ricotta cheese. There goes my dessert.
Today I decided to share with you a refreshing recipe for frosting, it can be used for variety of sweet indulgences : cake, cupcakes, fruit dessert, topping for your pudding, and if you ask me I have no problem enjoying it alone with fresh berries.
To make it, you'll need to stabilize your heavy whipping cream, I know what you are thinking, it sounds so complicated, but it really is not.
The result is a delicious light frosting you'll love


Lemon Ricotta Frosting
Stabilized Whipped Cream
1 cup heavy whipping cream
1tsp unflavored gelatin
4tsp cold water
1/4 cup powdered sugar
1/4tspvanilla extract
1 1/2 cup ricotta cheese
3tbl powdered sugar , taste before adding sugar
1tsp lemon extract *
*you can also use almond extract
In a small heat proof bowl( I use tempered glass bowls), combine gelatin and water. Let stand for about 3 -5 minutes, until gelatin gets really thick ,it will look almost like a paste. Place the bowl over a pot with simmering water, stirring constantly, until gelatin dissolves, it may take about 3 minutes or so; you are looking for gelatin that is dissolved, meaning it is smooth, with no grittiness,but make sure you don't over heat it.
**You can also do this in the microwave, on 1/2 power, in 10 second intervals
Once the gelatin is dissolved. Pour the heavy cream into a bowl, whip it until medium/soft size peaks are formed, gradually add powdered sugar and vanilla extract, and then beating slowly, gradually add dissolved gelatin, whip at high speed until stiff.
Fold in ricotta cheese, and lemon extract. Taste, if desired add more powdered sugar.
Decorate your cake or cupcakes
Keep cake, cupcakes refrigerated.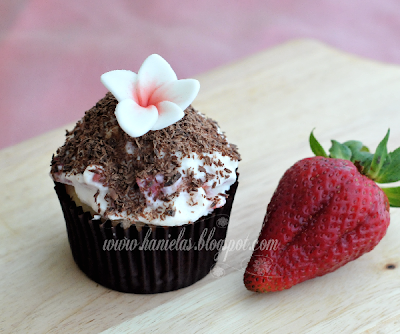 Tip: You can add freshly chopped fruit, gently fold it in with spatula, and spoon the frosting onto the cake or cupcakes, I usually use strawberries about 1/2 cup chopped strawberries.Shave some chocolate on the top and voila there you have it.
Enjoy.