Beach Cake with Gumpaste Adirondack Chair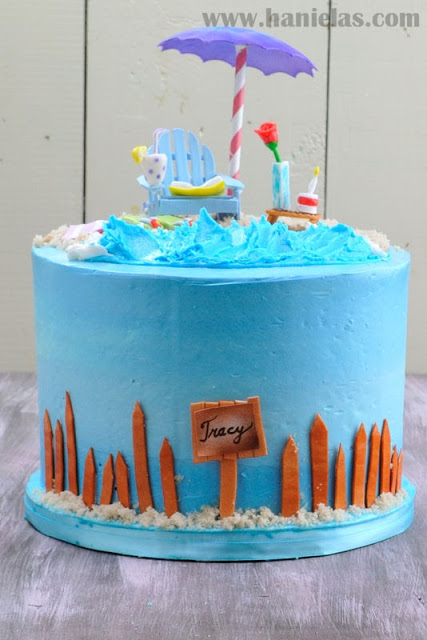 Remember the
Philadelphia Phillies Baseball Bat Cake
I made last year? This cake was for Tracy, lady who ordered the Phillies cake for her husband last year. Her husband called me about the cake for his wife. Naturally I had tons of questions about what she likes. Words like beach, red rose, books, purple were said. Decision was made. It was going to be a BEACH CAKE.

I had a major mishap when making this cake, everything went well, up to the point when I wanted to show the cake to my SIL via Skype. I just updated Skype and a cool new option of sending a video message appeared on the screen. Andrea wasn't picking up but I was thinking I could send her video message and she can see the cake that way. She makes cakes too and we chat often. I rushed to get the cake from the fridge. It was all assembled and I had a grin on my face. I was really pleased how it turned out. (I absolutely adored the chair with the drink). I lifted the cake up, up…in the fridge, where up meant that my precious gumpaste Adirondack chair hit the shelf above. I heard the cracking noise and falling. My heart sank. I had 2 hours before delivering the cake. I found all the broken chair pieces and I glued them using stiff royal icing. It wasn't perfect but it held together and I've heard Tracy loved it.
Cake Details
I used my Velvet Vanilla Pound Cake (video tutorial)
Vanilla Swiss Butercream
Fresh Strawberry Filling
Gumpaste (Make your own gumpaste or use store bought, I used Wilton Gumpaste)
Airbrush(My New Airbrush)
Frosting Sheets

AmeriColor Gel Paste Food Color 12 Pack Kit

Rainbow Disco Dust, 5 grams
Airbrush
Light Brown Sugar
White Granulated Sugar
Royal Icing
Paper Drinking Straw from Bake it Pretty
I used a real life pattern for the chair, I resized it to fit the size I needed and then I simply cut out each piece from the gumpaste using exacto knife. Once I had all the parts I let them dry overnight and then I started assembling the chair, waiting for each section to dry before adding new piece.
Sea shells(

learn how to make gumpaste sea shells

), book, flip flops, rose, vase, drink, fence were made from the gumpaste. I airbrushed the fence pieces individually as well as piece of frosting sheet. Frosting sheet is a little piece with "Tracy" handwritten on it. I used an edible marker to write the name.
To make the beach umbrella I used a large round cutter and then cut out moon shapes using a small round cutter. Beach umbrella is made out of gumpaste as well. I let it dry inside of a small ball cake pan. Once dried I airbrushed it and attached a drinking straw with royal icing.
Wave on the top of the cake is made from stiff royal icing, using white icing and then blue on top. I used a small angled spatula to make the wave.
Beach sand is made with brown sugar, granulated sugar and little bit of rainbow disco dust. I like the beach sand to be lighter. I added some granulated sugar to brown sugar. You can control how light you want the sand by adding more or less granulated sugar. Disco dust is added for little sparkle. I used the same technique for the beach sand in my other cake –

Engagement Cake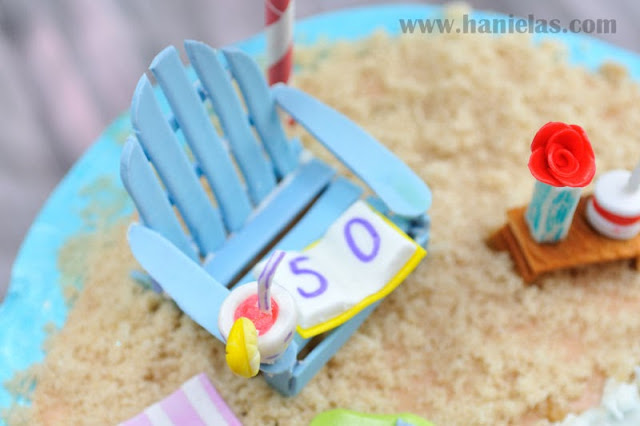 I used Swiss buttercream to ice the cake. I made 3 shades of blue buttercream and iced the cake to create the "ombre" effect.