Cinnamon Walnut Oat Twist Bread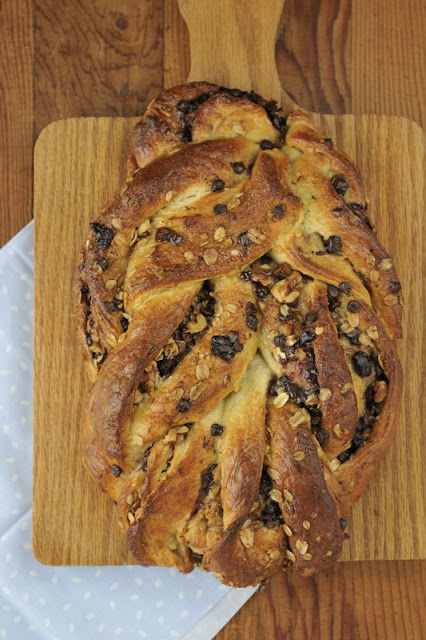 Today I'm going share with you a recipe for a twist bread, full of delicious flavors. Dark golden shell holds a vanilla butter flavor, a surprising touch added right after bread is baked(read more about it in the recipe)
For the filling I used variety of things, from dry fruit, oat, walnuts to chocolate. You can go simple using one filling or you can go with more than one filling. I personally prefer using walnuts but if you are a pecan fan, you can substitute for them instead. Serve this bread plain along with a cup of tea or coffee.
Cinnamon Walnut Oat Twist Bread (2 loaves)

Sweet Yeast Dough
3 3/4 cup (500grams) all purpose flour
1/4 cup granulated sugar (60grams)
1stick(113grams) melted butter
4tbl vegetable oil
2egg yolks
1tbl fresh lemon juice
zest from 1/2 lemon
1 package dry yeast(7grams dry yeast)
1cup (240ml) warm milk
1egg yolk +1 tbl warm water – whisk together and make egg wash
Filling
2tbl butter melted with 2tbl milk
about 3/4 cup raspberry jam(optional)
1cup brown sugar
1 cup old fashion oats
1/2 cup roughly chopped walnuts or pecans
2 tsp cinnamon
1 cup dry raisins, cranberries, you can substitute for chopped apricots as well
2tbl little bits of dark chocolate
Glaze(brushed right after loaves are baked)

3tbl butter, melted
1/2tsp vanilla
1tbl flavored rum, or other flavored liqueur (optional)
Sift together flour, sugar into bowl of you mixer.
Warm the milk, add 1package of dry yeast into the milk, stir and let stand for 5 minutes until bubbles form on the surface.
In a small dish stir together melted butter, oil, egg yolks, lemon juice and lemon zest.
Add wet ingredients into dry and knead on low speed using a hook attachment. Knead until smooth dough forms.
Invert dough onto a lightly floured surface and knead with a hand for a minute or so until no longer sticky.
Oil a large bowl and put the dough into the bowl, coat the dough
with oil. Cover bowl with plastic wrap and let the dough rise in a warm
place, about an 1hour 15 minutes.
In a bowl stir dry ingredients for the filling. Set aside.
Once dough has risen, invert it onto a lightly floured surface, cut in half.
Roll one half of the dough into a rectangle, brush wit butter milk mixture, spread 1/2 of the raspberry jam in center and press half of the filling into the dough. Sprinkle some butter milk mixture on the top.
Roll the rectangle into a log. Cut lengthwise and then in half. First braid /twist 2 cut halves together, , continue with the second one. You should have 2 braided robes. Gently place them onto a baking sheet, and press them slightly together. Cover with a towel and let rise for about 30 -40 minutes.
Continue with remaining dough.
Prepare egg wash.
Brush both loaves with egg wash.
Preheat oven to 400F(200C), bake for 10 minutes, then lower temperature to 350F(180C) and bake for another 30 minutes, or until golden brown on the top.
In the meantime whisk together melted butter and vanilla.
Take the loaves from the oven and brush with butter rum mixture, cover loosely with a towel and let rest for 20-30 minutes.
Cut or tear the loaves by hand. Enjoy.