Cheerios Strawberry Cheese Tart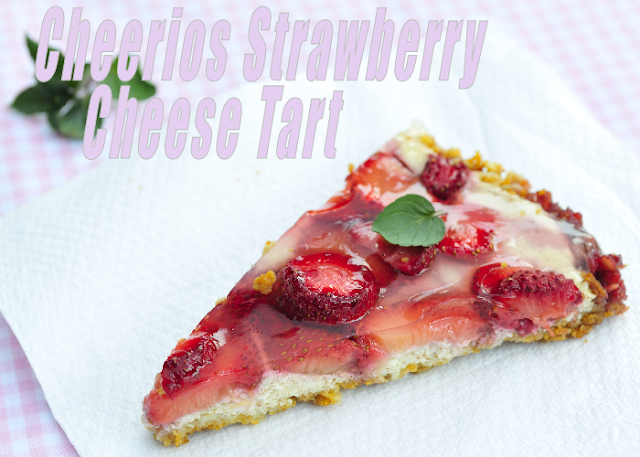 It is the Strawberry Season and I will be making a lot of strawberrylicious treats this Summer.
Strawberries in my garden are in full bloom right now, really exciting to see them grow, but in the meantime I go to a local farm and pick ripe strawberries there. This is a new recipe that I was testing, original crust recipe is from the Cheerios. I wanted to make it a bit healthier and more interesting so I added few other ingredients. As for the filling I made some
farmer's cheese
earlier this week so I decide to use it in the filling.It turned out more delicious than I would have thought. I'd serve this to my friends any time. It is refreshing, not overfilling with just the right sweetness. Perfect summer dessert.
Cheerios Strawberry Cheese Tart Recipe
Tart Crust
2 1/2 cups whole grain cheerios cereal
1/2 cup oats
1tbl ground flax seeds
2 tbl water
1/4 butter, melted and cooled
Filling
1 cup low fat Farmer's cheese or ricotta cheese
1/4 cup light sour cream
1 egg
1/2 tsp cinnamon
honey or brown sugar to taste
1 pint strawberries or other fruit in season, cut in slices
Tart Crust
Oven 350F

-using food processor crush cheerios or – I placed cheerios in the ziplock bag and crushed them using a rolling pin. Add 1/2 cup whole oats. Mix 1tbl ground flax seed with 2tbl water. Melt butter and let cool to room temperature. Using a wooden spoon or clean hands work all ingredients together to form a crumbled cookie like mixture.
Using a 9 inch tart pan / I recommend using one with the removable bottom/, spray the pan with nonstick spray, and using both your hands fill the bottom of the pan, pressing the mixture so it holds together.
Bake the crust for 8 minutes in preheated oven 350F. I placed the filled tart pan on the top of the baking sheet for stability.Once crust is baked let it cool to room temperature.You can turn off the oven.
Filling
-using a fork mix together farmer's cheese /or ricotta cheese/, egg, cinnamon, sour cream. Add honey or brown sugar, I added about 1/4 cup brown sugar/I ran out of honey, otherwise I'd use honey of course:-)/
-wash strawberries or other fruit in season, cut in slices
Fill the Crust
-once your cheerio- oats crust is cooled spread the cheese mixture on the top and layer strawberries or other seasonal fruit on the top. Sprinkle with 1tsp of vanilla sugar or with plain granutaled sugar.
Bake the Tart
-bake the tart at 350 for about 35-40 minutes, until fruit is baked through.Remove from oven and let cool completely.
Glazing the Tart
and pour it on the tart, clear glaze will makes it shiny. This step is not necessary.
I have to tell you I was doubting the use of cheerios alone in the crust, so I added whole oats and it made it all worth it. When whole oats bake they transform into these crunchy little things and together with a bit of butter I don't have to tell you do I? They are just so yummy, really delicious, and pretty healthy too, together with added ground flax seeds this dessert is packed with fiber. Soft cheese used in this tart is wonderful addition, and cinnamon is my favorite spice of all, it adds just the right kick to it.I'm very happy how it turned out.