Banana Cherry Oat Scones with Peanut Butter Glaze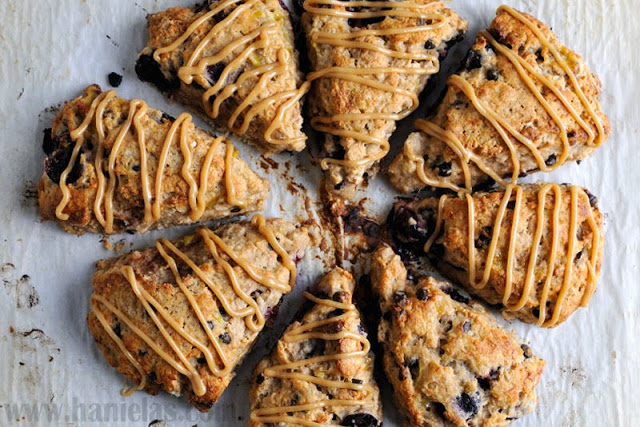 I know I've been really slacking on posting new recipes every week. Today I wanted to fix that. Scones. I made scones.
Last week I bough my first cherries of this season. I ended up gently placing 2 whole bags in my cart. I know me, once I dig into them I won't be able to stop. I love cherries.
I have a story to tell. When I was little my mom worked at a local High School. It was a school with a large dormitory, with 3 floors, vinyl stairs and a large cafeteria. My mom was a teacher and occasionally she had to work nights there at the dorm, and so my dad would send us off to school in the morning and then after school I walked from my school to my mom's school. I grew up in a small town and we walked everywhere, it took about 10 -15 minutes to get to school. I remember I was a first grader, learning how to write my first words. One day I came to see my mom and my mom would let me sit at the check-in window, and I practiced my 1st grader's writing skills there. This was huge for me, check-in window. Imagine. Big kids passing by, showing you their permits, waving, saying hello. Sometimes when there was nobody to watch me my mom asked 2 of her students to watch me. I can't remember their names but I remember they were really pretty. They'd take me for walks and one time, they took me to pick cherries. I loved cherries, especially one kind, those that look like little hearts. They are special. Very sweet and juicy.
Banana Cherry Oat Scones (makes 8 scones), recipe adapted from theKitchn
2 large bananas(when mashed you should have 1cup)
1/2 cup plain yogurt, I used low fat
2 cups all purpose flour
1/2 cup old fashion oats
4tbl granulated sugar
2tsp baking powder
1/2 tsp salt
1 tsp cinnamon
2tbl mini chocolate chips
4tbl butter, cut into chunks, chilled
1cup pitted cherries, very roughly chopped
Peanut Butter Glaze
2tbl peanut butter
2/3 cup powdered sugar
5tsp milk or water, plus more as needed for the right consistency
Mash the bananas with the fork, stir in the yogurt and set aside.
In a large bowl whisk together flour, sugar, baking powder, cinnamon and salt.
To the flour add butter and using a fork, pastry cutter or you hands(finger tips), work the butter into the dry ingredients until the mixture is coarse, you should have small pieces of butter still intact.
Stir in oats and chocolate chips.
Pour in banana yogurt mixture, add cherries and stir just until moistened enough and all the flour is incorporated, don't over stir. Dough will be soft and kind of wet. I like to use a large fork for this, or a spatula.
Line a dinner plate with parchment round, and spread the dough on top of it, dough round should be about 1 inch thick. Cover the disk of dough with another parchment piece.
Place the plate with the dough into the freezer for 45 minutes.
Now you can preheat the oven to 400F
Take the plate with the dough out of the freezer, peel off the top parchment round, invert the plate onto the baking sheet lined with parchment paper, peel off the second parchment round from the dough.
Cut the dough into 8 wedges, using a knife or a pie server separate the wedges, to give them a little room to expand during baking.
Bake for 25-30 minutes, until golden brown on the top.
Remove from the oven and let cool completely, pull the scones apart if they got baked together.
Prepare the glaze: whisk together peanut butter, milk and powdered sugar, add more milk until you reach desired consistency. Fill a small sandwich bag with the glaze, make a small opening in the corner using scissors and pipe the glaze in zic zac pattern all over the cooled scones.
Enjoy or you can also freeze these.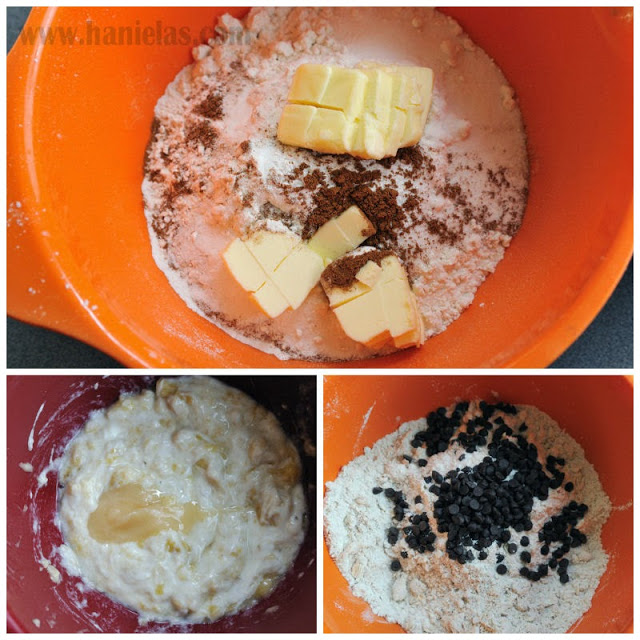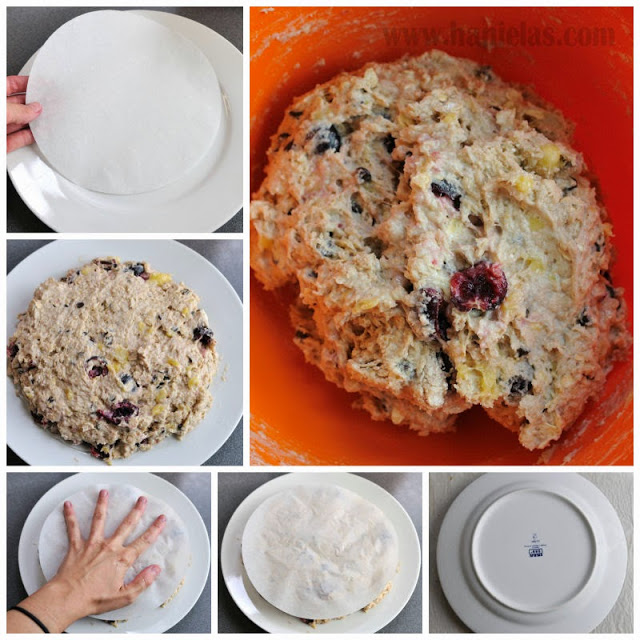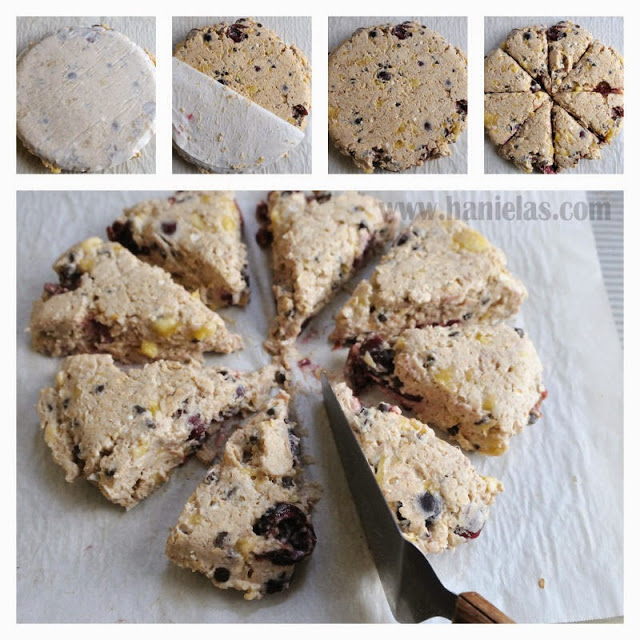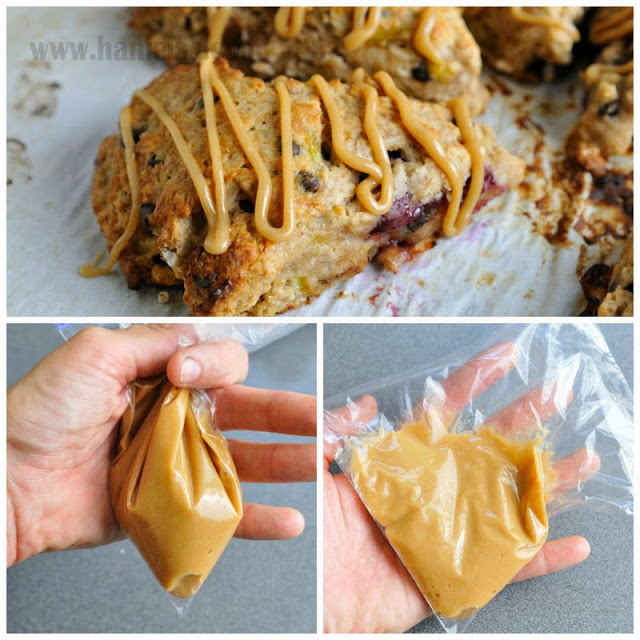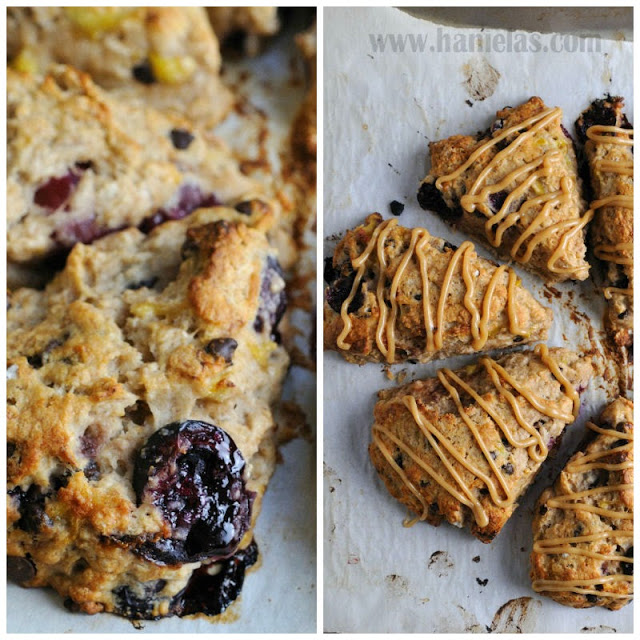 If you are looking for another fruit scone recipe, here are my Raspberry Ginger Scones
Also I'm linking my scones to Buns in my Oven