As a contributor to Bird's Party I created this cake for the Fall Magazine Issue , you can check out the full Fall issue
here
. I'm so proud to be a part of it, it is absolutely breathtaking; full of colorful images and inspiring ideas.Make sure you check it out you'll find something you'll like for sure.
In my contribution I wanted to emphasize on the month of October, Breast Cancer Awareness month.
As far as Think Pink Cake goes,you can see below it all started with baking a lot of small. about 1 inch cookies, and decorating them with the variety of terms, like hope, love, cure, fight like a girl etc.
Secondly, bake a cake, you can make any cake you like.
My favorites are
Using the cookies decorate the cake, I recommend starting at the bottom and working your way up. You may have to use a bit of icing to attach cookies onto the cake.
I love how this cake turned out, if you are creative you can use this idea for so many other occasions.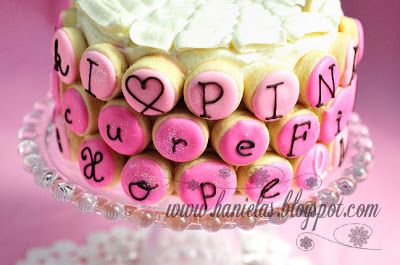 I added a little Pink Ribbon Banner to make it even more special.