I love zucchini! We have several varieties in our beautiful vegetable garden. Last week I picked a sizeable pale green zucchini. This one was quite big, so I thought it might be tough, but on the contrary, it was like butter. I used it to make my favorite zucchini soup.
updated from 2010
HOW TO MAKE EASY ZUCCHINI SOUP
What I love about this soup that is perfect warm, lukewarm and even cold. In the heat of the summer when all you want is cooled down this refreshing zucchini soup is perfect.
INGREDIENTS YOU NEED TO MAKE SOUP
Zucchini
Olive Oil
Butter
Flour
Milk
Heavy Cream or Whipping Cream
Chicken Broth (oprional, use vegetable broth or milk, water instead)
Spices: allspice berries, black pepper, bay leaves
Fresh or dry dill
Salt
This is Squash Summer Sweet Gourmet Zucchini Hybrid. Some zucchini varieties can grow big without getting tough, that's what happened to use. The one pictured here is similar to Summer Squash Variety. You can also use smaller, more common zucchinis to make the soup.
This summer soup is easy to prepare. I like to make the soup with small zucchini chunks. You need to peel the zucchini, remove the seeds and dice it.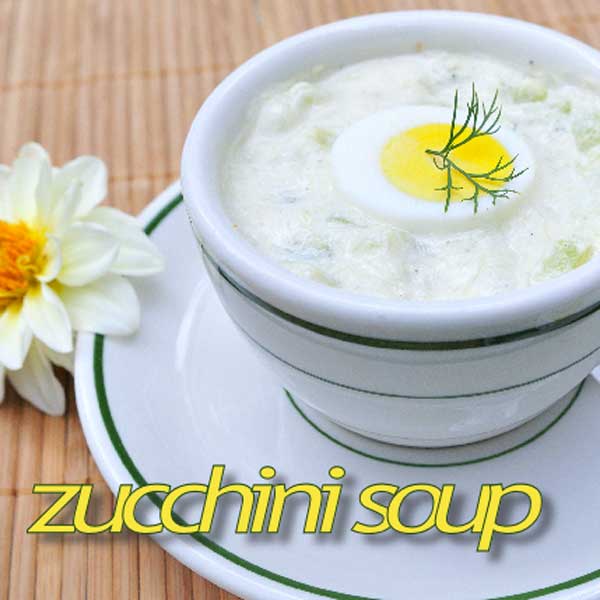 DELICIOUS VEGETABLE RECIPES
Zucchini Soup
Recipe for delicious homemade zucchini soup. Serve cold, lukewarm or warm.
Serving: 1 cup
Ingredients
Zucchini
Zucchini – peeled, seeds removed and cut into small cubes, about 2 pounds -1 large or 3-4 small ones

1

small onion, diced

2

tsp

olive oil

2

whole allspice berries

3

whole black pepper berries

3

bay leaves

1

tbsp

dill finely chopped

1/2

tsp

salt to taste

1/4

tsp

ground pepper to taste
White Sauce
3

tbsp

butter or olive oil

2

tbsp

all-purpose flour

1/2

cup

heavy cream, or half and half

2

cups

milk, whole or low fat

1/2

cup

chicken broth
Toppings
1

hard-boiled egg, sliced
Instructions
Prepare Zucchini
Peel the zucchini, remove the seeds, and dice the zucchini into small cubes.

Heat 2 teaspoon olive oil in a large pot, add onion (1 small onion, diced), and saute on medium heat until translucent, about 5 minutes.

Add diced zucchini into the onion, season with salt, pepper, add spices: 2 whole allspice berries, 3 whole black pepper berries, and 3 bay leaves,

Saute for 2 minutes, stirring. Remove from the heat.
Make White Sauce
In another medium size pot, melt 3 tablespoons of butter, add 2 tablespoons of flour, and cook for 2 minutes, stirring constantly. Don't let the mixture get brown. Remove from heat. Gradually whisk in 1/2 cup of heavy cream, 2½ cups of milk, and 1/2 cup of chicken broth. Bring to a simmer.

Strain the white sauce to get rid of possible lumps, add it to your zucchini, and cook on medium heat, bring to a boil, reduce heat and simmer until the zucchini soft. Then add finely chopped dill and remove from the heat, season with salt and pepper to taste.

Remove bay leaves and spice berries.

Serve warm or cold with a sliced hard-boiled egg(optional).
This recipe was first published on July 15th, 2010. On May 18th, 2023 I updated this recipe with a recipe card and updated pictures.