Pickled Red Beets with Horseradish
Under a dull exterior of this root vegetable lies a delicious, sweet flavor packed with
nutrients
. High in folic acid, potassium, calcium and antioxidants and with also edible greens this vegetable is a garden jewel on its own.
We decided to grow beets this year, planting seeds directly in the soil. They are so easy to grow, they nearly took over part of the garden, I had to thin them several times. Apparently greens have even more nutrients than the root but best to harvest them while they are young and tender. You can treat them like spinach and cook with them, too.
Green are an excellent source of carotenoids, flavonoid anti-oxidants, and vitamin A. They contain
these compounds several
times more than that of in the roots. When preparing I treat them as spinach, though I prefer eating them cooked with caramelized onion and white wine vinegar, salt, pepper.
Pickled Red Beets with Horseradish
30-40 small red beets

2cups water
2cups sugar
3cups white vinegar
1tbl kosher salt
2tsp whole caraway seed
1tsp fennel seeds
1tsp whole black pepper berries
1/2tsp chilli flakes(optional)
fresh horseradish, sliced or shredded
Steam or roast the beets until soft and still firm, not mushy, remove from heat and let cool slightly.
Put clean latex or non latex gloves on and remove the skins from the beets. This is an easy task, the only problem is that it gets a bit messy, so wear the gloves , you can thank me later
Using a madoline slice skinless beets into fairly thin slices, or you can grate them too.If grating use a rough size not fine. Put sliced or grated beets into a container that you can be closed overnight.
Prepare pickling solution : in a medium size pot stir together water, sugar, vinegar, salt, caraway seeds, fennel seeds, black pepper berries, and chili flakes(optional). Bring the liquid to boil and let boil covered for 15 minutes. Remove from heat and let cool slightly.
Pour the pickling liquid through the mesh sieve and over beets,stirr and let sit for 2-3 hours.
Prepare canning tools, jars, lids and rings. Sterilize jars and lids. Place few slices of fresh horseradish on the bottom of each jar. Fill the jars with pickled beets. Process in water bath for 15-20 minutes. Set your clock for 15-20 minutes once the water in the canning pot starts boiling.
More on canning can be found in my Post Dill Pickles, or Pickled Peppers In oil
Horseradish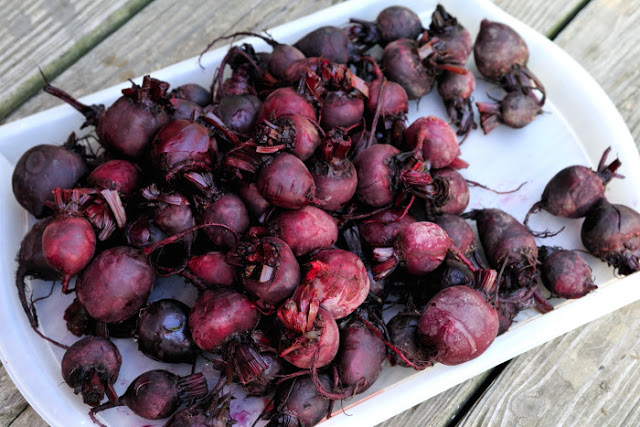 Freshly Cooked Beets
Peeled Beets. Use gloves when peeling beets.
Sliced horseradish and skinless red beets
Canning
Red Beet Mini Sandwiches with Horseradish Cream
Marinated Beet Orange Salad
How to pick store bought beets
How to store beets