Mermaid Tail Cupcake Cake
Say yes to a cupcake pull-apart cake decorated with creamy and smooth buttercream pastel hues and shimmering gold mermaid scales. This watercolor buttercream mermaid tail cupcake cake can light up a birthday party, baby shower or a bridal shower with a touch of magic and underwater fantasy.
HOW TO MAKE A MERMAID TAIL CUPCAKE CAKE
Follow my step-by-step mermaid cake DIY tutorial.
THINGS YOU NEED TO MAKE MERMAID PULL APART CUPCAKE CAKE
This post containsThis post contains Amazon affiliate links that earn me a small commission, at no cost to you. I only recommend products that I use and love. Learn more about my affiliate policy here.
BAKE CUPCAKES
Bake cupcakes and let them cool. You need 24 cupcakes to make a pull apart mermaid tail cake.
PREPARE AND COLOR BUTTERCREAM
I used American Buttercream to frost the cake. The recipe comes together quickly and is stable to leave at room temperature for a few days.
Color about 1/4 cup of buttercream with pink, purple and teal.
Color 1/3 cup of buttercream with ivory or gold gel color.
Leave rest white.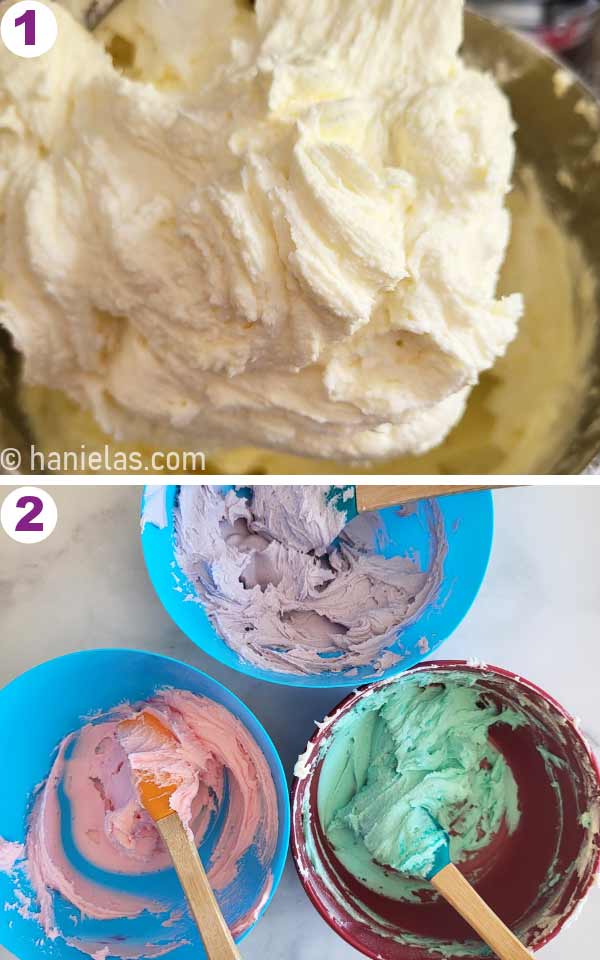 MERMAID TAIL CUPCAKE CAKE TEMPLATE
Attach cupcakes onto a cake board, pipe a dot of buttercream on the bottom of each cupcake, and glue them onto the cake board. Don't leave gaps between cupcakes.
You don't need to print a template or anything like that. Just follow the cupcake arrangement you see in the image below.
FROST THE MERMAID PULL APART CUPCAKE CAKE
Pipe buttercream onto the cupcakes and spread it over the cupcakes with a spatula and/or a flexible plastic spreader (steps 1-5). Let the cake sit for several minutes until the buttercream starts to crust. About Once the buttercream is lightly crusted, about 10-15 minutes, smooth the top with a paper towel. If you have a super soft and smooth Viva -paper towel, great, use that. But regular paper towel works, too. Turn the sheet over and use the nontextured side. Don't drag the paper towel over the buttercream surface; gently dab it to smooth the buttercream (steps 6-8).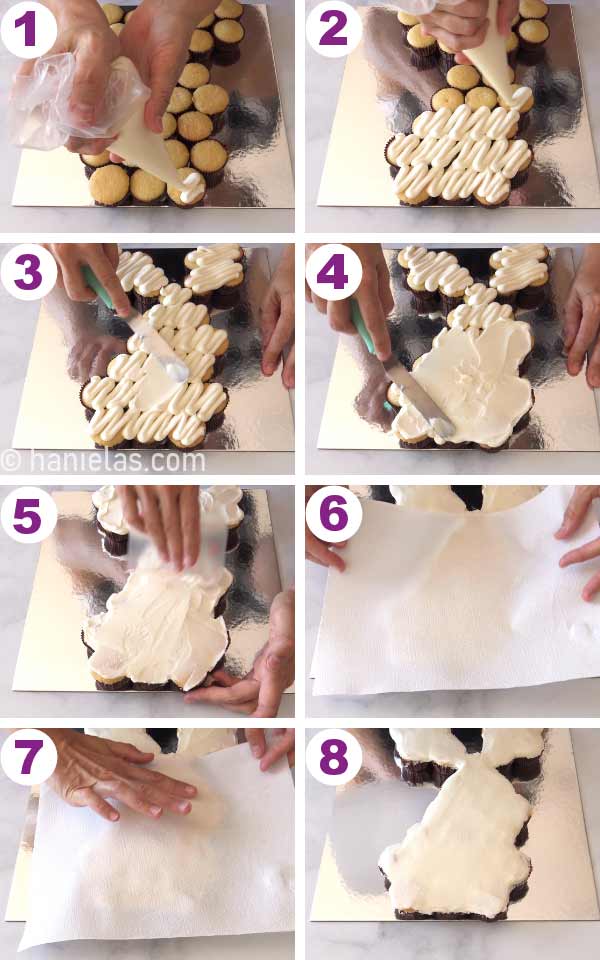 EASY WATERCOLOR BUTTERCREAM
Use pink, purple, and teal-colored buttercream to create a watercolor design. Lightly spread pink, purple, and teal buttercream over white buttercream. Wipe the spatula in between (steps 1-6).
PAPER TOWEL METHOD FOR SMOOTH BUTTERCREAM
Allow buttercream to crust for 10-15 minutes and then use a nontextured side of the paper towel to smooth the top of the buttercream. Use a gentle dabbing motion.
MERMAID SCALES PATTERN
Use a toothpick to draw the mermaid scale pattern onto a buttercream (steps 1-3).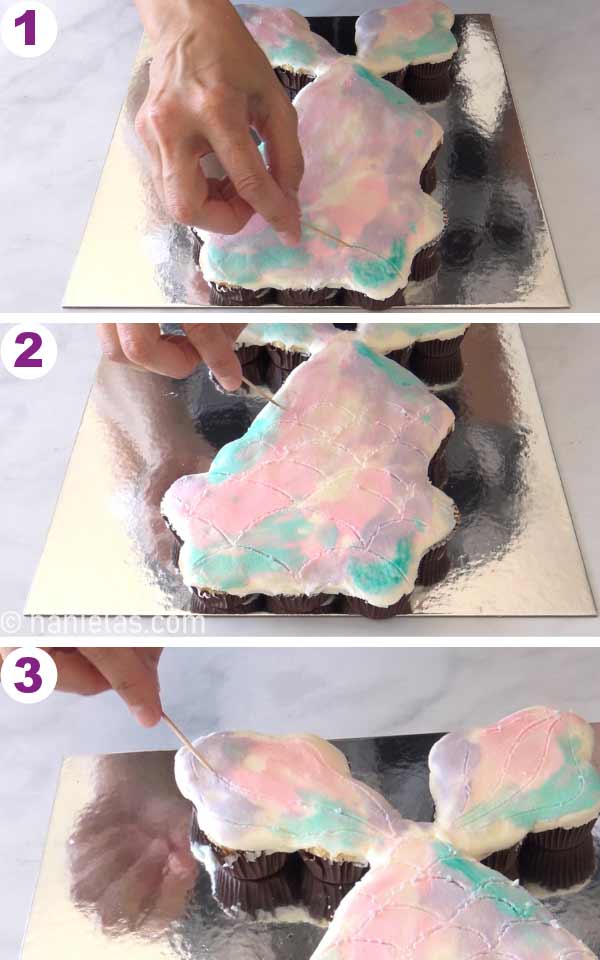 PIPE MERMAID SCALES – GOLD BUTTERCREAM
Fit a piping bag with a coupler and attach a piping tip #5. Pipe the border (steps 1-3).
I switched out a round piping tip #5 for #4 to pipe the scales. Follow the guide you made with a toothpick to pipe the mermaid's body and the fluke. Chill the cake until the buttercream is firm, about an hour.
PAINT WITH GOLD EDIBLE PAINT
Shimmering details and mermaids go hand in hand, so you can't blame me for adding an extra step, I just couldn't skip on glittering gold. You can use edible gold paint or make your own with gold luster dust. Into a paint palette pour gold luster dust powder, and then pour in alcohol with a dropper ( I used Everclear). Mix it well with a food-only paintbrush (steps 1-4).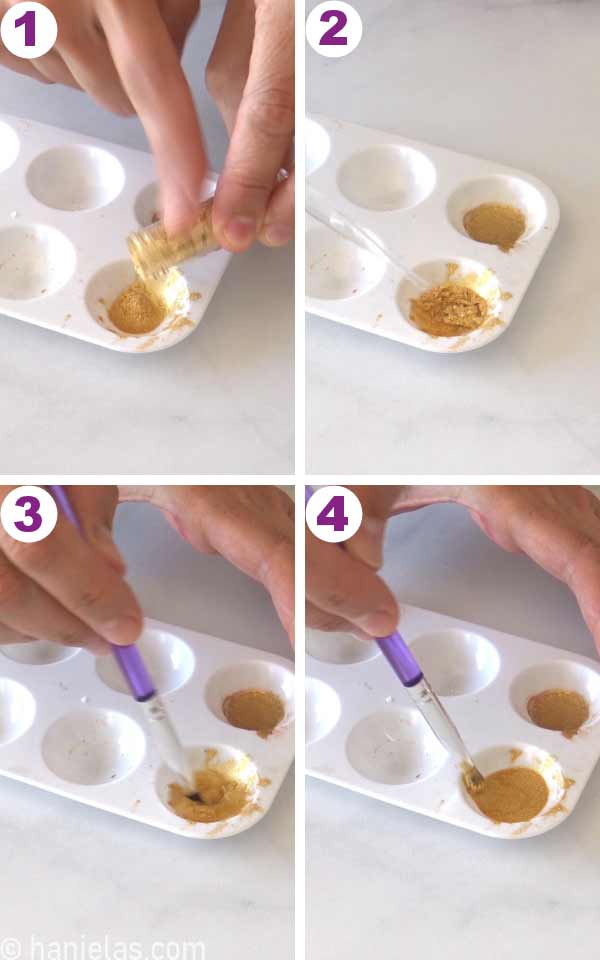 Carefully paint firm ivory/gold buttercream outlines with an edible gold luster dust paint. Don't put too much pressure onto a paintbrush, as it can make dents in the buttercream. If the buttercream gets too soft to paint, chill it until firm, and then continue.
If you want to make another fun, mermaid-inspired dessert, try these glamorous meringue cookie pops.
MORE EASY CAKE TUTORIALS