Christmas Village Bundt Cake
We love a good traditional Sponge Cake. It is easy to make and it's always a crowd-pleaser. Children especially love this simple and light cake. To make it festive and perfect for Christmas I  poured yummy glaze over the cake, and I adorned the top with cute edible decorations.
For a visual help with decorating you can view my Video Tutorial.
Recipes you need to make this Christmas Village Bundt Cake (bundt cake pan) :
Classic Sponge Bundt Cake Recipe, using the batter fill the Bundt Cake Pan and also make 1 cupcake. Bake as directed in the recipe. Cupcake will be done in about 15 minutes or so.
Gingerbread Houses 
To make the mini cookie houses you will need Mini Gingerbread House Cutter. I used my Gingerbread Cookie Dough. If you make the whole batch you will have lots of dough left, you can use it to make extra cookies, freeze it or recipe can also be halved.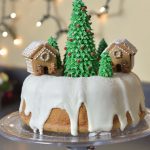 Gingerbread Cookie Dough and Lemon Butter Glaze
Ingredients
Gingerbread Cookie Dough
5 1/2

cups

all purpose flour

2

tsp

ground ginger

3

tsp

Saigon cinnamon

1/2

tsp

cloves

1/2

tsp

ground star anise

I absolutely love using this spice, it's magical ;- )

1

tsp

baking powder

OMIT if stamping on cookies or use 1/2 tsp instead

2

eggs

1

cup

room temperature butter

unsalted butter

1/2

cup

granulated sugar

1/2

cup

brown sugar

1/2

cup

honey

1/2

cup

molasses
Lemon Butter Glaze
2 1/2

cups

powdered sugar

sifted

Strained juice of one lemon

1/2

cup

unsalted butter

water as needed to thin the glaze

1/2

tsp

vanilla extract

optional
Instructions
Gingerbread Cookie Dough
In a medium bowl whisk together flour, spices, set aside cream butter with sugars until mixture is light and fluffy.Gradually add eggs, honey and molasses and mix until smooth. On low speed, gradually add flour mixture to the butter mixture and mix until two are well combined. Turn the dough onto a work surface and give it a little knead so it comes completely together. Chill overnight. Bake at 350F for 9-12 minutes, depends on the size of the cookies. When using small pieces for your gingerbread centerpieces, you need to watch them carefully as they bake, they will be done in less time. Thicker the cookie more time needed to bake them, .I usually bake small pieces on the same baking sheet and large pieces on the another sheet.Cool the cookies completely before decorating.
Lemon Butter Glaze
Melt the butter, add lemon juice, pour into a large bowl with powdered sugar. Whisk until smooth, add vanilla as desired. Use water if you need to thin it down. Pour over the cooled cake. Glaze as it cool thickens, you can also microwave it for 5-10 seconds to restore the consistency.
To make the Mini Gingerbread Houses you need :
Gingerbread Cookie Dough – recipe above (video tutorial)
Mini Gingerbread House Cutter
White Royal Icing (video tutorial)
Piping Bag
Mini Silver Dragees
White Sanding Sugar

To make the Ice Cream Cone Christmas Tree you need :
Sugar Cones
Green stiff royal icing
Star Tip
Piping Bag
Silver dragees
Large Red Sprinkles or use Edible Red Pearls
Here is the tree before I added sprinkles and silver dragees.