Layered Chocolate Vanilla Cheesecake
This is one of my favorite cakes of my childhood, my friend's mom used to make it all the time and boy did I love it! I still do. It is so easy to make and really a no-brainer .
In my opinion everything is better with cheese. You see over the years I've developed a strong affection for cheese and though I tried (multiple times) breaking it off it is very unlikely that this romance will ever end.
This cake is very popular in Slovakia, it is extremely easy to prepare, uses the most common ingredients and is delicious.
Why I love this cake:
No need to roll the dough
Not too sweet
Tastes even better second day
Great to take along to a picnic or as school lunch, it holds up pretty well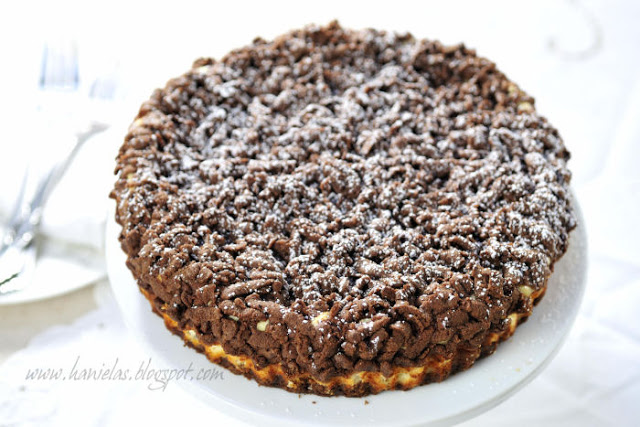 Layered Chocolate Vanilla Cheesecake (8-9 inch tart pan size, or a square pan)
1 3/4 cup(245grams)all purpose flour
3/4cup powdered sugar(80grams)
1tsp baking powder
1 egg yolk
1tsp vanilla extract
2tbl Cocao powder, for more chocolate flavor use more if desired. I use dark cocoa powder.
1stick(115grams) butter
Cheese Layer
2cups(380grams) farmer's cheese-
make your own
* read about possible substitutes below
1cup(100grams) powdered sugar
2egg yolks
2egg whites
1tsp vanilla extract
zest of 1/2 lemon


*If you don't have time to make farmer's cheese, you can substitute with ricotta cheese.
I haven't tried this recipes with cream cheese alone, my only concern is that with cream cheese alone texture of the baked cake will be different, more dense than just with farmer's cheese or ricotta cheese
You could also try 1:1, cream cheese : ricotta cheese.
Preheat oven to 350F/180C
Use 8-9 inch tart pan, or you can use a square pan as well, this cake works well cut into bars too.
Spray the pan with a nonstick spray.
Chocolate Dough
In a medium size bowl, sift together flour, sugar, cocoa powder, baking powder, add egg yolk, room temperature butter, vanilla extract,using your hands make the dough.
You can also use stand mixer attached with paddle attachment to mix the dough. Divide dough in half. Form the dough into a disk, wrap in a plastic wrap and chill for 30 minutes. Once chilled take one disk out.
*if you can't seem to get the dough to come together, add 1tsp milk
Grate half of the chocolate dough directly into the prepared pan, making sure you cover the whole bottom, without bottom of the pan peeking through.
Cheese Filling
Generally farmer's cheese isn't smooth, it has a texture to it. If you want the filling to be smooth process farmer's cheese, egg yolks, sugar, vanilla and lemon zest in a food processor. This filling is not too sweet, if you prefer sweeter taste, add more sugar.
In a clean bowl beat 2egg whites with a pinch of salt until firm peaks are formed. With a silicone spatula gently fold the meringue into the cheese filling.
Spoon the filling on the top of the grated dough in the pan, spread evenly in the pan.
Take the remaining disk of chocolate dough from the fridge and grate it over the cheese filling, until completely covered.
Bake for 25-30 minutes.
Let the cake cool completely before transferring it to the cake plate. You will have to lightly loosen edges with a knife or a fork. Use a wide cake spatula to transfer cake. Dust with powdered sugar and serve.
Cake tastes best when cooled, and even better one day old.
This cake keeps for several days, store covered in a cool place.