Frozen Fever Sunflower Cake Roll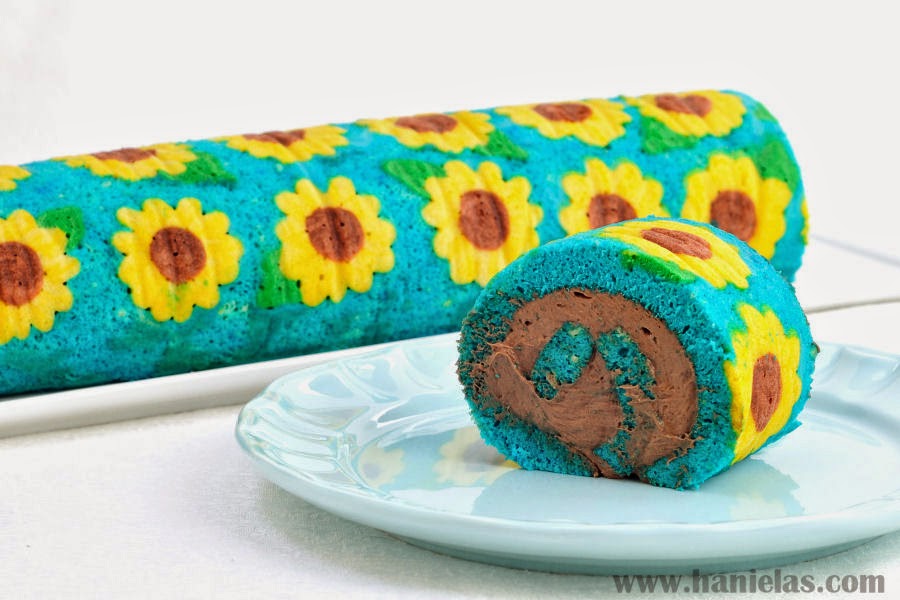 Do you like pattern cake rolls? Right now I'm crazy about them. For some silly reason I thought they were hard to make but on the contrary they are quite simple to make. These decorative cakes are so fun and virtually any design will work on these. Try it.
Today I made Sunflower Cake Roll, inspired be Frozen Fever Birthday Cake.
Cake is filled with delicious double chocolate cream cheese filling.
What do you think? I hope it makes you smile, or brightens your day. Enjoy.

If you'd like to see how I made it from scratch, this video includes a full tutorial. Watch it now!

SUNFLOWER CAKE ROLL
Pattern Batter
2/3 cup all purpose flour
1/2 cup powdered sugar
3tbl room temperature butter
3 egg whites at room temperature
1/4tsp vanilla extract
1 to 2 tbl water to thin the batter down, as needed, or use freshly squeezed lemon juice instead
Cream butter, add powdered sugar, beat until creamy, add egg whites and beat until incorporated, add vanilla extract and on low speed add flour.
Divide batter into 3 portions, keeping one portion slightly larger than other 2. Color largest portion with yellow and little bit of orange, then one portion with brown and last one with green.
Fill piping bags with batter. Using snowflake pattern pipe snowflakes onto the parchment paper. Freeze for 30 minutes.
Cake Batter
5tbl butter, melted, cooled
6eggs, separated, at room temperature
1cup granulated sugar
1cup all purpose flour
pinch of salt
2tsp vanilla extract
In a clean bowl beat egg whites with pinch of salt until soft peaks are formed, add about 1/2 of the granulated sugar, beat until stiff and glossy peaks are formed.
Beat egg yolks with remaining sugar until pale in color and doubled in volume. Add vanilla extract and gradually add melted and cooled butter. Beat well.
Into the egg mixture gradually, alternating fold in sifted flour and meringue. Once you are nearly done, add blue food coloring, fold the color in well but don't stir the batter.
Spray the jelly roll pan with non stick spray, lay the snowflake pattern on top and spread the blue cake batter on top.
Bake at 350F for 13-15 minutes, until edges are golden brown.
Dust the wax paper sheet with powdered sugar, invert baked and still hot cake onto the wax paper, peel of the top layer of parchment paper, place another layer of wax paper on the top. Put a cutting board or another baking sheet on the top and flip the cake, peel the wax paper. Starting at the side with no sunflower pattern, roll the cake. Wrap into the kitchen towel, let cool completely before filling.
Chocolate Cream Cheese Filling
1block cream cheese(about 226grams), room temperature
1/4 cup room temperature unsalted butter
1/2 cup dark chocolate chips, melted, cooled
1/4cup cocoa powder
2 cup powdered sugar, use little more as desired
2-3 tbl cream or heavy cream
2tsp vanilla extract
Caramel flavoring(optional) add several drops
Beat cream cheese and butter until smooth and creamy, add cocoa powder, beat well. Gradually add powdered sugar alternating with cream, beat well. Add melted and cooled chocolate, add vanilla extract and caramel flavor if using.
Fill The Cake
Carefully unroll the cake peel the wax paper, fill with the filling and roll up again. Cover with plastic wrap, chill for 4 hours or overnight before serving.
Tools used :
Sunflower template, copy/paste/print
Disposable Piping Bags, medium size
Jelly Roll Pan – my favorite baking sheets/pans
Parchment Paper
Americolor Electric Colors
Americolor Food Colors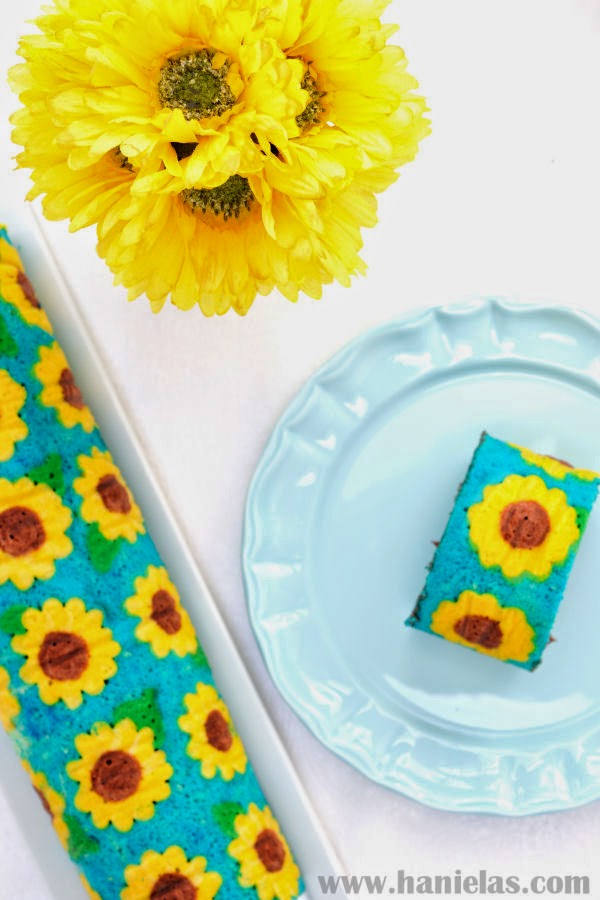 If you are like me, falling head over heels for these fun pattern cake rolls here are few more I made.
I'm pretty sure I'll be adding more and more. There is no stopping me now.
Snowflake Cake Roll
Shamrock Cake Roll