I don't own a
kopykake
so creating certain designs on cookies can be a pain. Today I wanted to share with you a really simple technique of creating a piping guide directly on a cookie, using a piece of paper/plastic and a food pen.
A perfect example is argyle design, one would think you can just pipe those perfectly even diamond shapes by hand, well maybe you can but I can't so I made a little template to help me along.
To make these cookies you need:
Neck TieCookie Cutter
Black food coloring
Red food coloring
Bake the
cookies.
Using a
simple plastic or a paper template and a food pen, draw a piping guide directly onto
the cookie.
Starting
with white icing(using 10 second icing), fill the diamond shaped areas, following the argyle design pattern, and the piping guide.
Fill in
the white areas, let dry.
Fill in
the red(using 10 second icing) areas, let dry. If needed use a toothpick or a pin to push the icing
into the hard to reach corners. Let dry.
Using a
grey or black icing pipe the clean lines across to finished the argyle pattern.
Pipe the
red outline and let dry.
Use a template to draw a piping onto the cookie
Fill in white areas
Fill in red areas
Use a pin or toothpick to push the icing into the hard to reach areas
Pipe clean lines across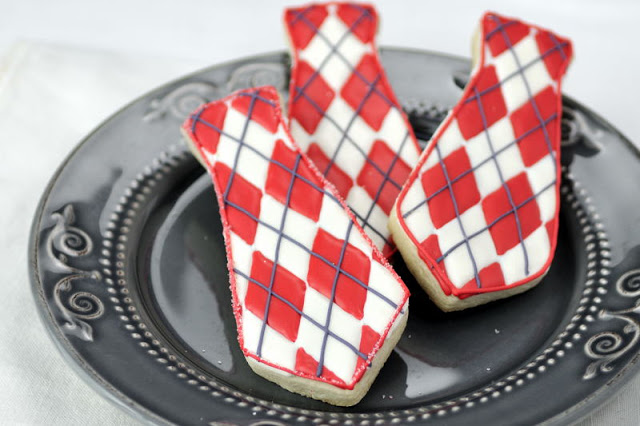 Been Mine Cookie Tags