As you probably noticed Haniela's is also on You Tube now. My channel is called
Haniela's
and the video tutorials you can find there range from crafty through sweet and savory recipes to decorated cookies, cupcakes, or cakes. My you tube channel has just reached 2000 subscribers. When I posted my first tutorial I didn't know what expect from you tube, it is a whole new world for me. I wouldn't be there if it wasn't for Marlyn from
Montreal Confections
, she convinced me to try it out, she encouraged me when I needed it the most, the 1st time video tutorial maker. Thanks M.
I literally jumped into a video tutorial making from one day to another. I dusted off our old camcorder and so far I made 70 + video tutorials. You should know that I was terrified when I did my first tutorial. It doesn't come natural to me to video tape myself working. I just felt really weird about it, uncomfortable. With more video tutorials I made this feeling has nearly dissipated.
My mom says :" Don't go to the woods if you are afraid."
With recipes I try to prepare all the ingredients into individual bowls before I hit the record button. I also like to have the recipe on hand and prepare everything else needed. Towels, kitchen utensils etc.
With cookie decorating tutorials I prepare all the icing ahead of time, I try to test few designs prior I tape it. Then I get the work surface ready, I usually have bunch of damp paper towels on hand, basically just anything that I need when I decorate cookies.
I use a remote control to operate the camcorder, I ended up putting it into a small Ziploc bag. This way it is kept from getting destroyed from accidental icing spill and I can turn it off or on anytime during the process, with my hands from bread dough or cookie dough, it won't hurt it.
For my videos I use an old(it is about 10 years old) Sony MiniDV with mini DVtapes. Though it is not recorded in high definition, it is still recorded in a decent quality. I also use a telephoto lens with the camcorder. I always use a tripod when I tape myself working. On occasion after you taped the whole tutorial and you watch it over, you realize you taped your head from the above or something silly like that, missing the core point of the tutorial. It is frustrating and you can either ditch the tutorial or re-do it.
I have to use MiniDV tapes, which adds to the work because once the video is done I still I have to upload it to my hard drive using Fire Wire Cable, which literally can take hours for all the tapes to load. It is not an instant transfer so I usually let it run at night to avoid wasting time during the day.
I also like to use different angles when I take "movies" to make it a little more interesting, this requires me to constantly moving camcorder from one location to another. From the counter to the floor. I almost always use a tripod. I couldn't be without one. One I use is made out of carbon fiber, it is very light but also very expensive. You can also do with a cheaper tripod. Gitzo is what a I use and I love it. We purchased it many years ago and it has served us really well.
I generally take my videos at night or at very early morning hours. With these times of the day comes a problem of insufficient light. As you can imagine it is usually pretty dark. When I take videos I use a small video light attached directly on the camcorder as well as a softbox umbrella equipped with 4 Eiko 5500K Fluorescent Blubs. If needed I also add some reflectors into my set up. All my video tutorials are taken in the kitchen.
Once I have the video available on the hard drive I can start working on it. I use Sony Vegas Movie editing software, nothing fancy, just a very basic version to edit my videos. I usually correct the colors, adjust saturation, trim, cut, add some text, few picture, do some minor picture panning. This is where I also do the voice over. Doing voice-overs is not as easy as it seems. My only hope is that I get better at it. Whenever you record your voice using a microphone there is a high chance there will be some popping( for example: hissing noise from S sounds) in the recording. I purchased a really handy pop filter and it works magic, it is only about 6 inches across and I just place it directly in front of the microphone and then I talk into the microphone through the filter. For some people voice-overs are easy. For me personally it takes me few takes, though I feel it is getting a little better. A little. Also I realized, for some reason it is not as obvious otherwise, but when I do a recording in the morning, my voice sounds different than in the afternoon. I prefer my afternoon voice.
Few weeks back I had a chance to talk to a voice artist and she was able to give me few pointers like reading out loud for 10 minutes each day. I've been reading our loud, all right, recipes mostly.
Once I'm happy with the video I have to render it. I render all my video to avi format. Then I have to upload it to You Tube and after that is done, there are few minor things to do like add annotations, monetize the video and such. So all together it takes a little bit of time and effort to do.
Tripod, Camcorder, Head with quick Release, Photo Credit: www.amazon.com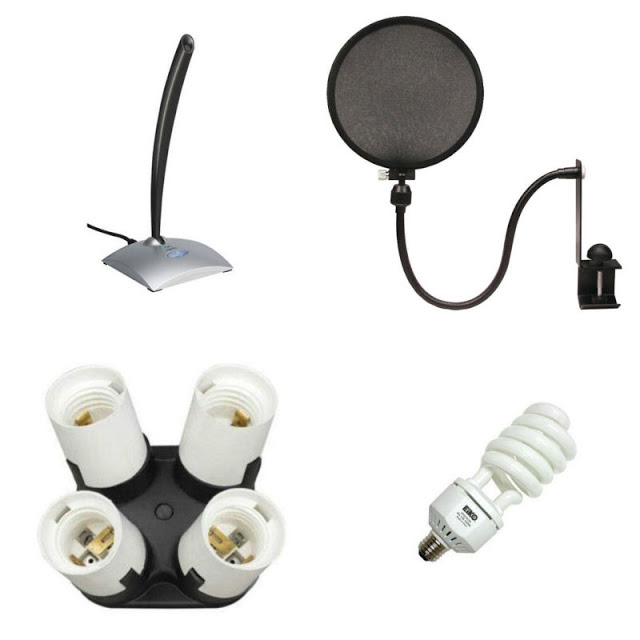 Logitech Microphone, Pop Filter, 4AC lamp holder adapter, Eiko Bulb,Photo Credit: www.amazon.com
Gitzo Carbon Fiber 3-Section Tripod
with Manfrotto Tilt Head with Quick Release

Nady MPF-6 6-Inch Clamp On Microphone Pop Filter
Studiohut 1 to 4 AC Lamp Holder Adapter
Logitech USB Desktop Microphone (Black/Silver)
Sony MiniDV Tapes – 10 Pack
Sony DCRTRV30 Mini DV Handycam Camcorder

FireWire Cable (6 Feet)
Eiko SP50/955K – 50 Watt Full Spectrum Compact Fluorescent Light Bulb

Sony Vegas Video Software (I use an old version from several years ago)
White and Silver Boards to reflect light