Dessert Sushi is a delicious and fun April Fools's Day food prank! Whether you celebrate April Fools' Day or not dessert sushi is sure to bring on a few smiles. Let's spread some laughs, play practical jokes and make savory foods into desserts!
Today I teamed with Amber of SweetAmbs in April Fools' Day Collaboration. Scroll down to see an amazing savory turned sweet treat –Dessert Nachos Amber made. It fooled me, that's for sure!
DESSERT SUSHI WITH FRESH FRUIT
COCONUT FILLING
Use a small chopper and process desiccated coconut, coconut oil, sweetener, vanilla extract until well combined. Mixture shouldn't be dry, it should stick to your fingers a little.
FRESH FRUIT
Coconut pairs nicely with the fruit. I used fresh strawberries, raspberries, mango and kiwifruit. Cut the fruit into longest possible strips.
CHOCOLATE COOKIE LAYER
Finally, time to make the chocolate wrapper dough. I used Honey Maid Chocolate Graham Crackers but you can use other brands as well.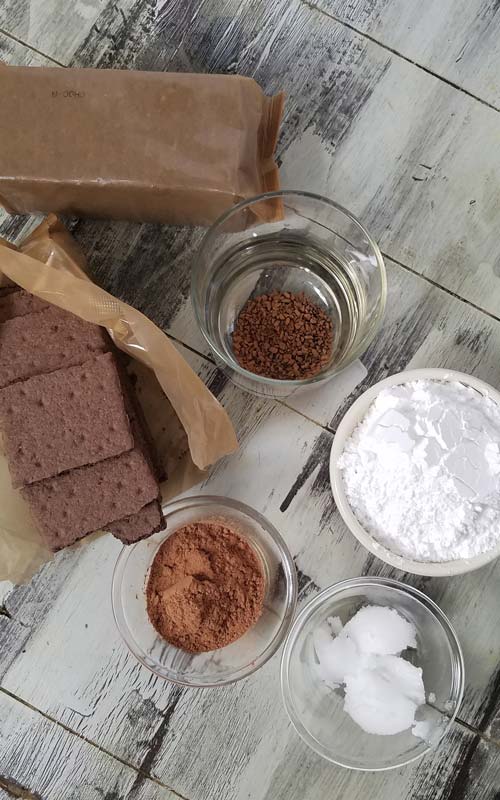 COFFEE COCOA SYRUP
Let me begin by saying that if you plan on making dessert sushi for children you might want to omit coffee and alcohol when making coffee syrup. In place of coffee you can use hot cocoa.
Whisk together hot coffee, powdered sugar(or use coconut sugar instead), coconut oil, cocoa powder and liqueur(if using). Heat of the coffee will cause coconut oil melt pretty quickly. Temperature will also come down and coffee syrup should stay warm.
Splash of Amoretti Chocolate Creme de Cacao goes a long away so be sure to add just a little bit when making coffee syrup. You can also use other flavored liqueurs, for example Kahlua or Baileys would work perfectly.
Be sure to process chocolate crackers until super fine. Pour in warm coffee syrup and stir well until you have a thick dough formed. Cover with a plastic wrap and let cool to room temperature.
DESSERT SUSHI ROLLING
Start by shaping about 1 cup of chocolate dough into a log about 6 inches long. Place it on a plastic wrap, using a silicone rolling pit roll it out to a rectangle.
Then using a ruler measure out a rectangle 8×7 inches, trim the edges. Reserve the scraps.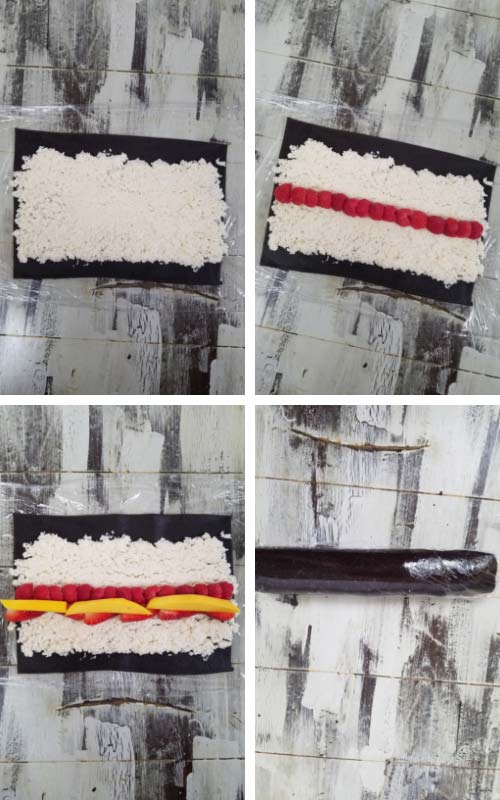 Spoon a layer of coconut filling in the center and spread it with a spoon or a small spatula over the chocolate cookie layer, keeping the bottom and top edge clear, about 1 inch deep. Coconut layer should be about 1/4 inch thick. Layer fruit in the middle, arrange it in a straight line across.
Last year I watched East Side Sushi movie and so I figured I won't master sushi rolling in 10 minutes. It takes years to master the sushi art form.
And so I did my best when making my dessert sushi. First roll didn't turn out the best but second and 3rd were not too bad. Problem with the 1st one was I didn't add enough coconut filling.
You also need to remember that you are working with a cookie dough layer rather than nori(thin sheet of seaweed). It helps to use a plastic wrap as you can see in the video.
Make sure to tuck the front end under the fruit, this is where plastic wrap comes in handy. Once you secure the fruit then don't forget to carefully peel off the plastic wrap from the tucked in portion of the roll.
Wrap the roll in a plastic wrap and chill for at least 6 hours. Remove the wrap and using a sharp serrated knife slice the dessert suchi.
TO MAKE DESSERT SUSHI YOU NEED :
Dessert Sushi
Makes approximately 30 pieces, 3 servings per person,
Ingredients
Chocolate Layer
2

pkg

chocolate crackers(300grams)

6

tbsp

coconut oil

2/3

cup

hot coffee

3/4

cup

powdered sugar

3

tbsp

cocoa powder

1/2

tsp

Chocolate Liquer
Coconut Filling
3

cups

unsweetened desiccated coconut

5

tbsp

coconut oil

9 -10

tbsp

Agave Nectar/Honey

1/2

tsp

Vanilla extract
Fruit Fillling
raspberries

strawberries

mango

kiwifruit
Instructions
Chocolate Layer
Process crackers into a chopper until you have fine crumbs.

Dump chocolate cookie crumbs into a bowl.

Into a hot coffee wisk powdered sugar, coconut oil, whisk well. Coconut oil should melt a result of the hot coffee, add cocoa powder and liqueur, if using.

Pour about ½ of the hot mixture into the cookie crumbs. Stir with spatula. Add remaining hot liquid. Cover and let cool to room temperature.
Coconut Filling
Wash the chopper and process desiccated coconut with coconut oil, add Agave Nectar and vanilla extract and process again for about 5-10 seconds.
Assembly
Measure about 1 cup of chocolate dough, shape into a 6 inch log. Onto your work surface put down a piece of plastic wrap. Using a silicone rolling pin roll the chocolate dough into a rectangle. Using a ruler measure it out and trim it to 8 (20cm) inch by 7 inchs(17 cm).

Spread the coconut filling in the center, leaving about an inch on each bottom and top end empty. Layer fruit in the center line. Lift the plastic wrap and fold the chocolate layer over the fruit filling, carefully but firmly press it with your fingers, and tuck it in. Once you have the fruit layer tucked in continue rolling for one more turn and roll should be finished.

At this stage it is soft, don't try to slice it yet. Wrap it in a a plastic wrap and refrigerate for 6 hours.

Unwrap it and slice it with a sharp serrated knife. Work slowly. Store in the fridge layered between sheets of parchment for up to 3 days.

Repeat with the remaining dough.
PIN IT for later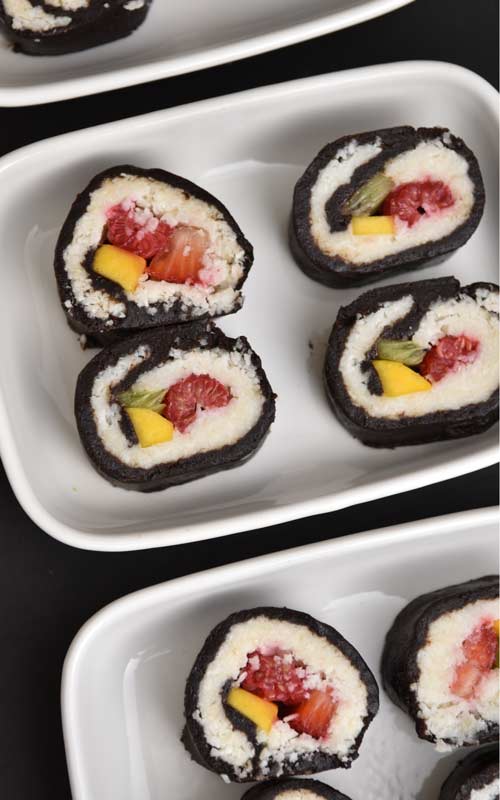 COLLABORATION WITH SWEETAMBS
Gotcha! It's Dessert Nachos!
Amber totally got me with her Dessert Nachos. It looks so real, I had to look twice. Be sure to visit Sweet Ambs and learn how to fool your friends with Dessert Nachos !
This post containsThis post contains Amazon affiliate links that earn me a small commission, at no cost to you. I only recommend products that I use and love. Learn more about my affiliate policy here.