Chocolate Locket Pinata Hearts
Give a gift of Chocolate Heart Lockets filled with candies, dried fruit, nuts. These adorable 3D chocolate hearts are super easy to make.
Although I made these for Valentine's day my little chocolate pinata hearts would be perfect for so many occasions from Weddings, bridal showers, Mother's Day, Birthdays or just because.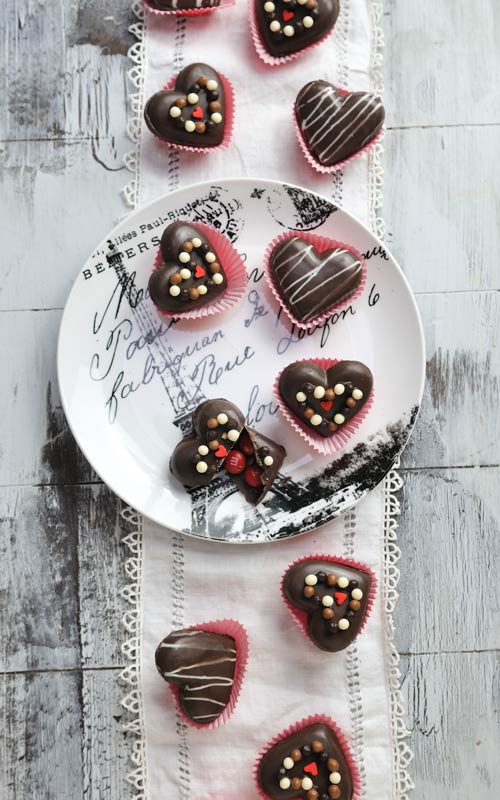 I remember years ago I tried to make 3D chocolate Easter eggs and it was so difficult to get the chocolate pop out of the mold. What I hadn't realized back then was that the chocolate wasn't properly set therefore it wouldn't unmold properly. My advice is to make sure you let the chocolate set properly, give it enough time to harden and your chocolate heart halves will unmold with an ease.
Chocolate
Coating wafers are a convenient alternative if you don't feel like tempering chocolate.
Ghirardelli metling wafers are now widely available and I like using them but other compound chocolate disks will work as well. Merkens coating wafers are also great to work with, if you can't find them locally you can order them online.
Fillings
Since we are technically making chocolate pinatas you definitely need some tasty fillings to fill the chocolate hearts. This is where you can get creative and fill them with your favorite treats. I used crystallized ginger, nuts, dry fruit and M&M candies. You can also use other treats for instance freezer drier fruit, caramel, peanut butter filling.
Decorate Chocolate Hearts
To decorate the tops I glued pretty Chocolate Pearls into a heart shape. These fun chocolate pearls are pretty small to handle with fingers. I used tweezers to arrange them on the top of a chocolate shell. You can also use sprinkles to decorate 3D chocolate heart lockets.
Over the years I used variety of tweezers for cookie and cake decorating. Blue ones are super cheap and I've had them for years. Couple of years ago I bought sewing tweezers and they are my new favorite. The tips have grooves for easier application.
To make Chocolate Lockets Pinatas you need:
STEP BY STEP VIDEO TUTORIAL -with narration
Wilton Fondant Tool, used in the video
Ghirarelli Chocolate Melting Disks – dark chocolate, white chocolate
Tweezers
Chocolate Merkens Chips – Dark
Chocolate Merkens Chips – Milk
Heart Diamond Mold
Wilton Heart Chocolate Mold
Heart Chocolate Mold – small
Chocolate Pearls
Multicolor Crisp Pearls