St. Patrick's Day Sweets Inspired by Andy Warhol
Today I decided to share with you my take on St. Patrick's Day Sweets.
I always wanted to try something "
Andy Warhol
", and now that I decided to post the photos I should add I'm little afraid of how is it going to come across and if it will be accepted by my audience; to tell the truth I came to love it. It is so vibrant and surprisingly these bold color choices fill me with energy and I had a great deal of fun making these.
There are few other things that I made and I will show them off hopefully later this week, so stay tuned for more, for now it is all about St. Patrick's Day , Andy Warhol style.:-)
COOKIES
Don't be fooled by the perfect shamrocks on the cookies, those are RIT-royal icing transfers. They certainly saved my sanity, I could never piped them so perfectly, each one of them!
You can learn more about RIT
here
. Little sparkle on the shamrocks comes from the disco dust, I just sparingly sprinkled some on while icing on the shamrocks was still wet.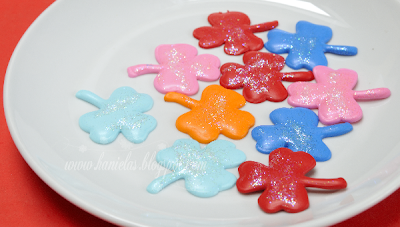 CUPCAKES
Vanilla Bean Cream Cheese Frosting
2 packages of cream cheese
1stick of room temperature butter
2 + cups of powdered sugar(use more if desired)
1tsp vanilla extract
1tsp vanilla bean paste
1tbl milk or heavy cream
food color to tint the icing to desired color
Mix cream cheese until smooth, add butter and mix until smooth, add powdered sugar and mix on low speed until combined, increase the speed and beat for 2 minutes until smooth, add vanilla extract and vanilla bean, add milk or heavy cream and beat until smooth, tint with food coloring and decorate your cupcakes. If frosting gets too soft, chill it for 15 minutes, if you leave it longer it may get too hard to pipe.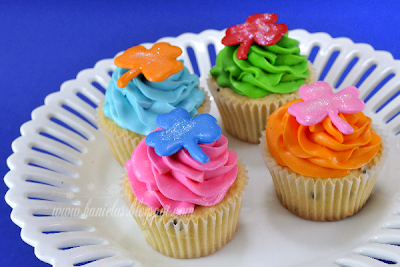 Decorations on the Cupcakes are Royal Icing Transfers that I made few days ago.
I use a little bit of royal icing to attach them to the cupcake frosting.
I hope you enjoyed my Andy Warhol inspired St. Patrick's Day Sweets.
Have a great week everyone.