These simple decorated Fall Cookies are a great addition to your Thanksgiving dessert spread. Make them even more special by adding seasonal flavors to your cookie dough and royal icing.
updated post from 2012
HOW TO DECORATE FALL COOKIES WITH ROYAL ICING
I used my basic sugar cookie recipe and 3 fall themed cookie cutters: pumpkin, maple and acorn leaf.
This set of fall themed cookies can be decorated with one layer of icing. But if you are feeling up for it you can add another layer of icing, creating fancy piped details. Make branches with berries or delicate lattice design on top of the pumpkin. Let's go!
DECORATED MAPLE LEAF COOKIES
These maple cookies are super fun to make. All you need is 1 consistency of royal icing and 3 contrasting colors. Marble them together and that's it. Fun and easy fall cookies for everyone.
DECORATING STEPS :
Starting at the bottom edge, outline and flood about 1/3 of the cookie with 15 second red royal icing, (step 1-2). Immediately flood section just above with orange royal icing. And lastly ice the very top with yellow icing, (step 3-4).
Now comes the fun part. With a needle tool or a toothpick marble colors together. Work in circular motion, focusing on the edges and swirl icing until you are happy with the design. Let the icing dry overnight, (step 5-8).
LATTICE PUMPKIN COOKIES
These pumpkin cookies can be super simple. Or you can take this design up a notch with a delicate piped lattice pattern.
DECORATING STEPS :
Use an edible marker to divide pumpkin cookie into sections, (step 1-2). Take light ivory icing (20sec) and outline and flood every other section. Use a needle tool to shape the icing. Let the icing crust for 20 minutes, (step3-8).
Once 1st layer of icing on pumpkin cookies is crusted you can flood remaining sections. Let crust again, (step 1-8).
Then pipe the stem with 20 second brown icing, (step 1-5). Let the icing dry.
LATTICE DESIGN
If you'd like to make these pumpkin cookies a bit fancier you can try piping a delicate lattice design on top of the pumpkins.
DECORATING STEPS :
First with a fine tip gray edible marker and a template trace the zic-zac outline onto the dry icing. Then connect the lines, (step 1-5).
Now you are ready to pipe the lattice pattern. I used very subtle green royal icing but I think brown or red would look even better.
Start piping lines (piping consistency) at the left or right edge (depends what you find easier) and follow the traced line all the way to the right edge. Then continue piping lines until you are finished with the lattice design, (step 1-5).
Now take brown icing (piping consistency) and pipe a zic-zac line onto the stem, (step 6-8).
TIP : There are lots of corners in the lattice pattern. Make a partial stop when you are piping the corners. This will keep them sharp looking. Also, try not to put too much pressure on the piping bag when you're anchoring the lines (at the start and end point of the line).
ACORN LEAF BRANCH COOKIES
This acorn leaf design is made in 2 steps.
DECORATING STEPS :
Outline and flood the cookie with light ivory royal icing (15sec). Then immediately after pipe branch design into the ivory base with 15 second mustard yellow colored icing (yellow with a ivory food coloring), step 1-8. Let the icing dry.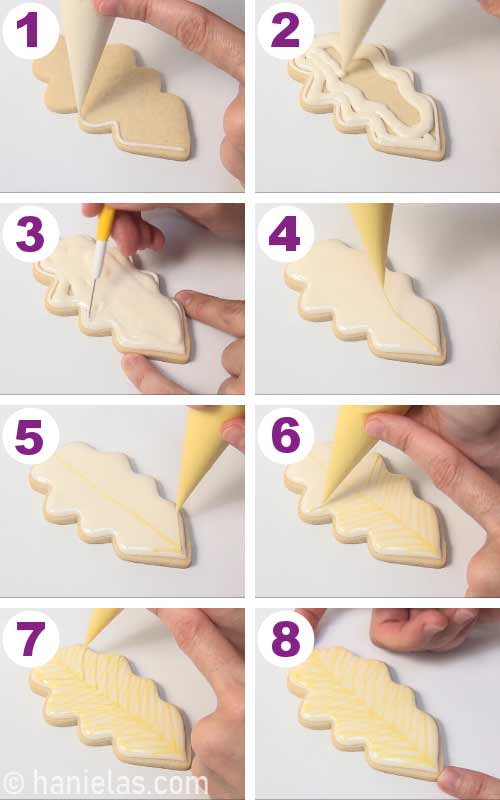 Pipe branches with brown icing (piping consistency). Then pipe berries with earthy colors (piping consistency). Pipe berries in layers, allowing layers to crust before adding another layer of berries.
TIP : If your "berry" icing is thinner allow 1st layer of berries crust before adding second and 3rd layer of berries that are neighboring. Otherwise your berries can blend together.
HOW TO MAKE FALL FLAVORED COOKIES?
Add 1 to 1 1/2 tsp pumpkin spice to the cookie dough along with dry ingredients.
Use Maple Flavoring in the cookie dough.
Flavor royal icing with Maple Extract, add a touch of ground cinnamon.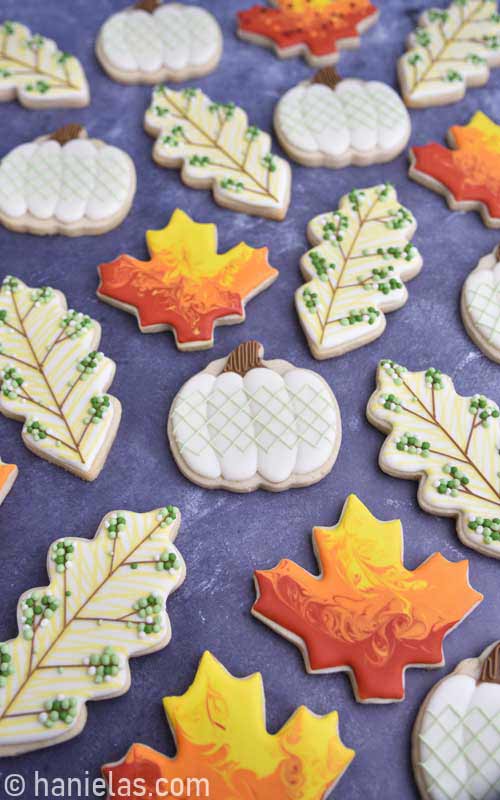 TO MAKE SIMPLE FALL COOKIES YOU NEED :
RECIPES
TOOLS
Get all the tools in my Amazon Shop
Cookie Cutter : Pumpkin, Maple Leaf, Acorn Leaf
Piping Bags
Gel Food Colors : ivory, red, green, yellow
Needle Tool
Edible Markers : Super Fine Tip Gray Marker (rainbow dust brand), brown marker (FooDoodlers)
Lattice Template
GET INSPIRED BY THESE FALL DESSERTS :
Brighten a cookie platter with decorated fall cut-out cookies.
This post was originally written on November 10th, 2012. On February 12, 2020 I updated this post with new step by step photos and written text.
This post contains Amazon affiliate links that earn me a small commission, at no cost to you. I only recommend products that I use and love. Learn more about my affiliate policy here.