Pumpkin Spice Meringue Cake filled with Ganache and Cinnamon Cream
This post was planned for the weekend but since you overwhelmed me with your requests.Here it is.
Pumpkin Spice Meringue Cake, filled with delicious chocolate ganache and fresh cinnamon cream filling. I hope you don't get bored of meringue cakes because I have another one coming. I love making them.
Pumpkin Spice Meringue Cake with Ganache Cream Filling
Meringue Layers (makes 3 layers)
5egg whites, room temperature
3/4 cup granulated sugar
1 1/2 tbl cornstarch
1tsp pumpkin pie spice(if you don't have pumpkin spice, use 1/2tsp + 1/8 tsp cinnamon, 1/4tsp ginger 1/8 tsp nutmeg)
1/4 cup bittersweet chocolate chips, chopped
10inch x 4 inch template
parchment paper
cookie sheet
large round pastry tip
pastry bag
orange food coloring
Preheat oven to 275F
Onto the parchment paper, trace the template(10×4) 3 times. I used a large cookies sheet so I fit all 3 on there.
Flip the parchment and position it onto the cookie sheet. Set aside
Make sure the bowl of your mixer is grease free. Wipe it dry with white distilled vinegar if needed.
Add egg whites into the clean bowl, beat egg whites on high, until
soft peaks are formed, gradually add sugar and beat until stiff yet
glossy peaks are formed.
Beat in cornstarch.
Add food coloring, whip until evenly distributed.
Add spice, beat just until combined.
Fold in chopped chocolate.
Fit the pastry bag with large round pastry tip, fill the bag with meringue.
Pipe the meringue onto the prepared parchment paper, following the rectangular patterns you prepared before.
You can play with the top layer of meringue and make a bit more decorative and fun. I piped little meringue kisses instead of straight lines.
Bake at 275F for 45 minutes. Turn off the oven and let the meringue layers in the oven until it cools down completely.
If not using the same day, store meringue layers between layers of wax paper, in a large airtight container.
Chocolate Ganache Filling
1/2 cup chocolate chips(dark or bittersweet)
1/2 cup heavy cream
Place chocolate into bowl.Set aside
Heat heavy cream, until bubbles start to form.
Pour cream over chocolate. Cover the bowl with clean dry towel, towel is not to touch the cream or chocolate and a put a plate on top of it, let sit for 3 minutes.
Stir chocolate ganache until smooth. Set aside, let cool to room temperature.
Cinnamon Cream Filling
3tbl granulated sugar
1 1/2tsp gelatin
1 1/2 tbl cold water
1 1/2 cup heavy cream, room temperature
1/2vanilla extract
1/2tsp cinnamon
In a small dish, add cold water, sprinkle gelatin on top, let bloom for 5 minutes.
Using a microwave heat bloomed gelatin for 5 seconds, it should be dissolved after 5 seconds, if not heat
it a little more but be careful not to overheat gelatin. Let the
dissolved gelatin cool to room temperature, stirring frequently.
In a clean bowl, whip the heavy cream until soft peaks are formed, add dissolved gelatin,
beat in sugar, vanilla and cinnamon beat until stiff,
don't over beat.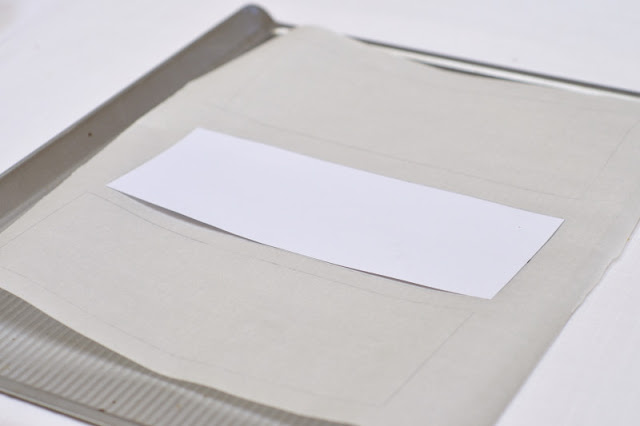 10inch x 4 inch template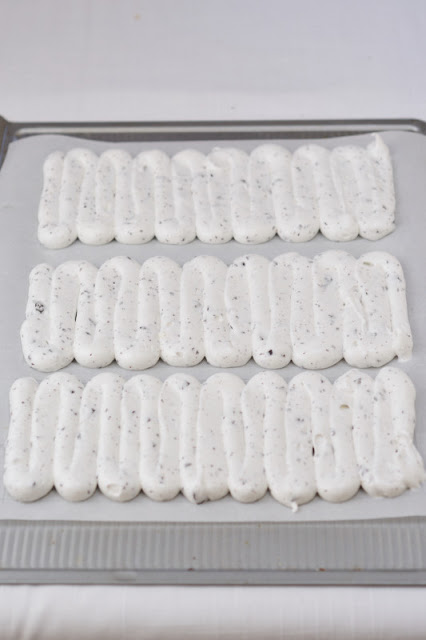 Sample Image, your meringue will be orange.
Assembling the Meringue Cake
Using a marbeling technique pipe the filling onto the baked meringue layers. Stack the meringues on top of each other. Enjoy.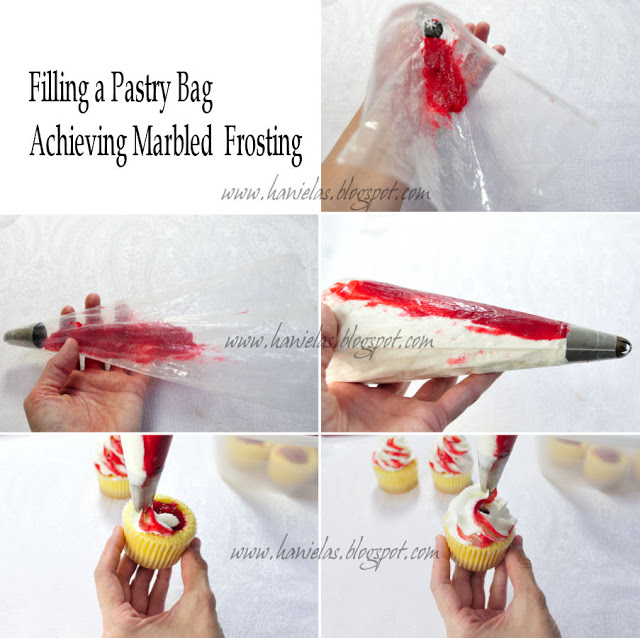 This is to show you how to achieve marbled frosting. For the Pumpkin Spice Meringue cake : red filling is your chocolate ganache and white filling is your cinnamon cream filling
Linking up this post to Tidy Mom – I'm Lovin' it