I went fishing only couple of times. My first time fishing I caught some kind of a fish (maybe 1/2 pound fish, so mall you could barely see it). I was so excited. One would think I caught a 50 pounder. I screamed, yelled and I jumped around as if my feet were on fire. I get excited, very excited, I laugh, I dance, I jump and sometimes I also sing silly songs. Unfortunately my excitement was short lived, I was told to be quiet, as not to disturb the fish in the water.
Another time I fell asleep while fishing and I also wore gloves when putting the worm on the hook.
So, I don't fish. For now anyway.
Better to stick with a cake.
This is a cake I made last year. Fish cake. No bones, no scales, just a cake and buttercream.
Cake Facts:
Haniela's Velvet Pound cake – 2 -9x13inch cake layers
Swiss Buttercream to fill and ice the cake
Marshmallow Fondant to cover cake
Gumpaste for the fins and details
PME Sugarcraft Lustre Spray – Silver
– whole cake is sprayed with silver
Americolor Royal Blue Soft Gel Paste
for the blue spots on the cake
Template for the fish, cut out from a piece of paper
Gourmet Food Writer Set, Black Marker
to draw the template on the cake
Wood Grain Mat to make the cake board, cake board covered with fondant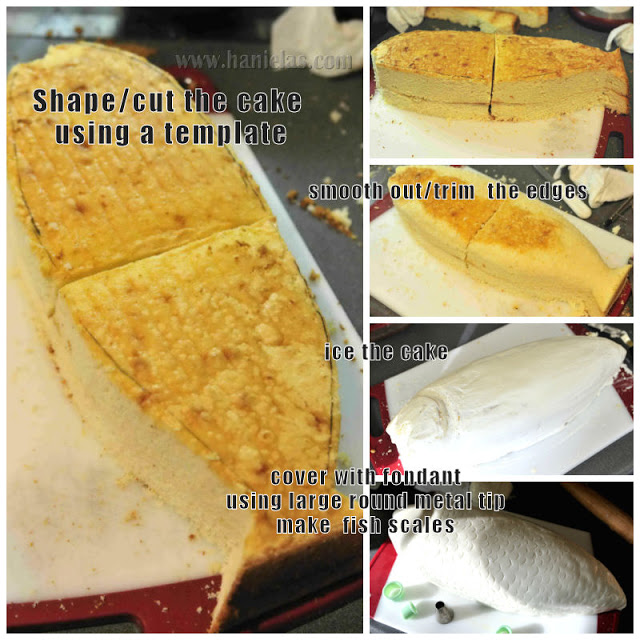 Let's eat the Fish!