Green and White Easter Cookies
Sometimes when deciding on colors for my cookies I feel lost. I felt this way when making these, my mind was all over the place trying to figure out what I was going to do with these. See, all I knew was that I wanted to use 2 colors, something really simple, and I finally decided to use green and white. I thought it was a suitable choice for the Spring.
As you'll see designs are very simple.
I'll guide you through each one individually.
For the Chicks I decided to go with a super simple loop design, which is pretty much timeless, you can add it to any cookie and it will look good, ice cream cones, hearts, squares, moon, gingerbread people, snowflakes…
Following design was inspired by a table cloth that I saw in the magazine; simply paint stripes with green luster dust to create the effect. Detailed tutorial can be found
here
.It is simple and effective.
For my bunnies I wanted to avoid painting/piping the face and so I decided to combine 2 techniques.
Brushed embroidery and Cornelli lace
My last design is the Pussywillow Easter Egg. My favorite of all.
Very simple and elegant.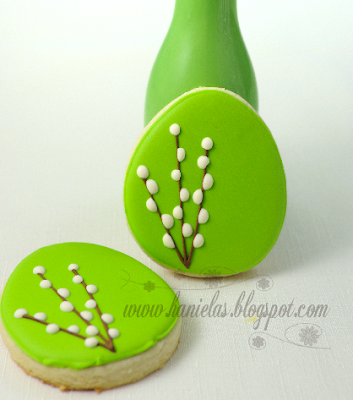 Cookie Facts