Though Fall doesn't officially start till September 22nd, first signs of upcoming new season are already here. For example first Apples ( and sadly few fallen leaves in the back yard, too). We bought some new apples at the market last week. So juicy!
It appears painting on cookies is really in these days and so this project also includes little bit of that. You can see the tutorial below or on you tube, on my channel Haniela's.

To make the Apple Cookies you need
Sugar Cookies
Fresh Lemon Royal Icing
Apple Cookie Cutter

AmeriColor Food Colorings

: super red, tulip red, chocolate brown, leaf green. To make red I used super red and tulip red.
15 Second Icing(how to thin icing to desired consistency)- red, brown, green
For the Painting you need: water or vodka, small painter's brush, paper towel, black and white food coloring.
Apple Cookie Video Tutorial, Painting on cookies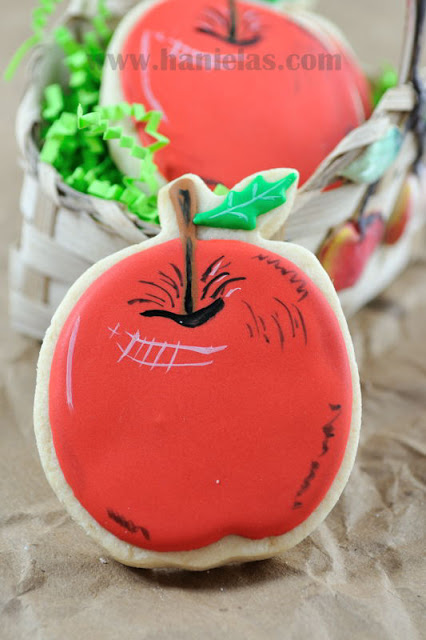 More Apple Cookies:
Apple Cookies
Apples of my Eyes Baby Shower
Linking to Chef in Training