Fight symptoms of common cold and flu with my easy to make Tea Cold Remedy.
updated post from 2012
HOW TO MAKE HOMEMADE TEA COLD/FLU REMEDY
This homemade herbal ginger root tea remedy can help ease symptoms of cold, flu and stomach bug. And it will also warm you up after a long day spent outside in the cold.
INGREDIENTS
Herbal Teas
Ginger Root
Honey
Lemon
Chili Flakes (optional)
WHICH TEA IS GOOD FOR COLDS?
My favorite teas to make homemade tea remedy are: Linden, Echinacea, Rose Hip, Nettle and Mint teas.
I personally really like using Linden Tea to make this fresh ginger-lemon-honey tea. Linden tea is mild in flavor with light floral undertones. It's naturally lightly sweet and has light yellow color. And it can be effectively used to induce sweating when dealing with feverish colds and flu.
I also like using Rose Hip Tea.
GINGER
Ginger is a power rhizome and it's a must in cold tea remedy. I use it frequently in baking when I make Gingersnap Cookies or Slovak Zazvorniky/Ginger Cookies; they rely on ground ginger for their characteristic flavor. And ginger either fresh or ground it's often used in cooking, too. But its powers are not just culinary.
Ginger is also known for its ability to sooth upset stomach. It can help remove toxins from the body. And it's also great decongestant and may help clear sinuses.
HONEY AND LEMON
I use both, honey and lemon every day. Whether I'm baking Honey Cookies or making Lemon Curd or my favorite Fresh Salad Dressing. I like to use locally sourced honey or Organic honey without additives.
Honey – has lots of antioxidants and can help with the symptoms of sore throat and cough.
Lemon – not only it adds wonderful flavor, it also contains vitamin C. It can fights infections. Lemon is a blood purifier, it helps body to get rid of the toxins.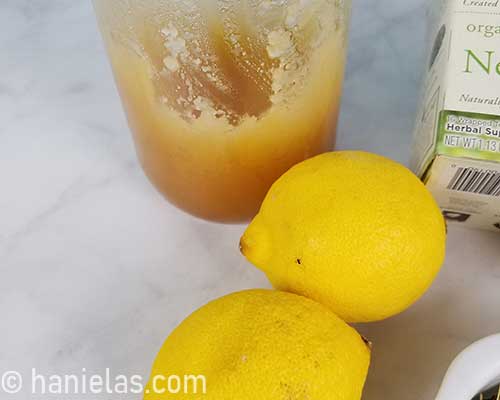 CHILI FLAKES
Chili Flakes are an unusual ingredient in tea but there is a reason behind it. Heat from the chili flakes that normally sets your mouth on fire actually cools inflammation and it can help open up your sinuses as it fights congestion.
Cold and Flu Remedy Tea
Make 4 servings of herbal tea that helps sooth symptoms of cold and flue.
Ingredients
Cold and Flu Remedy Tea
4

cup

boiling water (1 liter)

3

tea bags or 3 tbsp loose herbal leaves, such such as linden tea, rose hip etc

3

tbsp

ginger roots, peeled and thinly sliced, chopped or grated

1/3

cup

honey

1 to 2

lemons, juice of lemon

pinch

chili flakes
Instructions
PREPARE HOME COL AND FLU REMEDY TEA
Into a bowl or a large pot add peeled, sliced or grated fresh ginger (3 tbsp), tea bags or loose tea (3 tea bags or 3 tbsp looses tea), chili flakes (pinch, only few flakes, too much with result is tea that is too spicy).

Pour boiling water over, cover and let steep for 8-10 minutes. Strain the tea into a pot and flavor with honey (1/3 cup or use more as desired) and stir in freshly squeezed lemon juice (from 2 lemons).

Pour tea into the Thermos, close the lid, use as needed throughout the day.
Notes
WHICH TEA IS GOOD FOR COLDS ?
Personally I prefer Linden, Echinacea Tea, Rose Hip, Mint.
I'M ALLERGIC TO HONEY WHAT ELSE CAN I USE?
You can try and use Stevia or Monk Fruit.
HOW LONG DOES COLD REMEDY TEA KEEP?
It keep in a  thermos for up to 24 hours.
I DON'T LIKE SPICY FOODS IS IT NECESSARY TO USE CHILI FLAKES?
I, myself don't like spicy foods, too. I only add few chili flakes so tea is not very spicy. You can omit chili flakes if you think it would bee too much for you or if you are allergic to spicy foods.
This post was originally posted on January 12th, 2012. On February 20th, 2020 I updated this post with new photos and written text.
This post contains Amazon affiliate links that earn me a small commission, at no cost to you. I only recommend products that I use and love. Learn more about my affiliate policy here.