How To Make Gumpaste Mardi Gras Mask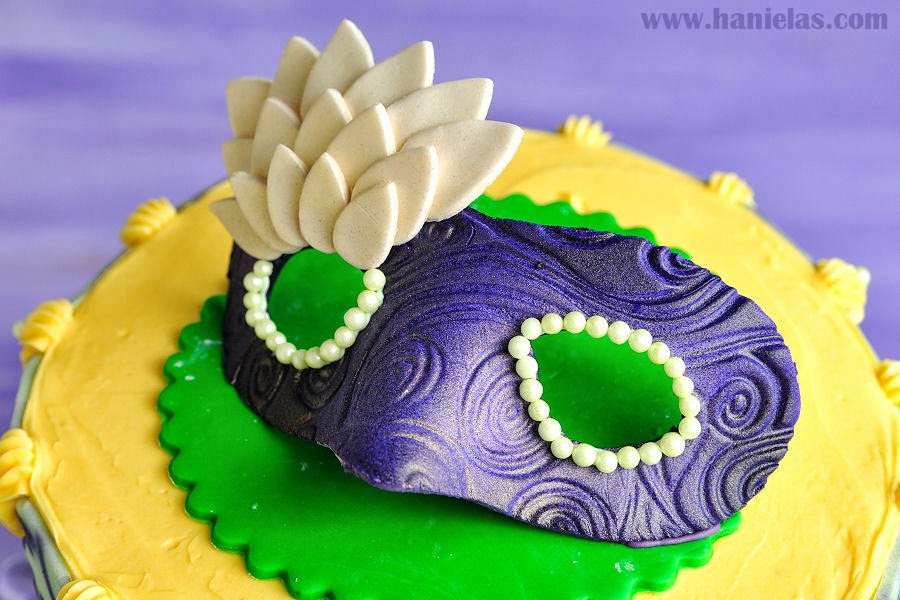 I had some leftover gumpaste and I finally bought paper mask at Michaels. Mardi Gras mask it is!
Surprisingly it was easier to make than I had initially thought. Obviously you can go really wild with all kinds of embellishments. Mask I made is pretty simple. I used airbrush to achieve dark purple color and simple texture mat from a craft store to give the mask some texture. I hope you enjoy this project and stay tune Mardi Gras Cake is coming next.
To make gumpaste Mardi Gras mask you need:
Gumpaste, make it from scratch – recipe using Gum-Tex
Gumpaste by Wilton – buy it already made
If you don't have gumpaste you can also add Tylose to Fondant, knead it well and use it in place of gumpaste.
Royal Icing, full batch
Small Batch Royal Icing
How to Thin Royal Icing
Wilton Green Pearls
Plastic Tweezers
Fondant Tools
Airbrush
Metallic Airbrush Colors – gold
Gold Mist Spray, alternative to Airbrush
Airbrush Colors – Purple
Small Tear Drop Shape Cutters
Paper Mask  – Craft Store
Mask Templates
Corn Starch
Plastic Wrap
Clean Paint Brush
Texture Mat – Craft Store
Exacto Knife
Step by Step Tutorial how to make Gumpaste Mask