Meringue Chevron Cake with Creamy Filling and Fresh Raspberries
Do you like meringue desserts? (Yes, I DO) How about chevron pattern?(I love it.)
Let's make this dessert.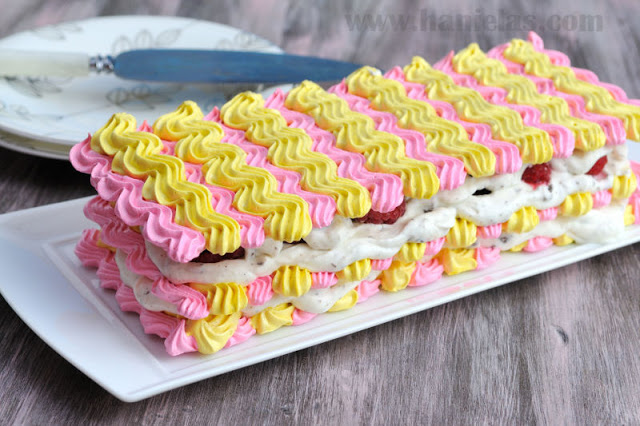 Meringue Layers
6egg whites
1 1/2 tbl corn starch
1 1/2 cup granulated sugar
1tsp vanilla extract
1tsp vinegar ( or 1/2 tsp cream of tartar- these both are stabilizing agents so you can use either of them)
1/4tsp salt
10×4 inch paper chevron template
Preheat oven to 200F.

Onto the parchment paper, trace the template(10×4) 3 times. I used a large cookies sheet so I fit all 3 on there.

Flip the parchment and position it onto the cookie sheet. Set aside

Divide sugar in half, process one half of the sugar with corn starch in the food processor. Process it with the blade for about 30 to 60 seconds. Set aside.

Make sure the bowl of your mixer is grease free. Wipe it dry with white distilled vinegar if needed.

Add egg whites into the clean bowl, add salt, beat egg whites on high, until soft peaks are formed, gradually add 1/2 of granulated sugar and beat until stiff and glossy peaks are formed. Add vinegar or cream of tartar.

Add remaining sugar-corn starch mix, and beat only for a little bit, 15-30 seconds, just until incorporated.

Divide meringue in half.

Tint the meringue with pink and yellow.

Fit the pastry bag with star pastry tip, fill the bag with pink meringue.

Pipe zigzag lines onto the prepared parchment paper using the template underneath as a guide. Continue with yellow meringue.

Bake at 200 for 3 hours minutes. Turn off the oven and let the meringue layers in the oven for additional 2 to 3 hours.

To avoid browning of the meringue I placed a piece of aluminum foil on the bottom rack in the oven. I have an electric oven with elements exposed at the bottom.

If not using the same day, store meringue layers between layers of wax paper, in a large airtight container. Store for up to 3 days.

If you should have some meringue left, pipe little swirl and make meringue cookies.
Whipped Cream Yogurt Filling
1 cup whipping, or heavy cream
1cup Greek Fat Free Yogurt, plain
1tsp gelatin
1tbl water
1tsp vanilla paste or vanilla extract
1/2 cup powdered sugar or to taste(meringue layers are sweet so you can scale down on sugar in the filling if you'd like)
1/4 cup chopped semi sweet chocolate
fresh raspberries
In a small dish, add cold water, sprinkle gelatin on top, let bloom for 5 minutes.
Using a microwave heat bloomed gelatin for 5 seconds, it should be dissolved after 5 seconds, if not heat it a little more but be careful not to overheat gelatin. Let the dissolved gelatin cool to room temperature, stirring frequently or place it in the water bath to cool for couple of minutes.
In a clean bowl, whip the heavy cream until soft peaks are formed, add dissolved gelatin, beat and then powdered sugar, beat until stiff, add vanilla, don't over beat. Gently fold in yogurt and then chocolate. Filling can be refrigerated for couple of hours.
Cake Assembly
Spread some filling on the bottom meringue layer, put another meringue layer on top. Spread more filling on top. Distribute fresh raspberries and spread remaining filling on top of the raspberries. Put the last meringue layer on top. Serve within the 30 minutes.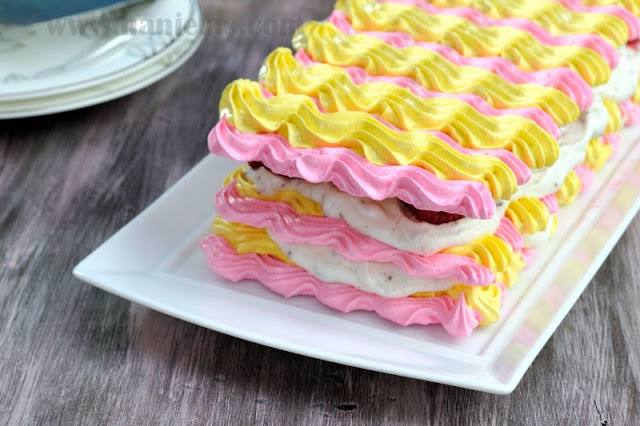 Raspberry Meringue Cake Video Tutorial