Today we are going to be making little cake pops that are not shaped into balls but cut into small rectangles. How easy is that!
If you are making these for kids, I'd recommend omitting the alcohol otherwise go for it, it makes the cake even more delicious.
I dressed them into white blue and red, to celebrate upcoming 4th of July but you could do any colors you'd like.
American Flag Cake Bites (about 18 + pieces, depends on how big you cut the cake mixture)
1/2cup raspberry preserves
3tbl raspberry liqueur
1 cup vanilla cream cheese frosting
2cups Super
White Merckens Chocolate Wafers
1/3cup to 1/2 cup Red
Merckens Chocolate Wafers
1/3cup to 1/2 cup Blue
Merckens Chocolate Wafers( this color is little brighter, you can also
add Navy
Blue Americolor Oil Candy Color to achieve darker color. Don't use regular
food colors, you have to use oil based food color, those are suitable to work
with chocolate)
Piping bags or small sandwich bags
Large meat fork, heat proof
bowl
Once baked cake is cool, break it
up into pieces and transfer pieces into a bowl, then using your hands break it
up into even smaller pieces until you have fairly fine cake crumbs.
In a separate dish combine together
cream cheese frosting, raspberry preserves and liqueur. Add cream cheese
mixture into the cake crumbs and using a wooden spoon stir until everything
comes together into a ball
Between 2 pieces of wax or
parchment paper roll the cake mixture into about 3/4 inch thick. Chill
for 30 minutes and then cut into small rectangles.
Chill for another 10-15 minutes. In
the meantime melt white dipping chocolate in a heat proof bowl over simmering
water.
Line a tray with wax paper, dip
each rectangle cake bite in the chocolate. I like to use large meat fork for
this.I take the cake bite and place into the melted chocolate, gently, very
gently flip the cake piece and then using the fork lift it up, resting the
fork's handle on the side of the bowl, gently tap the handle to remove excess
chocolate from the cake. Lift the coated cake and place it onto the the tray
layered with wax paper. Continue with remaining cakes.
Once all the cakes are coated,
place the tray into the fridge for 10 minutes.
Remove from the fridge and using
melted red and blue chocolate pipe stripes onto the white cake bites. Let the
chocolate set in the fridge for another 10 minutes. Store cake bites in the
airtight container in the fridge layered between pieces of wax paper.
Vanilla Cream
Cheese Frosting
1 package of cream
cheese
½ stick of room
temperature butter
1 1/2 cup of powdered sugar(use more if desired)
1tsp vanilla
extract
1 to 2 tbl milk
or heavy cream
Using mixer butter until smooth, add cream cheese
and mix until smooth, add powdered sugar and mix on low speed until combined,
increase the speed and beat for 2 minutes until smooth, add vanilla
extract, add milk or heavy cream and beat until smooth.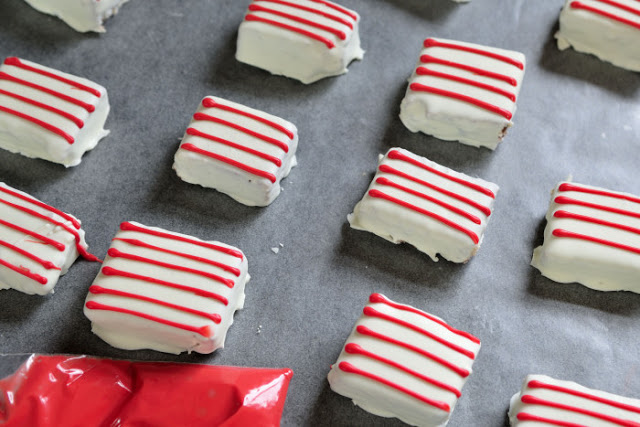 4th of July Cake Bites