Despicable Me Minions Cookies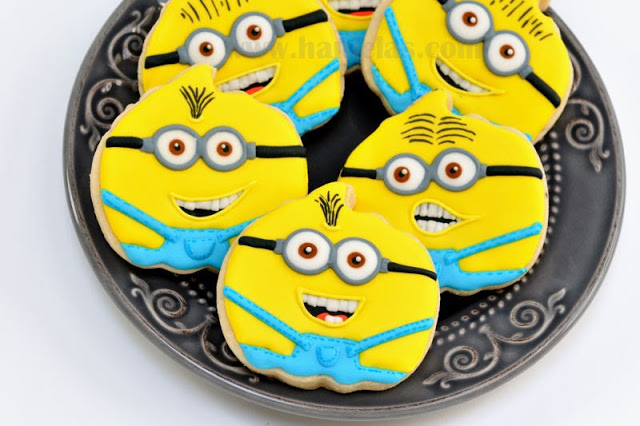 Did you know pumpkin cutter is so versatile? I used it to make adorable Despicable Me Minions Cookies. Aren't they cute? Obviously you can hand cut the exact shapes for these, or you can use a round, square, heart cutter if you'd like. It is all up to you.
To make these cookies you need:
Sugar Cookie Recipe
Royal Icing
Americolor Food Colorings : royal blue, super red, lemon yellow, brown, black
15 second consistency royal icing : white, blue, yellow, red, brown, black
piping consistency : yellow, gray
Gourmet Food Writer Edible Color Markers , Blue Marker
Needle Tool or toothpicks
Simple templates (picture below)
Pumpkin Cookie Cutter( I used a 3inch cutter, you can use 4 inch as well)- available at The Cookie Cutter Company
Despicable Me Minions Cookies – Video Tutorial
Templates for the eyes and the different mouth shapes.
To make the templates I use a piece of heavier paper and I cut out the shapes using an exacto knife.
Despicable Me Minions Cookie Video Tutorial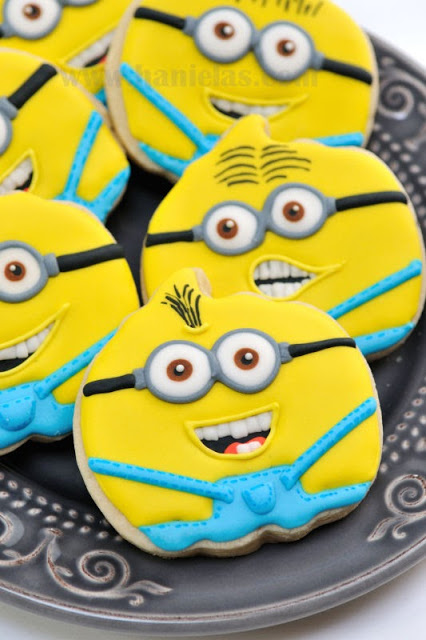 Subscribe to HANIELA'S Email Updates