Meet Pam from CookieCrazie
First week of 2011 has flown by, I haven't done much baking this week, trying to recuperate from all the Christmas/New Year's baking.
Right now I'm sitting by the fire, it is cold out and Winter is in the full swing as it started to snow again. Falling snow is so calming, don't you think? I just love staring at it as it falls down…
I'll be making some cookies later in the day, I've decided to surprise my cousin with few Wedding Cookies for her Wedding later this month, I just finished my sketches for those.
Exciting!
~
Today is an ~INTERVIEW DAY ~
I'd like you to meet the best Cookie Quilter I know, Pam from CookieCrazie, Pam is known for her amazing quilt patterned cookies, country inspired designs, the use of glaze icing to decorate her cookies,and let's not forget her generous ♥.
Be sure to visit Pam's blog called COOKIE CRAZIE , she generously shares her cookie tips, recipes with everyone in the world , she is an active cookie supporter of Cookies with a Mission.
You can also read more about Pam and her passion for cookies a in her recent visit at
The Sweet Adventures of Sugarbelle
~Meet Pam from CookieCrazie~
1. What was your favorite cookie order of 2010 and why?
Pam: "My favorite was probably the three dozen fall quilt cookies for a quilting group. I was given free reign to do the quilts as I wished, as long as they were in fall colors. Wow…..that was fun! I love quilts, fall, its colors…… and I love to do quilt cookies. There's something about trying to make the cookie icing look like different fabrics that brings me great joy."
Photo © CookieCrazie
2. What do your children say about your cookie decorating adventures, do they help you decorate or give you ideas?
Pam: "My children are always interested in what I'm up to next…..giving their critique of the latest…..probably more the girls than the boys. They don't help much, but mainly because it's my thing and I think I've made them feel somewhat intimidated by it. My daughter said once that it was crazy to spend that much time working on a cookie that someone would gobble up in a few seconds. But then…..she's done her share of working over a cookie to make it look extra nice. 😉 Yes, they often give me ideas and suggestions. Kyle asked for the Star Wars "middles" for a friend's birthday….and he had as much fun researching them for me and then giving them to the friend as I did in making them. It makes me so happy when they are proud of my work. :)"

Photo © CookieCrazie
3. I know you are deeply committed to a wonderful cause Cookies with a Mission, you single handedly raised over $6000 to fund trips to Ukraine and help out with financial needs of your ministry there, I really admire you for what you have accomplished, it is truly inspiring. What would you say is the biggest difference in cookie decorating in Ukraine compare to US?
Pam: "Great question, Hani. Funny thing is….they don't decorate cookies in Ukraine. They are extremely intrigued by my work and over and over again, I have women ask me to show them how to do it. I've had the opportunity to have a teaching session with one family…..and I plan to have another one with a different family in June. It's so wonderful to give them the tools they need to possibly bring in some income…..but also bring joy to others. By the way….there are a few ingredients that they don't have…..or are very different than ours…..so my cookie & icing recipes were not the same when we made them there. It would be some thing they would have to keep working on to perfect with their readily available ingredients."

Photo © CookieCrazie
4. When not making cookies, do you have any other hobbies ?
Pam: "I love to read….mainly Christian fiction. I also spend a LOT of time on the Internet…..mostly cookie related, like my blog, Flickr, and CookieCrazie FB sites. But I also enjoy keeping up with friends and family on Facebook too."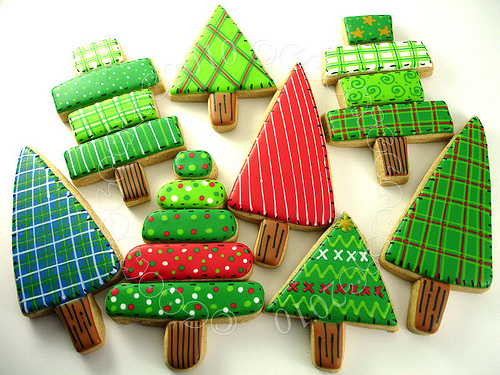 Photo © CookieCrazie
5. 3 utensils you couldn't do without in your kitchen
Pam: "
My Kitchen Aid mixer,
my DoBoard for rolling out my dough evenly,
and the cookie scraper .

Photo © CookieCrazie
6. When making new cookie designs, do you make sketches or do you decorate as you go?
Pam: " :I don't even know how to sketch…..I'm not an artist at all! But I do plan out possible things to do on the cookies. I gather together ideas from other cookiers, graphics, ANYTHING that gives me an idea to try on a cookie….and then I decorate as I go."
7. Favorite "Cookie Moment" of 2010
Pam: "There is nothing better than seeing the joy of people when they receive a cookie…..and watching the Ukrainians as I gave them cookie gifts on my two trips this year…..that topped the list. :)"

Photo © CookieCrazie
8. Cookie Crazie. How did you think of the name ?
Pam: "I don't think it was anything in particular…….I was just trying to think of a catchy name that exemplified my obsession…..and CookieCrazie fit. lol"
9. You decorate your cookies with Glaze icing ( Pam's Glaze Icing Recipe), I tried glaze myself few times and piping details can be really challenging as glaze is a bit more elastic medium than royal icing. How do you make it work when piping details? What type of piping tips do you use, if I may ask?
Pam: "It's true……glaze is much more challenging to use, especially for the details. But when you are determined to make something work……you try and try and try…..and eventually things come together. I've learned to add details over time. I have to let each little set of details dry before I can add more. It can be very tedious…..but as I said, if you are really determined, you'll take the time. I guess this is just one more way that I am CRAZIE. 😉
I use mostly Wilton tips……but my favorite are PME tips. :)"
10. For favorite cookie flavor?
Pam: "I love cookies……period. Variety is nice…….but I always go back to the staple…..vanilla cookie with almond flavored icing. Yum!"
Photo © CookieCrazie
Thank you Pam for your visit today.
I love cookies but I would have never thought cookies could have such impact on people!
Sometimes little goes a long way, and
Cookies with Mission have grown into such a wonderful cause, connecting people all over the world, in a sweet way. Best of Luck.
Note : All the photographs above are the property of CookieCrazie
Please Do not Reproduce in anyway without owner's permission.
Thank you.