Meet Diane Drake from Drakegore
I decided to give you a Valentine's gift of beautiful cookies; made by a talented cookie and cake artist
Diane Drake from Drakegore
Diane has been decorating cookies for several years, when I stumbled upon her work on Flickr, I was mesmerized by it instantly. Every time she posts photos of her cookie creations I'm in awe; I love Diane's approach to cookie decorating, my favorite is the elegance that radiates from her edible artworks, she incorporates wet on wet techniques with delicate piped designs using striking colors, creating a unique piece of art, truly a joy to see. Diane is known to be using geometric cookie cutter shapes for her cookies, one of her favorites is a rectangle shape cutter.
She is among those cookie artists using glace icing, mastering this medium just like another amazing cookie artist Pam from Cookie Crazie.
Diane's artistic approach to cookie decorating landed her a place in the well known Magazine.
~ Meet Diane Drake ~




What was first cakes or cookies? How did you get into the sugar decorating?
Diane : "I checked the book "Cookie Craft" out from the library, read it a million times, and decided I would go forth and conquer, lol….my first attempts were reaaaaaaaaally bad. I still go back and look at the photos of my first cookies when I am having a bad baking day and remind myself that whatever current disaster I might have, it's not as bad as that…
I had been doing cookies for about 2 years when I decided to try cakes too. My first cake was for my son's 4th birthday party and I bit way more off than I could chew as a beginner and ended up working thru the night and finishing it at 6am (the party started at 10am). The next few cakes I did all went along the same lines (no sleep, destroyed kitchen, panic) but I got to bed a few hours earlier with each cake…it only took a couple of years but I finally got the cake timing thing down."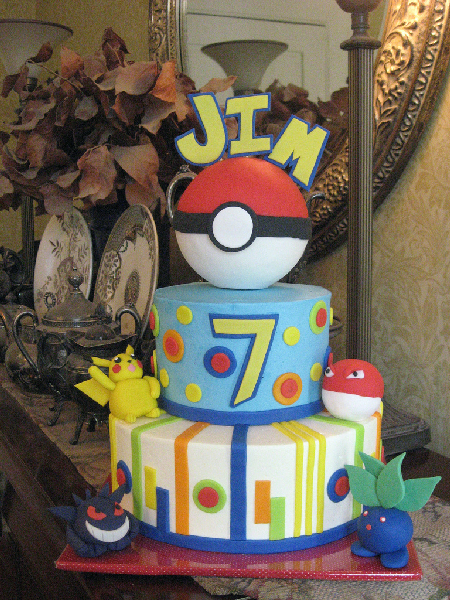 Pokemon Birthday Cake
I noticed in your flickr photo collection, there are a lot of photos of decorative silverware, are you a collector?
Diane: "Collecting antique silver was my big passion before I started baking. I still collect and love the ornate silver patterns from 1875-1900, but now most of my time is spent in the kitchen instead of antique flea markets (I live in Massachusetts where there's no shortage of antique markets). If you ever want to go to an amazing antique market, the Brimfield Antique Show is amazing; it's about 30 football fields of great antiques at great prices (wear comfy shoes).
I have ten sets of antique silverware that I put together piece by piece….I suspect this is about 9 too many, but I can't bring myself to part with them. I keep getting snarky comments about silverware "hoarding" from my husband, lol.
I love it when I can combine my two passions and use my antique servers and cake knives with something I baked. I also have a collection of silver cake baskets that are great for serving cookies ("cake" in 1875 meant something different than what we serve today so I can't use them for my layer cakes)."
I love your artistic approach to cookie decorating, where do you find inspiration?

Diane: "I find many ideas for decoration from fabric and paper. I am always looking in specialty stores for inspiration.
I really love Asian, Art Nouveau, Craftsmen, and Art Deco motifs, especially the floral elements. I rarely get to make anything with vintage or floral design in cakes, so I really take the love of those motifs to my cookies where I usually can indulge myself. Historical motif and art books are a favorite place to go for those inspirations."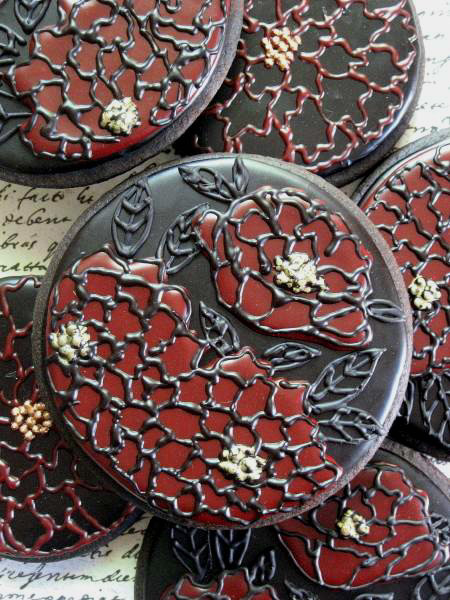 Favorite cookie design?
Diane: "My Asian Wedding Cookies whose design was inspired by a beautiful rice paper I found."
Japanese Wedding Cookies
You are among few cookie decorators that use glace icing, was is always like that, or did you grow to like this medium over time, what is it that you like about this medium over royal icing?
Diane: "I started with royal and just didn't like it. It didn't taste good to me and I didn't like the way it felt when I bit into it. I was reading books by Toba Garrett at the time, and decided to try her glace recipe and was amazed by the difference, and I never went back. I still miss some of the things you can do with royal that you can't with glace (like flower piping), but I am always trying to stretch my boundaries a bit with what I can do with glace. I know there are some good royal recipes out there and I may give it another shot in the future."
Christmas Ornament Cookies

Do you have any cookie idols?
Diane: "I love Toba Garrett and Nancy Didion's work. There are a lot of amazing cookie artists on Flickr that I love to follow like Rosey's Sugar, GeminiRJ, Tracy LH, Montreal Confections, and SweetSugarBelle to name a few."
Valentine Heart Cookies
Which one would you say is your favorite Cookies or Cakes?
Diane: "You know, I am not sure! I would be unhappy if I had to make just one or the other. I get a different kind of satisfaction from doing each one. I think I pull my hair out more when I am making a cake, but I do love that I can do more techniques with cake than cookies and have a bigger canvas to work on. Still, I think I would have to go with cookies though because they were my first baking love."
Spring Blossoms
3 utensils you couldn't do without in the kitchen?
Diane: "
· Ck squeeze bottles that I can use my own tips with. I still use bags for outlining and precision work, but I love the bottles for everything else.
· Candy thermometer… I use SMBC on my cakes and I bake for a lot of kids; I want to absolutely certain I get those eggs whites to the safe temperature.
· Parchment paper….what can't you this do with this stuff J.
· I know you said three, but I have to add paper towels to the list. I can't seem to bake without creating a gigantic sugar covered mess of my kitchen."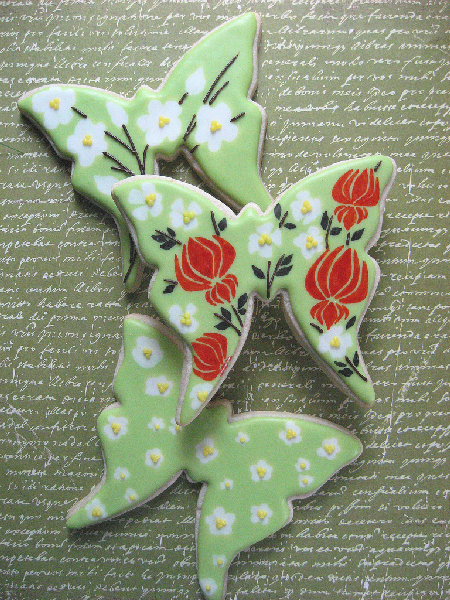 Butterfly Cookie trio
Favorite Cake flavor?
Diane: "Banana or Lemon are my favorites. About the only cakes I don't especially like are carrot and spice…maybe I just haven't found the right recipe for those yet (I WILL eat anything covered in buttercream though….)."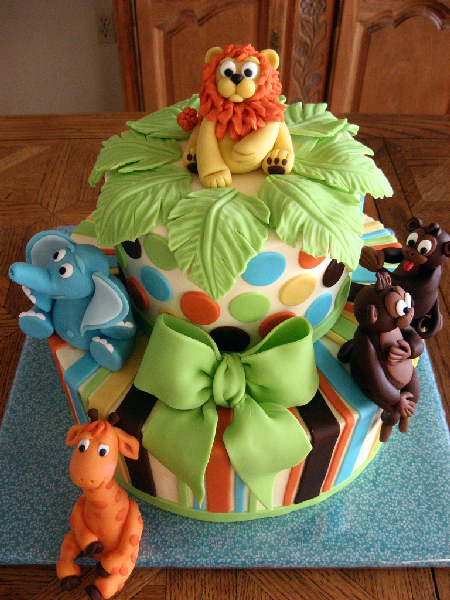 King of Jungle Cake
Have you taken any formal classes in cake / cookie decorating, your advice to a novice.
Diane: "I haven't taken any classes or had any formal training. I think I may have read every cake and cookie book every written though at least once.
I would advise not being afraid to make a lot of mistakes. I would also may sure you have good friends who don't mind putting on a few pounds to eat your practice cakes and cookies, lol.
Besides books, there are a lot of great resources on the internet to help teach or share decorating techniques (I learned a lot about modeling fondant characters from YouTube because sometimes it really does help to see someone actually do it)."
Red Lacquer Chinese Flower Cookies
Best cookie,cake moment
Diane: "When Cake Central Magazine asked me to design cookies for their premier issue. I was (and still am, lol) tickled pink about it. But a very close second, are the times my son (he's 7) pops up at an event I've made cookies or cake for, and says very loudly "MY Mom made those!". "
~♥~
Diane, thank you so much for letting me feature your edible artwork, it truly
was such a joy to work with you on this interview.
Just looking at your cookies makes me wanna bake and decorate.