Homemade Confetti Sprinkles
Do you have leftover royal icing? Use it to make colorful Homemade Confetti Sprinkles. I'll show you how. It's easy and fast.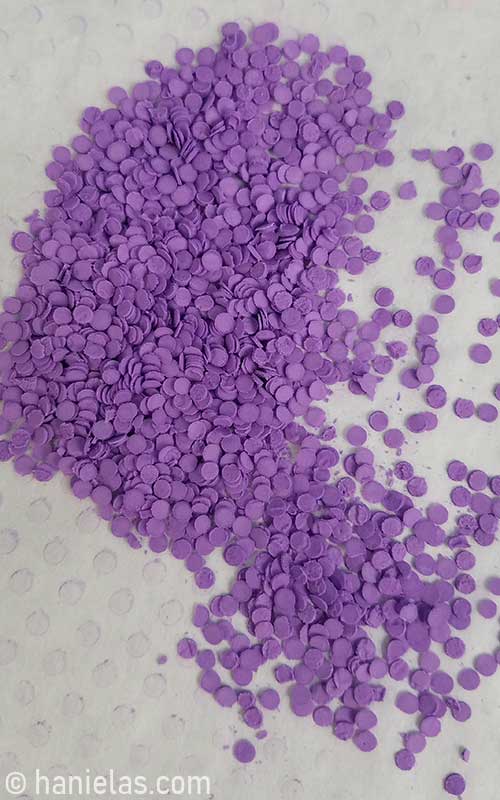 HOW TO MAKE HOMEMADE CONFETTI SPRINKLES
You maybe asking yourself why would anyone need to make homemade sprinkles? Well, there are couple of reasons :
You ran out of sprinkles.
Maybe you need specific colors to match your project.
A food allergy? You can make your own vegan sprinkles using Vegan Royal Icing.
Or you'd like to use sprinkles colored with natural food colors? Make your own with natural food dyes.
STEP 1 – STENCIL WITH ROYAL ICING
To make confetti sprinkles I used royal icing, small polka dot stencil and a parchment sheet. To spread icing over a stencil you can use a spatula or an icing spreader. Spread icing evenly over the stencil.
Place a stencil on a parchment paper, (step 1). Pipe medium thick royal icing onto a spatula or a spreader, (step 2). Spread icing over the stencil, while you hold stencil in place with your other hand. Then carefully lift up the stencil, hold the edge of the parchment down. And repeat. No need to wash down the stencil.
TIP : Trick to make stenciled sprinkles is to not spread icing too thin nor too thick. Spread it took thick and stenciled shapes will have rough, raised edges. If you spread it too thin sprinkles bread easily. Try to spread it so icing layer is just thick enough that you can't see stencil cutouts underneath.
STEP 2 – LET DRY ROYAL ICING
It's important to let icing dry thoroughly before removing sprinkles from the parchment. Allow to dry for 6-8 hours.
STEP 3 – REMOVE CONFETTI SPRINKLES FROM PARCHMENT
To remove dry royal icing rounds from the parchment use a spatula or simple remove sprinkles with fingers. Collect them into a bowl.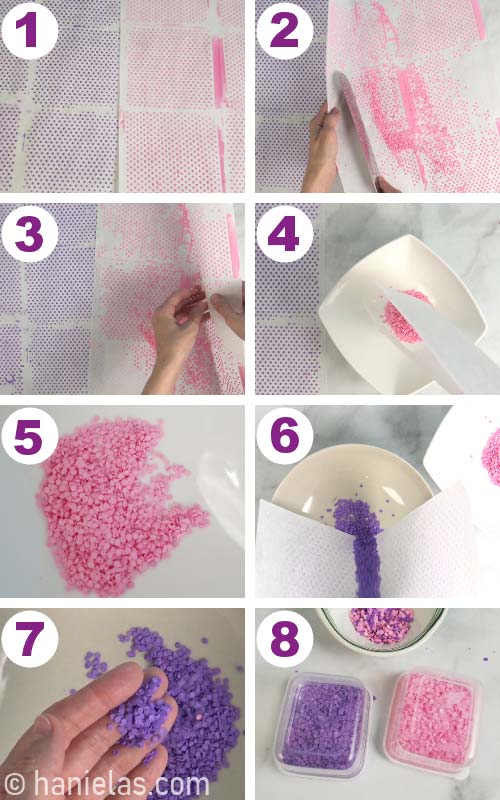 STEP 4 – HOW TO STORE ROYAL ICING CONFETTI SPRINKLES
Store homemade sprinkles in small containers or jars, away from direct sunlight and moisture.
HOW TO USE HOMEMADE SPRINKLES
Use homemade sprinkles to decorate cookies, cakes, cupcakes. Or use them to fill Donut Pinata Cookies. Possibilities are endless.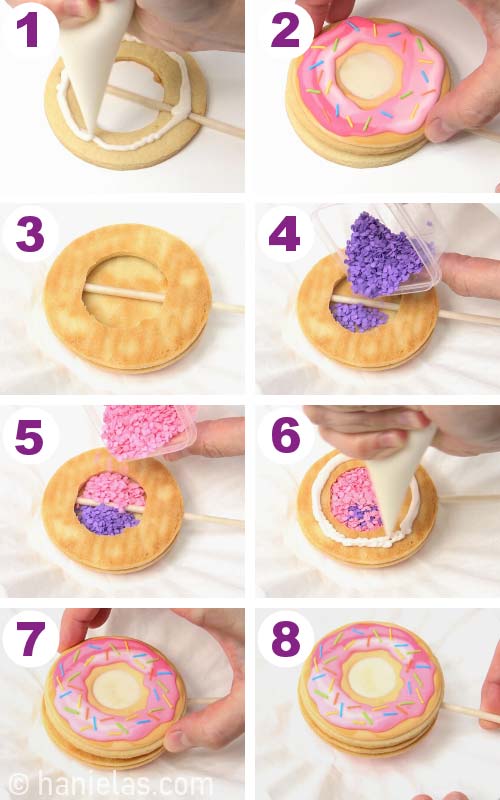 Create your own, mermaid, Christmas or rainbow sprinkles by mixing sprinkles of different colors together.
CAN I USE DIFFERENT STENCILS?
Absolutely. Get creative and make star sprinkles, hearts, leaves, etc.
HOW LONG DO HOMEMADE SPRINKLED KEEP?
Royal icing sprinkles just basically Royal Icing Transfers. And these can keep for a very long time. They will keep for years when stored properly. However, I find that color tends to fade overtime (over 1-2 years).
TO MAKE HOMEMADE CONFETTI SPRINKLES YOU NEED
RECIPE
TOOLS
Find all the tools you need in my Amazon Shop
Small Polka Dot Stencil (look in stencils section in my amazon shop)
Spatula or Spreader
Food Gel Colors – to color royal icing
Natural Food Colors
Parchment or Wax Paper
Online Stencil Shops : Stencibelle, Cookie Countess
This post contains Amazon affiliate links that earn me a small commission, at no cost to you. I only recommend products that I use and love. Learn more about my affiliate policy here.