Pâte à Choux Pastry Swans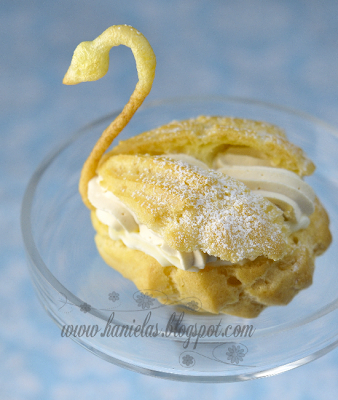 Over the past few week I've received several requests for a tutorial on Pate a Choux Swans, I was going to make a video tutorial, but since time is precious right now(around holidays) I decided to do a photo tutorial instead, maybe in the future I'll have more time to do a video tutorial.Well anyway, for those who really want to make these, here they are.
In this segment I will share with you my Pate Choux Pastry recipe and Photo Tutorial on how to make the Swans.
When I first joined flickr few years ago I remember seeing beautiful swans, thinking I could never do that.2 years later I proved myself wrong.:-) I made my first SWAN PASTRIES. They are not as hard to make as they look, little intimidating yes but not impossible.
When our friend Helen asked me to make a dessert for Thanksgiving table I knew instantly I wanted to make Slovak Veternik.I was going to make a traditional shape, but then I got on the phone with my mom and it was her, she suggested (on the day of Thanksgiving) that I should make swans. I was still intimidated by them but not so much anymore. I guess I've grown a little.
I've made pate a choux pastry, eclairs and other shapes numerous times, my biggest problem over the years was the baking. I'd constantly burn them(I blame it on the oven..of course.), following the recipes from different sources. Sometime they would bake well, other times not, clearly I was worried they would either fall or that I would burn them. I decided to try my own approach and use my instincts and it worked. I baked them in 3 different temperatures and they came out golden brown.
Haniela's Recipe for Pâte à Choux
300 ml water
180ml oil
180 grams flour
5 eggs
pinch of salt
Pastry Dough
In a medium size pot combine water, oil and salt.
Bring to boil.
When water is boiling remove from the heat
Add flour all at once and using a wooden spoon stir and stir
Put the pot back on the burner
Mixture will thicken significantly
Keep stirring with your wooden spoon
Cook, until the dough forms the ball and is separating from the wall of the pot.
Remove from heat.
At this stage I let the mixture cool to room temperature.
Transfer the dough into a mixing bowl and let cool.
Preheat oven to 480F(250C)
Place a small heat proof dish with water on the lowest rack into the oven.
Once your dough is cooled
Add room temperature eggs.
One egg at a time
You can use your hand held mixer to incorporate eggs into the dough or use a wooden spoon.
At first it will look like it is not going to work, dough will separate when you add the egg, just keep stirring, it will eventually come together, add another egg until you added all eggs.
stir well to combine well
You are looking for a thick but soft dough.
Now you are ready to pipe the dough onto a baking sheet lined with parchment paper.
You can make any shapes you like, but today we are making swans.
Line the baking sheets with parchment paper.
You need:
Star or Round tip, large for body, I like to use star tip for this, but you can use round it if you'd like as well.
Medium to Small size Round tip for the neck and head
SWAN BODY – teardrop shape, starting at the widest part, just keep pressing the piping bag with the tip attached, don't move the position until you have a wide part of the teardrop shape formed, then very slowly move to the tip toward you slightly to form a teardrop shape Don't be afraid, you want a good amount of dough to form the body.

NECK – S shape, use a smaller round tip for this
HEAD – Teardrop shape, once you have swans' necks piped, using the same tip just go over the S starting top point, start piping and hold, as the dough starts to form a small ball, lightly pull the bag with the tip towards you to form a teardrop shape. This will be swan's head.
I made this simple scheme, it is just to show the shapes we will be piping.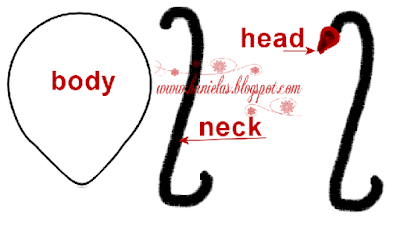 Baking – SWAN BODY
remove the dish with water from the oven
I bake one sheet at a time.
Bake on the higher rack
480F(250C) – for 17 minutes
330F(165C) – 15 minutes
295F(146-150C) 15 minutes
Do not open the oven during baking.
You are looking for golden brown color, puffed pastries.
Remove from oven, immediately using a sharp knife cut the pastry in half. Make sure you are not cutting too low to the foot of the pastry, you want to maintain the height, so your filling doesn't leak out.
When you cut the pastries in half, remove the soft cooked dough from inside, just scrape it out with the spoon.
Reason we are cutting them as soon as they come out of the oven is to remove hot air from them.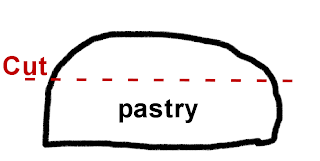 Once slightly cooled you can now cut the top part of the pastries in half to form the Swan's Wings.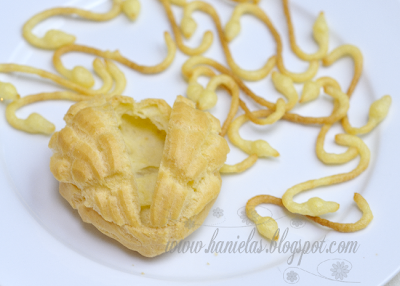 Piping the neck and a head
BAKING – NECK with HEAD
you want to bake these separately from the body of the swan.
depending on the width of your neck – 400F(200c) 5 -7 minutes
Watch it very carefully, I burned 4 sheets in the process of getting it just right.
You can now fill your pastries with your favorite filling.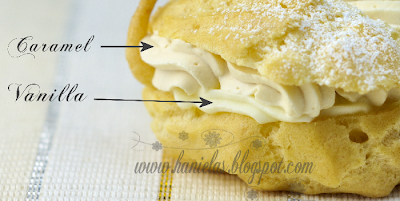 I recommend that you avoid using buttercream when filling these pastries, you want these delicate pastries be light and airy, best to use pastry cream or whipped cream, perhaps a mousse filling would be a great choice too.