Meet Natasha from Nevie-Pie Cakes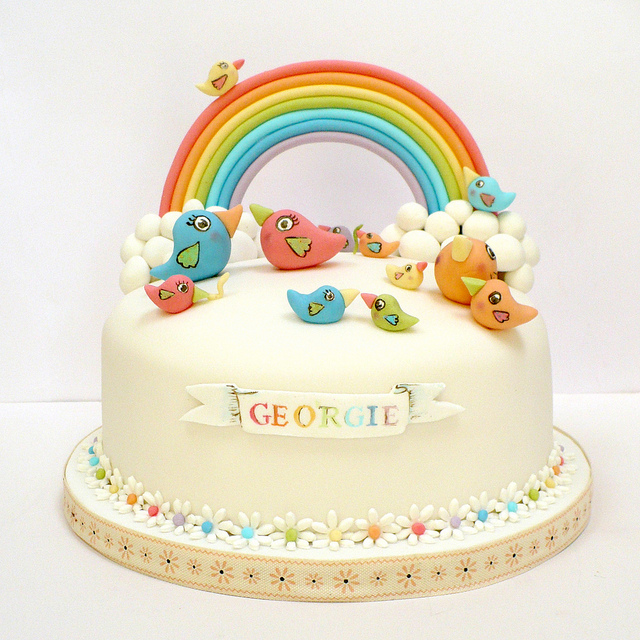 Today is an interview day on my blog.
I have a really special guest today, we met few years ago via flickr, and today I'm delighted to have Natasha from Nevie-Pie Cakes as a guest.
Natasha is a multitalented artist.
Her work charmed its way into my heart, and it literally makes me smile every time I see it.
If you haven't seen Natasha's work, you can find her
on Flickr – Nevie-Pie-Cakes
Blog –Amelie's House,
where she shares recipes, ideas, pretty pictures and her amazing artwork.
~♥~
Meet Natasha from Nevie-Pie Cakes
Your favorite cake design and why?
Natasha: "My favorite cake would have to be my "We Like Marching Cake". I trained as an illustrator and this cake come closest to my natural style. I like fun childlike things and also vintage illustrations.
It was for my local toddler groups 25th anniversary, and I had a free hand to do exactly what I wanted, my favorite type of brief."
We Like Marching
You are a multitalented artist, designer and more, I admire your paintings on cakes, cookies and cupcakes, do you also paint on canvas, and if so do you sell your paintings?
Natasha: "In the past I have painted with anything and everything as part of my job as a textile designer. I used oils, acrylics, gouache, inks, wax, you name it I've used it!
I don't paint on canvas but I do paint with watercolours sometimes and also make collage pictures out of up-cycled fabrics. My paintings are for sale you can contact me privately or keep watching my Folksy site for when I get round to putting them up."






Circus Cakes



Favorite memory from Christmas 2010?
Natasha: "My favorite memory of this Christmas would be watching my children open their stockings. They get so excited and my eldest is always beside herself to receive a satsuma in her stocking. I think it's very sweet and innocent! And I know it will all pass so quickly, you have to hold on to these moments.
I have also very much enjoyed snowballs this year, (the drink, made with Advocaat). I've managed to get through two bottles! (with a little help I may add)."
Vanilla Cupcakes
"Cakes in my favourite colour way, that has become something of a theme!"
I'm a huge fan of your gingerbread houses, this year you've created another amazing collection, Natasha, where do you find your inspiration ?
Natasha: "I find my inspiration everywhere. From cards to fabric, TV, magazines, wrapping paper, old books and of course loads of gorgeous goodies I find on Flickr or blogs and my newest crush, online magazines. My gingerbread house was a mixture of inspiration, from a picture of a tree by my kidlet to the cover of a notebook and a few online pictures found on some other blogs, and also some patterns that just came out of my head."
Hooty Street
A lot of cake decorators use cake designer software, I wonder do you also use one when creating the initial design for your cakes and/or gingerbread houses"
Natasha: "I don't use any software. I was a designer for over ten years so I have a fairly innate sense of design and what should go where. Also I have no problem with scrubbing something out and starting again if I am not happy with it."
Puff The Magic Dragon
"This one is sentimental to me because my parents used to ding me this song when I was little."
Favorite medium : Cookies, Cupcakes or Cake and why?
Natasha: "My favorite medium is a tough one, I like the look of big tiered cakes, but it is easier to paint on cookies as they are flat and my arm doesn't get as sore."
Angelina Ballerina Cookies
What was the most touching sugar moment?
Natasha: "A touching moment is hard! I love making celebration cakes because it means I am part of someones special day and hopefully make it a bit more special. I really couldn't pinpoint one particular moment but I have had tears of happiness a few times which always makes me fill up too."
Wedding Cupcakes
"I like the more contemporary look of these."
Have you taken any formal decorating classes or are you completely self taught?
Natasha :"I haven't had any decorating classes. I have picked up a lot of information from the net and some decorating books. I also have a friend who had been decorating cakes for years so I always ask her for advice. I have just started out really slowly and only progress when I feel sure of myself. Oh and I never do piping!"
Rose Cupcake
"I love the simplicity of the design and also the image."
Your favorite dessert?
Natasha: "My favorite dessert would have to be something rich and chocolatey. Probably a chocolate mousse. I also like really moist cakes, I do a delicious banana toffee cake with cream cheese frosting."
Bon Voyage Cake
What type of medium do you use to paint your sugar art work?
Natasha: "I use sugarflair colour paste to paint onto fondant. I just use water, or spirits if I am using gold or silver. I use superwhite to get pastel tones. But as I say I have been designing and painting for years so I can quickly adapt to different techniques."
The Mad Hatters Tea Party
"I love this as it's more of an art work than a cake."
How did came up the name Nevie-Pie Cakes ?
Natasha: "Nevie-Pie Cakes is based on the pet name for one of my children."
Four and Twenty Blackbirds
"More of my descent back into childhood!"
Natasha, thank you for generously answering all my questions.
It was a pleasure having you over.
I can't wait to see what you'll come up with this year.
~♥~