Caramelized Apple Muffins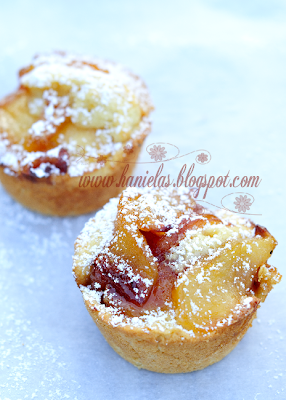 Muffin Batter
60grams butter
100 grams granulated sugar
30 grams brown sugar
2eggs
1tbl milk
1/2tsp vanilla extract
175 grams all purpose flour
1 3/4tsp baking powder
pinch of salt
Filling
3 – 4 medium size apples( peeled, cored, cubed , I sliced them, but I recommend cubing instead)
2 tbl butter
5 tbl brown sugar
lemon zest and lemon juice of one lemon
1/2 tsp cinnamon
Prepare fruit
In a large fry pan melt the butter add sugar, cinnamon, lemon zest, lemon juice and apples. Cook for about 7-10 minutes on medium high heat until apples are soft and syrupy but still hold their shape.
Remove from the heat and let cool.
Muffin batter
Beat butter with sugars till creamy and doubled in volume
Add eggs, one a time, beat to combine well
Gradually add milk and vanilla extract and beat until smooth
Sift all dry ingredients – flour, salt, baking powder, into the wet mixture and stir
gently to combine. Gently mix in cooled fruit, reserving few pieces for topping
Fill each greased muffin cavity( I used Pam nonstick spray) to about 3/4 full and then top with few pieces of caramelized cooled fruit.
Bake at 350(180C) for about 18 -20 minutes or until wooden toothpick comes out clean.
Let cool in a pan for 5 minutes and then remove from the pan to cool completely.
Sprinkle powdered sugar on the top and serve.
This recipe makes about 9-12 muffins,depending on the size of the pan