Apple Lattice Coffee Cake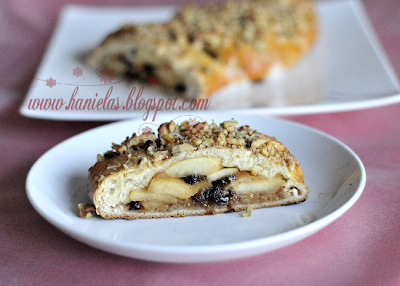 Apple Lattice Coffee Cake
Dough:
1/2 cup + 2 tbl whole milk
1 package active dry yeast
1/2tsp sugar
6 tablespoons sugar
5 tablespoons unsalted butter, diced, room temperature
1 teaspoon salt
3 large egg yolks
1 teaspoon finely grated orange peel
1/2 teaspoon ground cardamom
1/4 teaspoon ground nutmeg
2 to 2 1/4 cups all purpose flour
Filling:
1/4 stick unsalted butter
6 tablespoons (packed) light brown sugar
Your favorite apples (about 4 medium), peeled, cored, quartered, cut crosswise into 1/4-inch slices
Juice of one lemon
1 teaspoon finely grated lemon peel
1/2 teaspoon ground cinnamon
1/8 teaspoon ground cardamom
1/8 teaspoon ground nutmeg
1/2 cup raisins or currants
1/3 cup quick cooking oats
Topping
Egg wash
roughly chopped walnuts,cinnamon sugar
Make the dough
MILK MIXTURE : Place butter, 1/4 cup and 2tbl of milk, sugar and salt in a medium saucepan, over medium -low heat, stir until sugar dissolves and butter melts, and all is combined. Let cool to room temperature.
YEAST MIXTURE :Place 1/4 cup of warm milk/not hot/ and 1/2tsp of sugar in a cup, sprinkle yeast on the top and using a fork combine the milk with yeast. Let stand for 5 minutes, until you see bubbles on the top.
Whisk milk mixture into the yeast mixture, add egg yolks, orange peel, and spices. Add 2 cups flour; mix with rubber spatula until dough comes together. Turn dough out onto floured work surface. Knead until smooth and silky, sprinkling with more flour by tablespoonfuls as needed, about 6 minutes. Place in clean large bowl. Cover with plastic wrap and kitchen towel. Place in warm draft-free area; let rise until light and almost doubled in volume, about 2 1/2 hours.Good place is inside of the oven.It may take longer than 2 1/2 hours, just keep an eye on it.
Make the filling
Melt butter in heavy medium skillet over medium-high heat. Add brown sugar. Cook until thick grainy sauce forms, about 1 minute. Mix in apples and raisins / if using/ Cook until apples are tender and sauce is reduced to glaze, tossing often, about 7 minutes. Mix in all grated peel and spices. Cool filling at least 30 minutes, or until room temperature.
Assembly
Place large sheet of foil on work surface; spray with nonstick spray. Turn dough out onto foil. Roll out to 14×12-inch rectangle. Sprinkle quick cooking oats in 4-inch-wide strip down center, leaving 1/2-inch border at top and bottom. Arrange apple mixture with any juices atop crumbs. Starting 1/2 inch from each long side of apples, cut straight to edge of dough at 1-inch intervals, making about 13 strips on each side. Fold dough strips alternately and on slight angle over filling, forming lattice. Seal open ends of dough.
Slide foil with dough onto large rimmed baking sheet; trim foil overhang. Cover cake loosely with plastic and towel. Place cake in warm draft-free area; let dough rise until light and puffy, about 1 3/4 hours.
Brush cake with egg wash and sprinkle with cinnamon sugar and chopped walnuts or almonds, if using.
Preheat oven to 375°F. Bake cake uncovered until golden brown, 30 to 35 minutes. Gently run spatula under cake to loosen from foil. Cool 30 minutes.