Birch and Red Cardinal Gingerbread Centerpiece
I've had this idea in my head ever since I made my Foraging Squirrel Centerpiece and I was so happy to get baking and create this beautiful piece. I'm loving birch tree this year.
You need:
Roll a piece of parchment paper into a "log" shape. Secure ends with a baker's twine. Set the parchment onto the baking sheet.
Depending on how big of a tree log you want, roll out and cut out a cookie dough into rectangles.
Position cookie rectangle shapes directly on top of the parchment
log. Cookie dough should fit snuggly over the parchment, just barely
touching the baking sheet.
Bake, following the recipe you are using.
Remove from the oven and let cool for several minutes, then gently
lift the cookies off the parchment and transfer to a cooling rack and
cool completely.
Using stiff Royal Icing,
spread stiff to medium consistency white royal icing onto cookie tree logs, using a small angled spatula,
create a wood like pattern, just by gently running the tip of the
spatula over royal icing.
While icing is still soft, take a clean artist's brush and water. Lightly wet the brush, remove excess water and using the brush make short strokes into the royal icing, creating depressions.
Let dry icing completely before moving onto the next step.
Paint the tree log cookies : using black food coloring, water,
clean painter's brush and paper towel. First paint cookies with a very light shade of grey. Then using darker grey and black paint the dented areas. Let dry completely.
When painting, I find that it helps to have folded paper towel on
hand to wipe the excess water. Make sure the brush is not soaking wet
when touching the royal icing. You want the brush to be only very
lightly damp.
Make Red Cardinal Cookie, fence and a base cookie:
Using a bird cutter, or a template, and using a Santa Hat Cutter create a Red Cardinal with a Santa Hat.
Determine how big your base should be, and cut out a rectangle shaped cookie.
Make the fence using a knife.
Bake the cookies.Let them cool.
Decorate Red Cardinal Cookie, fence cookie and the base cookie.
Assembling the Centerpiece
Once cookies are dry, assemble the pieces using a thick consistency white royal
icing, support pieces with a few pieces of plastic wrap, until icing
dries and Red Cardinal and fence can stand on its own. Let cookies set and
then remove supports and enjoy the cookies as table place cards,
centerpieces or gifts.
Bake the cookie logs.
Using brush make the depressions into the soft royal icing
Let the icing dry completely
Paint the log with black/grey to create Birch Log
Using a Wilton Santa cutter create Red Cardinal with a Santa hat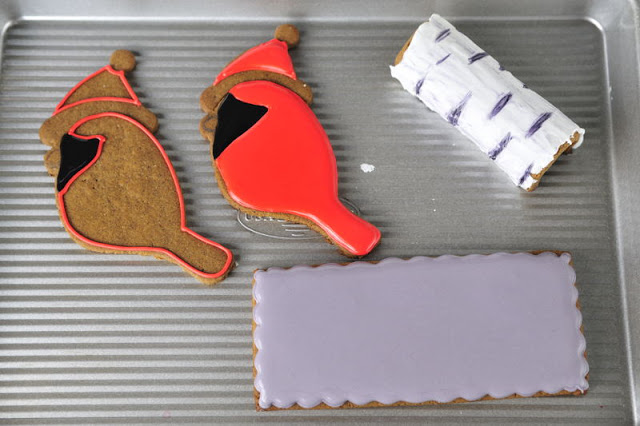 Flood base and red cardinal cookie.
Using a small star piping tip, pipe the Santa Hat details with white royal icing, medium to stiff consistency. Sprinkle sanding sugar on top.
Pipe the wings with royal icing and paint the beak and wing details with gold luster dust. Add eyes as well at this step.
Are you looking to get Christmas Cookie Inspired?
Check out this amazing cookie project, created by 22 cookie artists :
22 Decorated Cookies Inspired by 22 Christmas Cards.