Pumpkin Sponge Cake with Chocolate Bats for Halloween
Halloween Parade has ended. I hope you enjoyed all the Halloween inspired recipes and tutorials. Today marks 14 new tutorials we shared with you.
If you are just tuning in or are new Haniela's. You can check out all the Halloween Inspired Tutorials from Halloween Video Parade in playlist we created just for you for easy access.
HALLOWEEN VIDEO PARADE(complete 14 tutorials)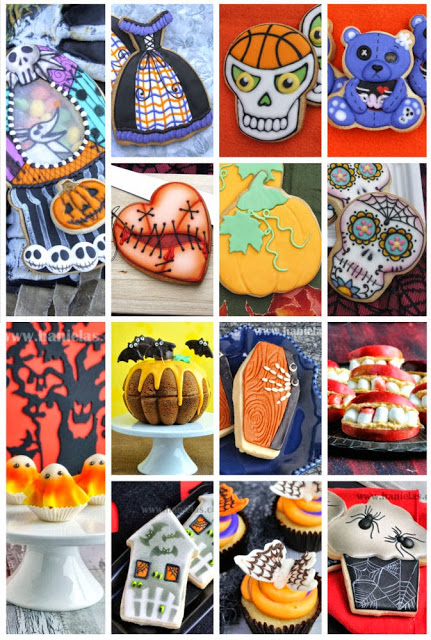 I thought I'll end Grand Halloween Extravaganza with a Halloween Inspired Cake. You can dress it up to your liking I decided to add chocolate bats to it to make it perfect for Halloween.
You can use any cake recipe you like. I used a sponge cake. This cake great with tea or coffee.
Sponge Cake
5 eggs, separated
1/2 cup oil
1/2cup lukewarm milk
1tbl vanilla extract
2tsp baking powder
2cups all purpose flour
2cups powdered sugar, divided into 1/2cup and 1 + 1/2cup
2tbl sifted cocoa powder
pinch of salt
butter and flour for greasing the pan, pastry brush
Preheat oven to 385F.

Butter and flour the Pumpkin Cake Pan. If using more complex pan pattern I use a pastry brush. Brush the pan with a very soft butter. Making sure you grease all the little details. Then flour the pan. Shake out the flour excess.

Sift together flour and baking powder, set aside.

In a clean bowl, whip 5 egg whites with a pinch of salt. Once soft peaks are formed, gradually add 1/4 cup powdered sugar. Beat with wire beater until stiff and glossy peaks are formed. Scrape all the whipped egg whites into a clean bowl, set aside.

In the same bowl you used to whip the egg whites, beat the egg yolks with remaining powdered sugar, until pale in color, 5 minutes.

Add vanilla extract.

In one continuous streak, add lukewarm milk, beat until well combined.

Then to the egg yolk mixture, with mixer on low speed, add oil. Beat until just well combined.

Alternatively, in 3-4 additions, using a spatula or a large whisk, fold flour and meringue(whipped egg whites) into the egg yolk mixture.

Divide batter in half.

Color one half it orange food coloring, fold in the color. Add cocoa powder to the remaining batter fold in the cocoa powder.

Divide batter between the pans, alternating orange and chocolate.

Bake for 30-35 minutes. Don't open the oven or cake may fall. Check with at tooth pick or a bamboo stick. Insert the stick into the cake. If stick comes out clean, cake is done. If not, leave the cake in the oven for additional 5 minutes and check again. Cake is done if the sides are pulling away from the pan.

Let the cake cool in the pan for 5 minutes. Then invert onto a cooling rack and let cool completely.
Glaze
1tbl melted butter
1/2tsp vanilla extract
5 – 5 1/2tbl milk
1 1/2 cups powdered sugar
orange and yellow food gel coloring
1/4tsp cinnamon(optional)
Melt butter. Whisk together butter, vanilla extract and milk, add powdered sugar and whisk until smooth. Add food coloring and whisk again. Use as glaze on cakes.
Chocolate Bats – view the video, select section 2 and learn how to make chocolate bat toppers
Toothpicks
Bat Template
Fondant Leaves – view the video, select section 2 and learn how to make fondant leaves for the cake
fondant (Mini Batch Marshmallow Fondant – RECIPE)
Fall Mini Metal Cookie Cutter Set
(Small leaf cookie cutter)
piece of plastic wrap for the forming
Marshmallow Stem
One regular size marshmallow
Chocolate Candy Melts
Toothpick
Melt the chocolate, in 15-20 second intervals, agitating chocolate after eat heating.
Stick toothpick into the marshmallow and then dip marshmallow into the chocolate, coating it whole. Put coated marshmallow on a piece of wax paper. Let harden. Use as a stem on the cake.
Pumpkin Sponge Cake with Flying Chocolate Bats Video Tutorial