I decided to make chocolate Oreo Birthday Cake.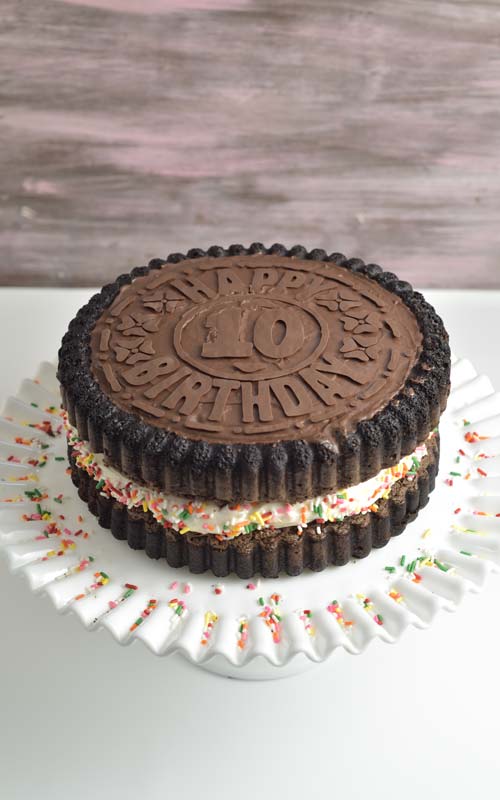 This Oreo Birthday Cake is super easy to make. Instead of carving the cake into an Oreo shape I used Silicone Pans to bake the cake layers.
OREO BIRTHDAY CAKE
I made a Chocolate sponge cake and I filled it with Cream Cheese Filling. This cake would be also nice with my German Buttercream.
BAKE THE CAKE
It's important to coat both silicone pans with a soft butter. I used a pastry brush for this. Then dust the pans with cocoa powder. Shake off the excess over the kitchen sink.
Prepare the cake batter and pour into the cake pans and bake until toothpick inserted in the center comes out clean. Let the cakes cool in the pans for 30 minutes and then invert them onto a cooling rack. Let cool completely.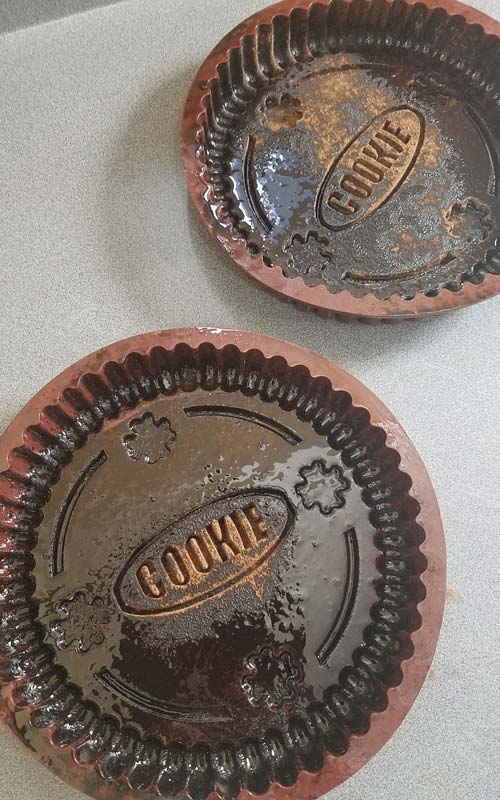 CHOCOLATE DECORATION
While the cake is cooling you can prepare chocolate decoration. I made a chocolate transfer using melted Ghirardelli Chocolate Wafers. These chocolate disks are really easy to use. They melt wonderfully and the best part is that melted chocolate doesn't set up too fast. So you have a little bit of time before you need to warm the chocolate again.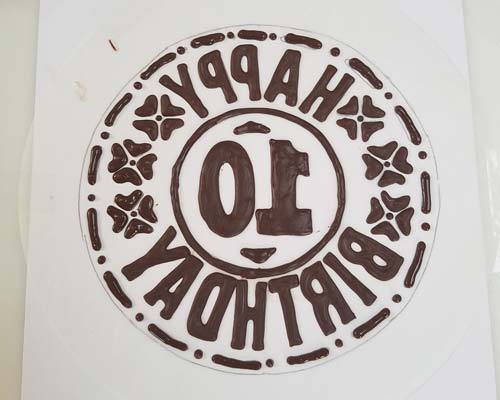 CAKE ASSEMBLY
First, with a knife remove the raised design from one of the cake layers.
Place bottom cake layer on a plate. With a spoon spread a thin layer of cream cheese filling on the cake.
Take crushed Oreo cookies and with the spoon spread them out onto the filling. Avoid going all the way to the edges of the cake.
Cover crushed Oreos with another layer of filling.
Then place the top cake layer on the filling. Press it down gently. This will push the filling closer to the edges.
Attach Chocolate Decoration
Spread some melted Ghirardelli chocolate wafers on the top cake layer to even out the surface. Carefully pick up parchment with chocolate transfer, turn it upside down. Then position chocolate transfer onto the cake, press down gently and carefully peel off the parchment to reveal the Happy Birthday message.
At last add the sprinkles on the sides.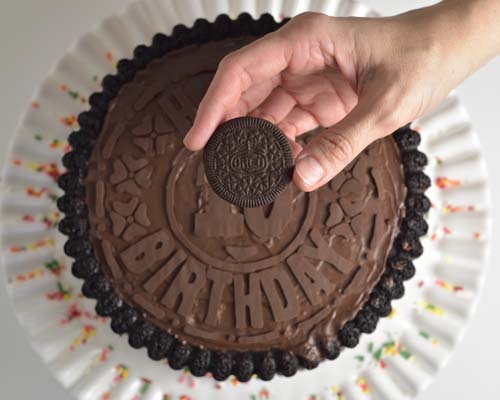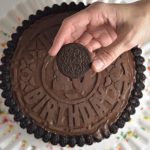 Chocolate Cake and Cream Cheese Frosting Recipe
Ingredients
Chocolate Sponge Cake
8

eggs

at room temperature

1 1/2

cup

granulated sugar

1 1/2

cup

cake flour

pinch

of salt

1/2

cup

dutch cocoa powder, sifted

2 1/2

tsp

baking powder

4

tbsp

butter

melted and still hot
Cream Cheese Filling
2

packages

cream cheese

let is sit at room temperature for 20 minutes

2

sticks

butter

at room temperature

3

cups

powdered sugar

use more if desired

1

tsp

vanilla extract

1/4

cup

whipping cream/ heavy cream

1/2

cup

rainbow jimmies sprinkles
Instructions
Chocolate Sponge Cake
Beat eggs (8) until foamy, gradually add granulated sugar (1 1/2 cup) beat for 15 minutes on medium high until doubled almost tripled in volume.

Melt butter (4tbsp), stir hot butter stir into the cocoa powder (1/2cup), let cool. Gradually add cooled cocoa mixture into the well beaten egg mixture. Mix until well combined, couple minutes.

Sift together flour (1 1/2 cup) pinch of salt and baking powder(2 1/2 tsp). Gradually fold flour into the cocoa egg mixture.

Divide batter into prepared pans. Bake at 350F for about 30 minutes or until toothpick inserted in the center of the cake comes out clean

Prepare Cake Pans : brush with butter or spray with a non-stick spray, dust with cocoa powder, shake the excess out over the sink.
Cream Cheese Filling
Beat cream cheese (2 packages) until smooth, beat in room temperature butter( 1cup) add powdered sugar (3 cups). Beat until combined and creamy, add vanilla extract( 1 tsp) and gradually beat in whipping cream (1/4 cup).

Use sprinkles( 1/2 cup) to decorate the side of the cake
TO MAKE THE OREO BIRTHDAY CAKE YOU NEED
RECIPES
TOOLS
Cake Pans :Exact ones I used are not available but these Silicone Pans are very similar to the ones I used.
Pastry Brush
Spatula
Parchment Paper
Piping Bags
PINT IT for later
This post contains affiliate links. Learn more about my affiliate policy here.