Avocado Tomato Basil Pasta
I love fresh and quick put together meals. Pasta dishes can get heavy sometime with all the cheese sauces. If you are looking for something light and refreshing try throwing in few fresh vegetable and a make an easy tasty dressing instead of using a bottled stuff.
How to Store Avocado
I eat avocados at least 2- 3 times a week, they are excellent source of vitamins and fats and I love their creaminess.
When I buy avocados I always look for firm ones, I leave them on the counter to ripen for a few days, until they are just slightly very slightly soft to the touch, then I put them into the fridge. If you put avocado into the fridge before it had a chance to ripen, it will never ripen.
If you'd like to speed up the process you can place avocado into a brown paper bag and let them ripen that way, just be sure to check on them so they don't get too ripe.
Remember, avocados once pitted and chopped they will oxidate fairly quickly so it is recommended to add them to your dishes at very last minute, just before serving. You can postpone the effect of oxidation by coating chopped avocado with fresh lemon juice or lime juice.
Avocado Tomato Pasta(4 servings)
2 ripe and firm avocados
Juice of one lemon
3garlic cloves, minced
1tsp honey
1tbl olive oil
1tsp mustard
1/8tsp salt or to taste
black pepper to taste
1cup cherry tomatoes, cut in half
1/4 cup Parmesan cheese
about 1/2cup fresh basil, chopped
1 hard boiled egg, quartered
2cups dry bow tie or any other pasta you like. I rarely buy bow ties but I wanted to try something else, plus they look really cute, too.
Cook the pasta in salted water, follow the direction on the packaging. Drain, and stir in 1tsp olive oil.Set aside
In a bowl whisk together, olive oil, garlic, lemon juice, honey, mustard, salt and pepper. Taste, and season to taste.Whisk in basil.
Cut the avocados in half, remove the stone and chop it into a medium size chunks. Spoon it out into the dressing and gently stir in.
Stir in tomatoes.
Add pasta and stir gently to combine and coat the pasta with the dressing.
Serve sprinkled with Parmesan cheese and cooked egg.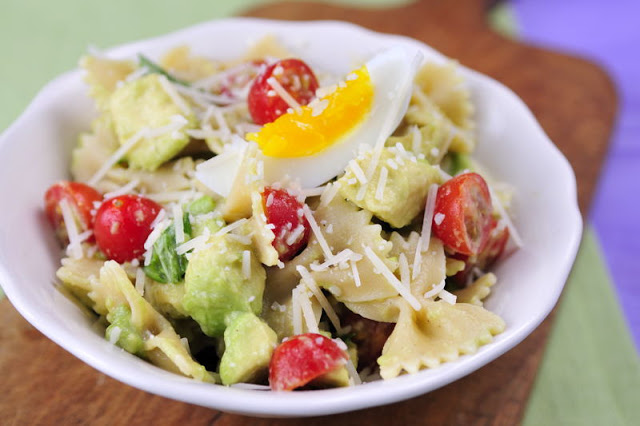 (Adapted loosely form Better Homes &Gardens)