With only few more days left in 2010 I will be sharing one more apple dessert with you.
There are7,500 varieties of apples grown throughout the world.
Did you know that one apple has 5 grams of fiber?
Apples are amazingly versatile, you can eat them raw, cook them and make applesauce, dry apples make for a great healthy snack, I really love baked apples as their flavor really develops while baking and they are utterly delicious, caramel apple, chocolate apple, apple cupcake…
have you tried apple with peanut butter, you don't know what you're missing !
If you feel like me you can find more delicious apple recipes here.
Apple Strudel is one of my favorite apple desserts. I decided to make it for Christmas Day this year, it stands on the top of the comfort desserts, well at least I think so. It is also really easy to make.
Apple Strudel can be made using variety of pastry doughs, today I will be using puff pastry sheets by Pepperidge Farm
Apple Strudel Recipe(makes 2 strudels)


2 sheets of frozen puff pastry
about 1.6 kg apples( 3.5 pounds)
1 1/2 tsp Cinnamon (4.5grams) or to taste
Brown Sugar, use as much as needed ,depending on how sweet the apples( I used 3 tbl)
Vanilla Sugar(Optional)
zest of one lemon
juice of one lemon
1/4 tsp ground cloves
1/2 cup)113grams) melted and cooled butter
1/4 tsp Nutmeg ( I recommend using freshly grated nutmeg)
plain breadcrumbs *
1egg – egg wash
*I make my own bread crumbs, using dry french baguettes. I don't like to use anything else. French Baguette makes for a very delicate and fine breadcrumbs. You could also use rolls.I try to avoid using bread with thick crust as I find that crust makes my breadcrumbs bitter.
You can also use plain bread crumbs bought in the store, make sure you sift them before use, to get rid of any large particles. I haven't tried this recipe with store bought breadcrumbs though, only with homemade.
Prepare Apple Filling
peel, grate apples, discard apple juices (liquid that formed in the grated apples),season with cinnamon, sugar, nutmeg, cloves, lemon zest, lemon juice, stir all with a wooden spoon, taste, season to taste.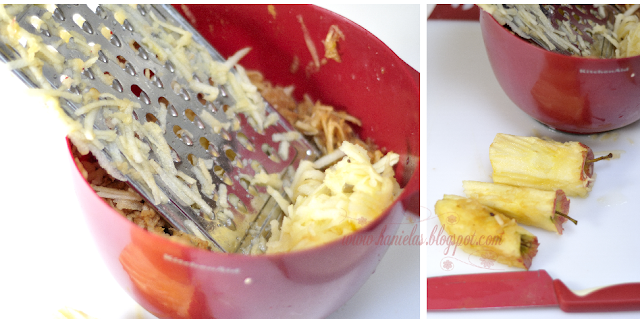 Puff Pastry
Preheat oven to 410F(210C)
Line 2 baking sheets with parchment paper.

If buying frozen puff pastry sheets, let them thaw.
Sprinkle some flour on your working surface, place one pastry sheet on the top, sprinkle some flour on and roll each puff pastry sheet into a thin layer, lift the dough intermittently to prevent sticking to the work surface.
Layering Fillings
Once you have your dough rolled into thin thickness rectangles
First sprinkle about 2 tbl breadcrumbs on the top, evenly spread.
Using a spoon sprinkle melted butter on the top, not to soak the whole sheet, use just sparingly
Layer about 1 cup apple filling on the top of "buttered" pastry
Use another 2 tbl breadcrumbs, sprinkle on the layered apple filling
Sprinkle some more butter on the breadcrumbs
Layer another 1cup of apple filling
Sprinkle more breadcrumbs
Sprinkle butter on the top
Finish with 1tsp vanilla sugar, sprinkle on the filling
Repeat with remaining puff pastry
Fill and Make Apple Strudel
To fold the pastry sheet into a strudel, brush two shorter ends with egg wash, fold in, this will prevent leakage from the sides
Brush longer ends with egg wash
Star at one longer side, fold the end of the dough in and keep folding/rolling until you have formed a strudel
Egg wash acts as glue
Carefully transfer to your prepared baking sheet
Brush with remaining egg wash and butter
Bake for 25-30 minutes or until golden, if you notice that strudel is browning too fast, cover very loosely with aluminum foil
Cool on the baking sheet
Transfer to a dish using a long spatula
Slice and enjoy