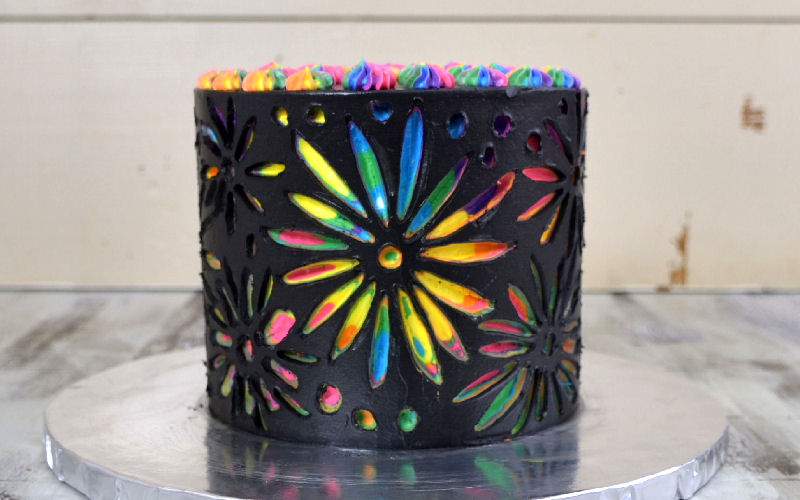 I had this cake on my mind for several months. Last month I finally ordered new pottery tools. I whipped up Swiss buttercream and baked 6 inch cakes. I made a Rainbow Flower Scratch Art Cake. This was my first attempt and it turned out so colorful and really pretty. I hope you like it as much I do.
To Make Rainbow Flower Cake you need:
Scroll down for a Video
Video tutorial with narration and instructions
Basic Vanilla Sponge Cake or Chocolate Sponge Cake
Food Colorings : Black, Green, Sky Blue, Leaf Green, Yellow, Orange, Electric Pink, Purple – to make purple I use Electric Pink + Sky Blue
Hot water
Paper Towels
How to Color Swiss Buttercream
To color Swiss buttercream I heated 1/4 cup to 1/3cup buttercream with the food coloring for about 5-8 second, I then thoroughly whisked the slightly melted buttercream until well combined and immediately poured the colored portion into the buttercream you wanted to color. I stirred buttercream well, if needed I repeated the process until I reached the desired color shared. Heat really helps to activate the color pigment and you'll be able to reach deep color tones.
To make Black Swiss Buttercream – to color approximately 3 cups uncolored Swiss buttercream I used 1/4 cup cocoa powder and black food coloring. You can either use Black Cocoa Power or Dark Cocoa Powder. I heated 1/4 cup uncolored buttercream with black food coloring first then I stirred in cocoa powder and then I added the mixture to the uncolored buttercream. You need to whisk it well to combine. If needed repeat the process of heating little bit of buttercream and food coloring for 5-8 seconds in the microwave. You can also use Chocolate Swiss Buttercream as you starting point when making black swiss buttercream
Refrigerate cake after each buttercream layer.
When adding black layer, make sure you are adding a thin layer, you don't want it to be thick.
Carving Tips
It is important to chill the cake well before carving, and in between as needed.
Have a bowl with hot water and a clean dry paper towel on hand.
Keep the pottery tool tip clean and slightly warm. You can submerge it in the hot water for 15 -30 seconds. Any longer and it may get too hot to handle.
Rinse the tip of the pottery tool after each time you carve the buttercream to remove buttercream residue, quickly dry it by dabbing it on a dry paper towel. Continue carving.
To make the petals I used a tool with a little nose shape, for the centers I use a round tool.
Rainbow Buttercream swirls or stars are super easy to make. Layer rainbow buttercream onto a plastic wrap. Form a pouch. Fit a piping bag with a star tip, insert the pouch into the piping bag and start piping pretty rainbow stars.
Watch the video how to make Rainbow Flower Scratch Cake