Did you know you can make Vegan Royal Icing from chickpeas? I finally tried it and it works.
FEATURED COMMENT
"I just love this recipe!! I've substituted with both Swerve and Splenda. I made cute fish cookies for my son's class that were low sugar and so, so cute!! I also usually make a huge batch of frosting and freeze it in small bags for later use – in case anyone wants to know if you can, sometimes it needs a little added sugar or cornstarch. Thanks for sharing your recipes Hani- Hani- I've tried several and yours are always my favorite and my go-to if I'm making cookies for others!!" Anna
HOW TO MAKE VEGAN ROYAL ICING
Few weeks back I made Vegan Sugar Cookies. Today I'm going to show you how to make royal icing without egg whites, using aquafaba.
CHICKPEAS BRINE/AQUAFABA
Who would have thought that chickpeas, an annual legume, could be used to make something sweet? I like chickpeas, and I use them in salads or eat them plain with apples. They are also the main ingredient in hummus.
Little did I know that brine from chickpeas can be used to make Vegan Royal Icing and Vegan Sugar Cookies. Isn't that awesome?! So next time you drain chickpeas be sure save the brine. And you can also freeze it for later.
Make sure to drain the chickpea brine through a fine mesh sieve. Just in case there are some bean bits in the aquafaba. You don't want those in your vegan royal icing.
CREAM OF TARTAR
I use cream of tartar/potassium bitartrate in this recipe to stabilize aquafaba. Into aquafaba, add cream of tartar and whip it until foamy. Then you can add all of the powdered sugar.
Fit your mixer with a wire attachment and beat on low speed until thick. I also add a little bit of white food coloring while it's mixing. It helps brighten the icing and has some stabilizers that can help delay icing from crusting.
HOW TO COLOR ICING
To flavor my royal icing I like to add with Vanilla, Lemon and Almond extracts. I know it seems like an odd combination of flavors but it really works. Of course, nothing is set in stone and you can experiments with other flavors. However I'd recommend that you stick with Vanilla Extract. You can then add other flavors of your choice.
FOOD COLORS
I use gel food colors to color royal icing. Check with the manufacturer if you have further questions about the contents of gel food colorings you are using.
HOW DO YOU BAG ROYAL ICING ?
To bag the icing I mostly use tipless piping bags bags and a tape sealer to seal them. Make sure to get the tape too, as the sealer doesn't come with it.
DOES VEGAN ROYAL ICING DRY HARD?
Yes, this aquafaba royal icing dries hard. If you'd like it to dry with a softer bite try using little bit of corn syrup or invert sugar.
HOW LONG DO COOKIES DECORATED WITH VEGAN ICING LAST?
10-14 days. I find that vegan cookies tend to dry out a little, and they get crunchier with time. I've had some vegan decorated cookies for three weeks and they were crunchy and still delicious. You can add invert sugar to vegan cookies and keep them softer for longer.
CAN I USED VEGAN ICING TO MAKE PIPED FLOWERS?
You'll need to add extra powdered sugar to make it stiff to pipe roses and such. I find vegan royal icing slightly less flexible than traditional meringue based royal icing and it maybe harder to pipe 3 dimensional flowers with it.
DOES AQUAFABA ROYAL ICING TASTE LIKE CHICKPEAS?
No worries, eggless aquafaba royal icing doesn't taste like chickpeas at all. Vegan icing is a bit sweeter than traditional meringue based royal icing. It's also less flexible
CAN I USE HOMEMADE CHICKPEA BRINE TO MAKE ROYAL ICING?
For the best results use liquid from store bought can of chickpeas.
MORE VEGAN RECIPES
Vegan Royal Icing
Royal icing made from canned chickpeas brine. Great for cookie decorating.
Store in the fridge, for up to 5 days.
Ingredients
Vegan Royal Icing
6

tbsp

strained canned chickpeas brine (90 ml)

4-5

cups

powdered sugar (480-600grams)

1/2

tsp

cream of tartar

substitute 1/2 tsp lemon juice

1/2

tsp

Vanilla extract

1/2

tsp

almond extract

1/2

tsp

lemon extract

3

drops

white food coloring
Instructions
VEGAN ROYAL ICING
Open a can of store bought chickpeas, drain and strain the brine though a fine mesh sieve.

Measure chickpea brine (6 tablespoons, 90 milliliters) into a bowl of your stand mixer. Add cream of tartar (1/2teaspoon).

Beat with a wire beater until the mixture is foamy. Add all powdered sugar (4-5 cups, 480-600grasms) and continue beating on low speed until thick.

Beat in Vanilla Extract (1/2tsp), Lemon Extract (1/2tsp) and white food coloring (3drops). Beat until thick, 5-8 minutes.
Storage
Store in an airtight container, covered with plastic wrap, and closed with a lid in the fridge for up to 5 days. Let come to room temperature before using.

Thin icing with room temperature water to desired consistency.
Color Vegan Royal Icing
Vegan royal icing can be colored with gel food colors.
Notes
CAN I USE HOMEMADE CHICKPEA BRINE? – For the best results, use brine from drained store-bought chickpeas. It isn't easy to control the concentration of homemade chickpea brine.
MY VEGAN ROYAL ICING IS NOT DRYING; WHAT HAPPENED? – I see this happen when too much food coloring is added. As with all royal icing recipes adding too much food coloring can result in excessive drying times. Allow icing to dry overnight.
Did you make these Decorated Cookies? Tag @hanielas on Instagram and hashtag it #hanielas
PIN IT for later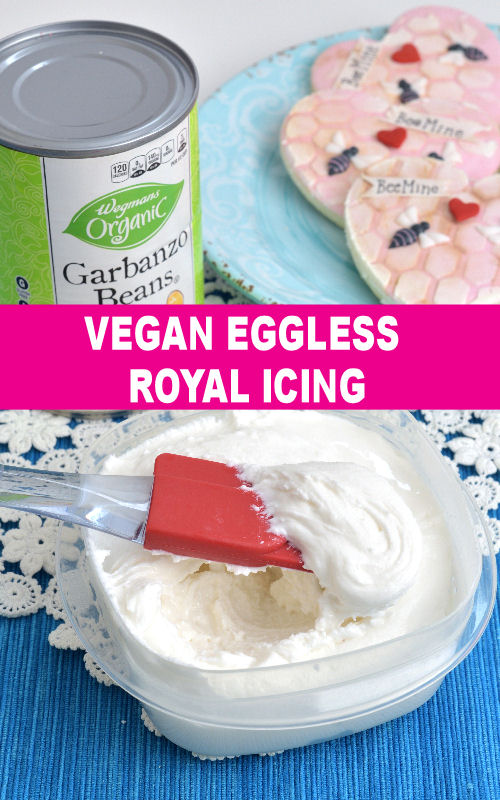 This post contains Amazon affiliate links that earn me a small commission, at no cost to you. I only recommend products that I use and love. Learn more about my affiliate policy here.