How to Make Strawberry Tulip Cookies
Strawberry Tulip Cookies are charmingly sweet, with a hint of strawberry flavor. Perfect for spring celebrations, garden parties, mother's day, baby showers or just because.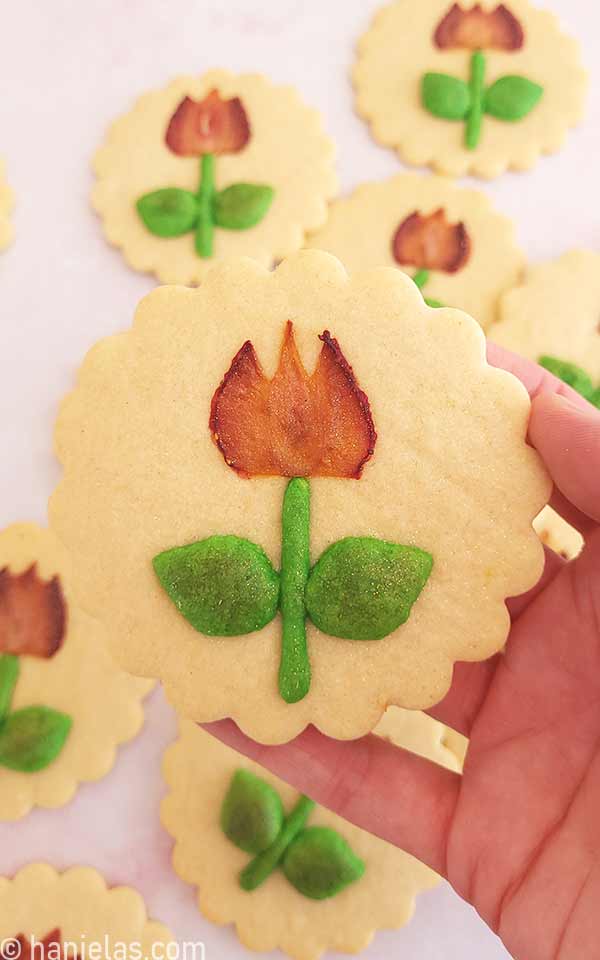 HOW TO MAKE SPRING STRAWBERRY TULIP COOKIES
If you haven't seen these before you might be wondering what are these cookies? In a nutshell, they are sugar or shortbread cookies decorated with sliced strawberries. And I've seen rosemary or icing used for the leaves and the stem.
SUGAR COOKIE DOUGH
Bring all the ingredients to room temperature before making the cookie dough.
Butter
Powdered Sugar – it contributes to the tender bite
Large Egg
Vanilla Extract
Lemon Zest or Orange Zest (optional)
Flour – all purpose
Salt
Combine all-purpose flour and salt (steps 1-3).
Making cookie dough is simple, cream butter and powdered sugar until creamy and fluffy, about 3 minutes (steps 1-4). Add room temperature egg, vanilla extract, lemon zest, and cream until combined, another 30 seconds (steps 5-8).
Beat flour into the butter at low speed until cookie dough chunks are formed. Dump cookie dough chunks onto a work surface, gather the dough into a ball, and knead it gently for 20 seconds until it comes together into a ball, then flatten it into a disk.
Roll out cookie dough between two sheets of parchment to about 1/8 inch thick. Slide the sheet of cookie dough onto a tray or a cutting board. Chill in the fridge for 40 to 60 minutes (steps 1-3).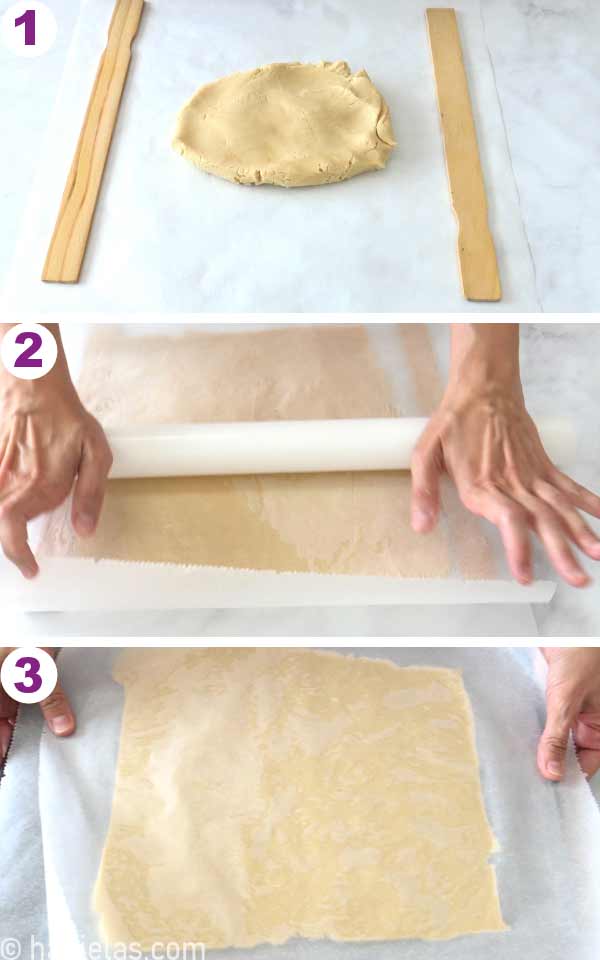 PREPARE STRAWBERRY TULIP SLICES
Wash strawberries and trim the stems and leaves. Slice the strawberries lengthwise to about a little over 1/16 inches or under 1/8-inch, 2mm (steps 1-3). Create a tulip design using a knife, or if you have a small cutter, you can quickly cut out the tulip pattern from the top of the strawberry slices (steps 4-6).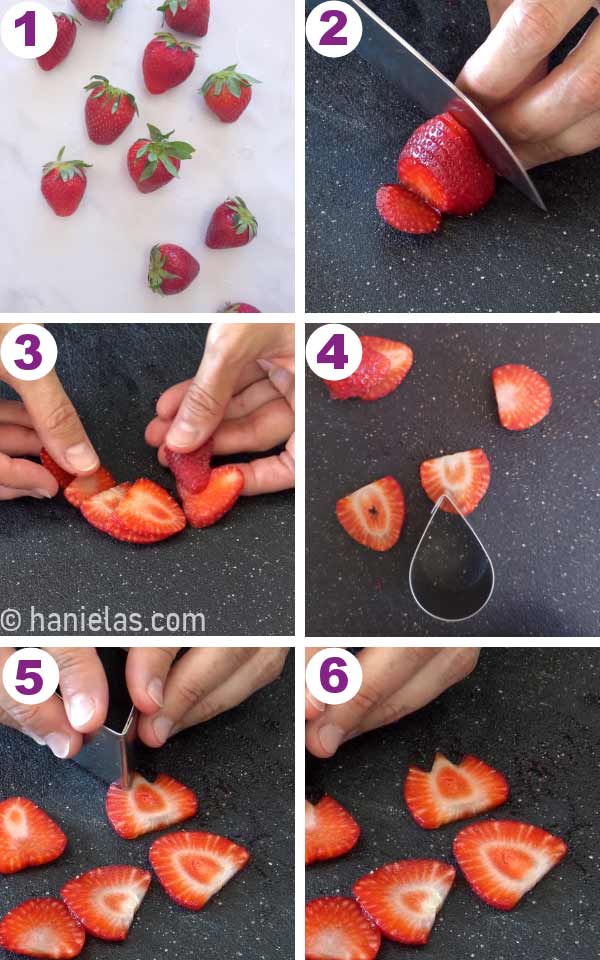 Arrange strawberry tulip slices on a silicone baking mat and bake at 200F/90°C for an hour. Leave the oven slightly ajar to allow moisture to escape the oven. Strawberry slices won't be completely dry, just enough so they don't release too much moisture when they bake attached to the cookie. Let them cool before removing them from the mat or parchment. It's easier to remove them from the silicone mat. You can use a butter knife to help you pick them up from the silicone or parchment.
MARZIPAN LEAVES AND STEMS
Marzipan stems and leaves are optional. If you don't have marzipan, you can use icing, or colored cookie dough. You need about 1/4 cup of marzipan. Color it with green gel color (steps 1-4).
Roll it out thinly between two pieces of food wrap. Peel the top layer, re-layer it, turn the rolled-out marzipan over, and peel the top layer of food wrap. This way, the underside of rolled-out marzipan is not too attached to the bottom food wrap layer (steps 1-3). Cut out small leaves and shape small snakes from the marzipan (steps 4-8).
ASSEMBLE STRAWBERRY TULIP COOKIES
Cut out shapes from the rolled out and chilled cookie dough sheet. I used a round cutter, but you can use a rectangle or a pretty plaque cutter. I love this round large scalloped edge cutter! Cut out as many round as possible. And transfer cookies onto a baking sheet lined with parchment (steps 1-6).
One side of the strawberry slice should be damp; if both sides are dry, lightly brush one side with a wet food-only paintbrush and place it onto a cookie (steps 1-2). Then lightly dampen the cookie where the stem will go, gently press the marzipan stem onto a cookie, and trim the excess with scissors (steps 3-4). Then repeat the process with the leaves (steps 6-8).
BAKE COOKIES
Bake cookies at 350F/180C for about 7-8 minutes.
Marzipan will puff up slightly during baking, and strawberry slices might get a little darker.
Transfer cookies onto a cooling rack and let them cool completely.
ADD SHIMMER: USE LUSTER DUST
This next step is optional, but if you like shimmering cookies, use an edible gold luster dust in a pump and spray the cookies (steps 1-2).
MORE SPRING BAKING IDEAS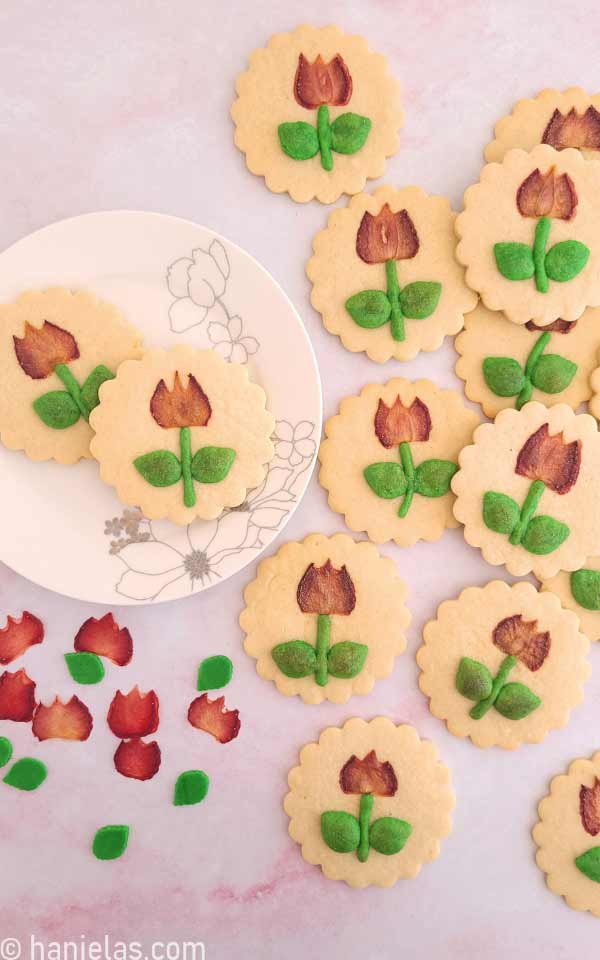 Strawberry Tulip Cookies
Ingredients
Cookie Dough
3

cups

all-purpose flour (430 grams)

1/4

tsp

salt

1

cup

butter (2 sticks, 226 grams)

1 1/4

cup

powdered sugar (160 grams)

1

large egg

2

tsp

Vanilla Extract

1

tbsp

lemon zest or orange zest
Marzipan Leaves and Stems
1/4

cup

marzipan (50 grams)
Instructions
Marzipan Leaves and Stems
Color marzipan with green gel color, and roll it out between two sheets of food wrap. Cut out leaves and shape small thin snakes/stems. Set aside.
Strawberry Tulip Slices
Wash the strawberries and trim the leaves and the stems.

Slice strawberry lengthwise to a little less than 1/8-inch thick. Cut out the tulip profile with a knife or a small cutter, and place strawberry tulip shapes onto a baking sheet lined with a silicone baking mat or parchment. Bake at 200F (90C) for about an hour; keep the oven door ajar during the baking.

Remove half-dry strawberry slices from the oven and let them cool completely for about 20 minutes.

While the strawberry slices are baking, prepare the cookie dough.
Cookie Dough
At medium-high speed beat room temperature butter (1 cup, 226 grams) with powdered sugar (1¼cup, 160 grams) until creamy, about 3 minutes. Gradually beat in one whole egg, Vanilla Extract (2 teaspoons), and lemon zest (1 tablespoon) (optional). Beat till combined, about 30 more seconds.

Pour flour (3 cups, 430 grams) into a bowl, whisk in salt (1/4 teaspoon).

On low speed, beat flour into the butter until cookie dough chunks are formed. If the dough appears too dry and crumbly, add one teaspoon of milk. Do not overwork the dough.

Invert the chunks of dough onto a clean work surface, and knead the chunks of dough gently until the dough forms a ball, 10-15 seconds. Flatten the dough into a disk.

Roll the cookie dough between 2 sheets of parchment to about 1/8-inch thick. Chill for about 40 minutes to 60 minutes.

Cut out shapes from chilled cookie dough, and transfer cutouts onto a baking sheet lined with parchment. Re-roll the scraps.
Assemble Strawberry Tulip Cookies
Use a small butter knife to help you lift the strawberry tulip slices from the silicone mat or parchment sheet. Adhere strawberry tulip slices onto the cookies, use a food-only paintbrush dipped in water to moisten the cookie, and attach marzipan leaves and the stem.
Bake Cookies
Bake the cookies at 350F/180C for 7- 8 minutes. Let cookies cool on a baking sheet for 5 minutes. Transfer to a cooling rack to cool completely
Did you make this recipe? Tag @hanielas on Instagram and hashtag it #hanielas
TO MAKE STRAWBERRY TULIP COOKIES YOU NEED
This post containsThis post contains Amazon affiliate links that earn me a small commission, at no cost to you. I only recommend products that I use and love. Learn more about my affiliate policy here.