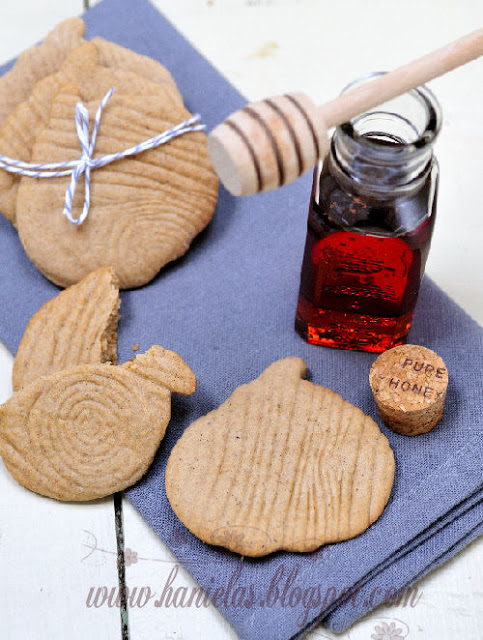 I've always wanted to try texture mats to make cookies. I bought texture mats from
Chinese Clay Art
, and I just can't say enough good about their service, it is exceptional and I'm already looking into ordering more items from them.
For those who were waiting for the Honey Cookie Recipe Metric to-Cup Conversion, I finally put it together.
Honey Cookies
400 grams flour / 3cups flour
160grams powdered sugar / 1 1/2 cup +1tbl sifted powdered sugar
70grams room temperature butter / 5tbl butter
1tsp baking soda
3tbl honey
2 eggs
1 1/2 tsp ground cinnamon
1/2tsp ground star anise
1/8 tsp to 1/4tsp cloves
1/8tsp to 1/4tspginger
pinch of salt
1egg-to make the egg wash, if using**
In a medium bowl, sift flour, baking soda, spices, salt
Add room temperature butter, honey and eggs, at first I use a wooden spoon to kind of incorporate "wet" ingredients into the dry ones. Then using hands I make the dough.
Wrap the dough, chill and let chill for one hour or overnight.-You can also make the dough using your stand mixer –
VIDEO TUTORIAL
** using a fork or tiny whisk, break the egg until it gets foamy, at this point I like to strain the egg wash to get a really smooth egg wash
Preheat oven to 195-200C
(390F)
Line your cookie sheets with parchment paper.
Roll the dough between 2 pieces of parchment paper, if needed very lightly flour your bottom parchment paper, roll the dough into approximately 3-5 mm thick (3/16 inch).
Bake for 6-8 minutes, depending on the size of cookies. Try to bake smaller shapes and larger shapes separately, smaller shapes will be baked before larger ones.Remove from the oven, let cool completely.
Brush with egg wash
you can do this before cookies are baked or some bakers brush them after they come out of the oven
This is also a personal preference, some honey cookie artists don't brush their cookies with egg wash, some do. Applying egg wash can sometimes interfere with adherence of royal icing to the cookie.Personally I only had this happened about handful times and most people I know use egg wash on their honey cookies.
That being said, if you plan to coat a whole cookie with icing there is no need to use egg wash as cookie will be covered with icing anyway.
Adding a walnut as a topping
Before you bake the cookies, you can add a piece of a walnut, simply brush the cookie with egg wash and gently press the walnut into the dough. Bake as usual
To make the Wood Grain Honey Cookie follow the tutorial below, don't brush cookies with egg wash,bake as usual.
Wood Grain Plastic Mat from Chinese Clay Art