When I think of to these little treats my heart races to my mom's kitchen or my grandmother's kitchen or my aunt's kitchen.
I think the word dumpling doesn't do them justice, they are so much more than that. For me they are the memories of my childhood./ I know I've said it million times 😉 / soft and tender with taste like no other.
Filled with preserves, fruit or cheese topped with ground walnuts, poppy seeds, cocoa with sugar, farmer's cheese or even alone, don't forget the melted butter..how could I forget butter ! 😉
Yeast dough for Steamed Dumplings
1/2 kg flour
20 grams fresh yeast / 2 1/2 tsp dry yeast/
about 300 ml milk
1egg
pinch of sugar
salt
Prepare Yeast Mixture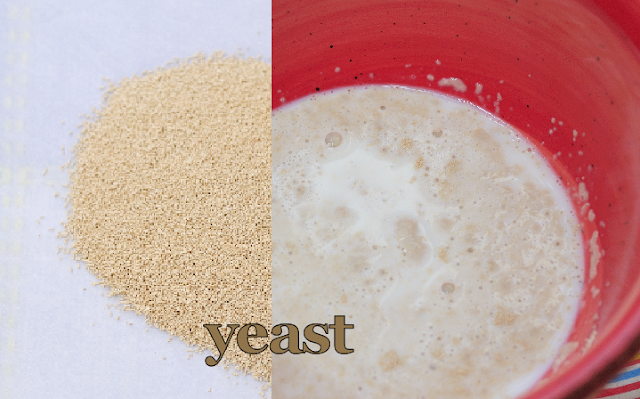 Take 300 ml milk and warm it to approximately 90-100F/32-37C/, it should be warmer than your body temperature but not hot. Hot milk will kill the yeast. Pour heated milk into a bowl, container what ever you have on hand. Add a pinch of sugar to the milk, stir, add the yeast and stir the yeast into the milk. Cover with plastic wrap and let sit for several minutes. When the yeast has become bubbly or foamy on the top, your yeast is active and ready to be used.
In the bowl mix flour, salt make a well in the center add yeast mixture and one egg.
Using your /KitchenAid Artisan 5-qt. Stand Mixer/ with the hook attachment, /or you can also use a hand mixer with the hook attachments/, work the dough until it separates from the sides of the bowl and smooth.This will take several minutes You are looking for the texture that is not too stiff nor too soft. If needed ad some lukewarm milk to achieve the right consistency.
Prepare another bowl, lightly oil the inside and place the sweet bread dough in the bowl, cover with plastic wrap and let rise in warm place.This will take about 25-30 minutes, check for the doubled volume.
Now you are ready to make some dumplings.
Invert the dough on well floured board and knead a little to get a round loaf like shape. Roll the dough with rolling pin to less then 1/4 inch thick or so. Using a pastry wheel cut the rolled dough into squares. Place your filling in the middle of each square, when using fruit, add some brown sugar.
Using both hands bring opposite corners together until you have dumplings like these below
You need to press corners together.
Once you are done making the dumplings, make sure you allow enough space between each dumpling, so when they rise again they don't get stuck together.Or sprinkle some more flour on the top of them.
Cover with a flour towel and let rise again, this takes only a while, 20 minutes or so.
Steaming Process
Once your dumplings have risen again you are ready to steam them. If you have a proper streamer I recommend you use that. I don't have a steamer so I used my little invention. You need a pot with wide opening, pour little water in , just to cover the bottom, about 2 inches or so. Place the splatter screen on the top of your pot, brush with oil to prevent sticking, or spray with Pam Spray. And bring water to simmer.
Carefully place your dumplings on the top of the splatter screen, allowing enough space between each dumpling. I was able to put about 5 -6 on, but this depends on the size of your dumpling and the size of your pot opening. I steamed my dumplings covered /like you see above/ for 10 minutes.Using a spatula remove your dumplings and using a fork or I used a tooth pick puncture the skin to release the steam.
Enjoy them alone,or with your favorite topping. I made farmer's cheese How to make farmer's cheese/ earlier
and I flavored it with cinnamon and honey and there you have it : Steamed Fruit Dumplings with Cheese.
Blueberry
Apricot
Have a great week.
Related
How To Make Farmer's Cheese
Apricot Tartlets
Kiwifruit Cake
Banana in Chocolate
Strawberry Tiramisu
Grapefruit Cupcakes