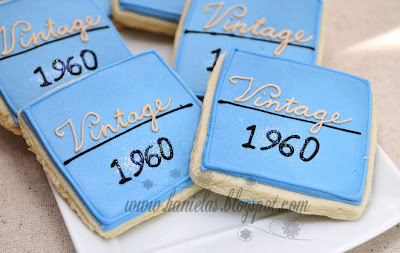 A friend of mine is going to a 50th Birthday Party tomorrow and she asked me to make some cookies. It is a gag party and so I presented several gag ideas to her and though this one is not so much gag as it is classy she liked this more than gag designs. You should see some of the other designs, denture floating in the glass of water, hearing device, over the hill crossing sign..etc. I'm actually really glad she picked this one and I think she is too, they are classy but not boring.
As for the design I can't really take the credit as it came off the T-shirt. Funny thing is when you search for gag party ideas all kinds of silly things will come up, most of them not usable for cookies at all.
People put all kinds of things on their T-shirts and so I searched a gag t-shirt idea and this one really caught my eye. I changed the color a bit to make it suitable for the man of the hour.
My biggest concern was the writing, as it had to be kind of fancy, I don't own a kopycake so everything is done freehand and I used small sandwich bags for writing.
Cookie Facts